Man Who Survived Church Van Crash That Killed Fellow Congregants Says 'Jesus Just Saved My Life'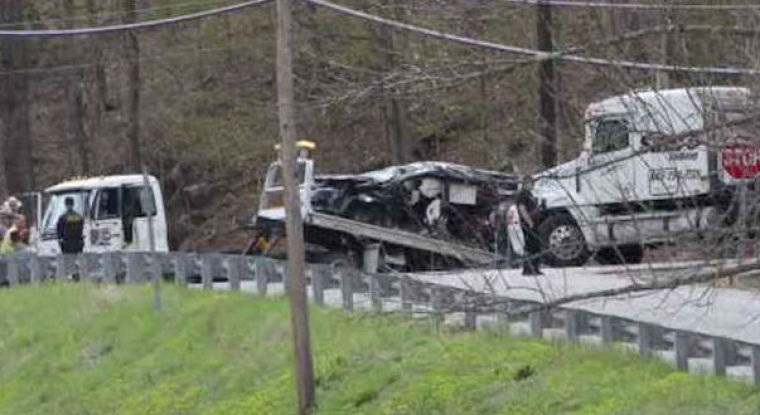 A man who survived a terrifying van crash that killed three members of a Brooklyn church in Ellenville, New York, Sunday, has hailed Jesus for saving his life.
Brooklyn resident Ariel Regis, 35, was one of seven passengers riding in a van on an Ulster County highway Sunday morning when it was tragically hit by a tractor-trailer.
"We went through a terrible accident," said Regis, according to the New York Daily News. "Jesus just saved my life."
Three passengers identified by police as Miguel St Louis, 17, of Brooklyn, Ricadeau Anantua, 33, of Freeport, and Garry Edouard, 48, of Wyandanch were killed in the accident.
Two others, including the driver of the van Guepson Gue, 61, of Brooklyn and another passenger, Mario Esteverne Sr., 59, of North Elmont were airlifted to Westchester Medical Center where they are both in stable condition.
Regis, along with Mario Esteverne Jr., 16, of North Elmont, were treated for minor injuries at Ellenville Hospital.
The men, all from the Bethesda French Seventh-day Adventist Church in Flatlands, were traveling from the Honors Haven Resort where they had attended a three-day retreat for the Greater New York Conference of Seventh-day Adventists when tragedy struck.
"I can't really remember what happened but all I can say is I was trying to put the address in the map so we can drive back," Regis told NBC. "And then my head was down. When I look up the car got hit."
Tampie Adams, 37, of Randleman, North Carolina, was identified as the driver of the tractor trailer and he, too, was treated for minor injuries.
No criminal charges have been filed and a police investigation is said to be ongoing.
Johnson Cesar, who is a former pastor at Bethseda French Seventh-day Adventist Church, spoke about the tragedy in an interview with The Christian Post on Monday. Pierre Metellus, who's the current pastor at the church, could not be reached for comment.
"I'm very sorry that that happened, but the only thing that I know, as a Christian, is that even those unfortunate circumstances, God has control over them … so we still have faith in Him and knowing that one day this too shall pass," Cesar told CP.
On Sunday worshippers gathered at the church to mourn the loss of their fellow congregants.
Counseling has been provided for the victims' families and members of the church.
The Bethseda church is located in Brooklyn and has roughly 100 members.
In March, a church van carrying 18 people crashed at an intersection in Glades County, Florida, killing 10 people and injuring eight others, including a pastor.