Mandela's Granddaughter Zoleka Recounts Sex Abuse, Drug Addiction and Breast Cancer in New Book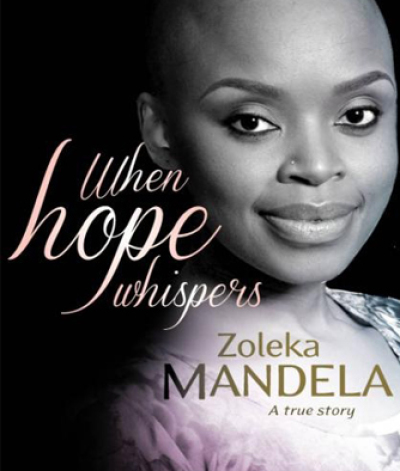 Zoleka Mandela, the granddaughter of former South African President Nelson Mandela, opened up about her battle with addiction and blaming herself for her late daughter's passing, in a newly released book.
"When Hope Whispers," which was launched in South Africa on Tuesday, recounts Zoleka's harrowing past including her battle with breast cancer and suffering sex abuse as a child. At one point in the candid book, the 33-year-old recounts wishing God had taken her instead of her 13-year-old daughter Zenani.
The late teen was tragically killed in a car crash in June 2010, whilst on her way home from the FIFA World Cup Kick Off Concert in Soweto. At the time Zoleka, who has a 10-year-old son Zwelami, was recovering in hospital after a suicide attempt.
"I hadn't seen my daughter for 10 days before her passing, and I hadn't because I chose to use drugs. That's obviously a reminder that I chose my addiction over my kids and I have to live with that for the rest of my life," Zoleka told the Associated Press.
"I'm sincerely hoping that it's seen as a cautionary tale to a lot of other parents," she said. "I got myself clean, but it doesn't bring her back."
The book reveals that "the biggest part of her died" when she received the tragic news, and that she wished God had taken her instead.
Zoleka fell pregnant shortly after her daughter's death, but baby Zenawe was born prematurely in 2011 and died within days of his birth.
As a child Zoleka, who was 10 when Mandela was freed from prison in 1990, was sexually abused, which led to her decade-long battle with drugs and alcohol. Her mother is Zindzi Mandela and her grandmother is Winnie Madikizela, who was once married to Mandela, 95.
"From the time I was barely eight years old to the age of 14, I had been sexually abused by some of the adults who should have been looking after me," an excerpt featured in The Times revealed.
"For years I blamed her (mother Zindzi Mandela) for the physical and sexual abuse I was subjected to as a child," she said. "My feeling was that if she had been there for me, she could have prevented it and I could have been protected. I have come to realize she probably did the best she could."
Zoleka opened up about her battle with breast cancer after undergoing a bilateral mastectomy. She completed her chemotherapy treatment in early 2013.
"For me, what hurt me the most was I was losing my breasts. And my breasts was my connection to my kids," she said.
The book also recounts the Mandela family's involvement in the fight against South Africa's white minority regime.
On June 8, Mandela, an anti-apartheid hero, was hospitalized for a recurring lung infection. He is now said to be doing better and is in a stable condition.