Manny Pacquiao Pays for 150 Homes for Homeless; Says Give God Thanks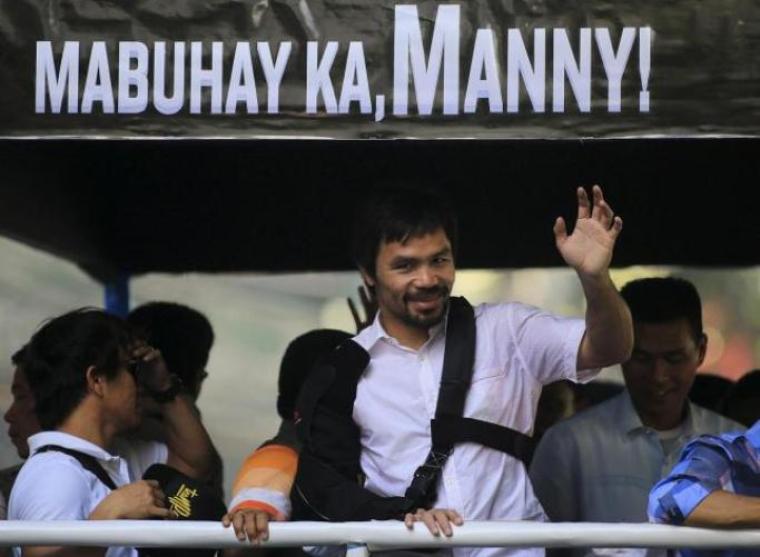 Instead of worrying about how much money he can earn for his next fight, Filipino pugilist Manny Pacquiao is spending his own money to build hundreds of houses for the homeless.
Pacquiao, the 36-year-old boxing sensation vying to be elected senator in the Philippines,
is giving away 150 housing units to the homeless in Bales village, Maasim town, where he serves as a congressman. Pacquiao reportedly spent P28.5 million, or about $604,000, of his own money on the project, known as Pacman Village, and gave God the glory.
"Give thanks to God for what you have received today. It's a gift from Him," said Pacquiao in a PhilBoxing.com report. "He's just using me to help you. Take good care of this property and don't sell it."
While the 150 units could be ready as early as next February, Pacquiao plans to build a total of 600 units in the future.
"There are still lots of spaces here where we can build more houses. I'm targeting a total of 600 housing units to accommodate more homeless residents here," Pacquiao said on PhilBoxing.com.
Tino Alcala, chair of Bales village, spoke highly of Pacquiao, for being a congressman that uses his own resources to help locals of the poverty-stricken area.
"This is the kind of leader we're looking for. Unlike other congressmen, who disappeared and could no longer be seen after election, Cong. Pacquiao is always there every time we need him," Alcala said in the PhilBoxing report. "Pacquiao makes us feel government is taking good care of us."
With the 2016 elections fast approaching, Pacquiao is reminding his people that they need to be mindful of what is important in the officials they vote for.
"Vote for candidates who are competent and with a good heart. The future of this country depends on the kind of leaders we choose," Pacquiao said. "You should be proud of me as your congressman. I don't steal government money, in fact, I'm spending my own resources to help you. I neither sell my principle nor my vote in Congress."
Earlier this year, Bob Arum, the famed founder and CEO of the renowned boxing promotions company Top Rank, revealed that Pacquiao would retire next year so that he could focus on his political duties in his country.
"We talked very seriously, and he said, 'Bob, hopefully, by the middle of May I will have been elected Senator in the Philippines, and at that point I cannot engage in boxing because I need to focus on the Senate and I have to be in attendance,'" Arum told ESPN. "Manny told me this fight on April 9 will be his last fight."
While Pacquiao currently serves as a congressman for the Sarangani province in the Philippines, he is able to be away from home to focus on boxing and other endeavors. However Arum said it is important for Pacquiao to be physically present in the next step of his political journey.
"There are hundreds of congressmen, but if he wins the Senate seat he has to be there to do the work. They do the real work in the Senate in the Philippines, not just make a lot of [expletive] speeches like they do in the Congress," Arum told ESPN. "It's a real job, and if Manny is serious about wanting to be president, these six years in the Senate would be like an audition, and for him to show his people that he really is a serious politician."
Earlier this year, Pacquiao told The Christian Post why he is so passionate about engaging in politics in his country.
"I want to provide opportunities for my fellow countrymen that will improve their situations. As a politician, I want to help create jobs so that I can bring them out of their poverty," Pacquiao told CP.  "I want to give them hope. Boxing has been my passion, but public service is my calling. I love my boxing, but I realize now that is not what my life is all about."