Manny Pacquiao Gives Floyd Mayweather Deadline for Fight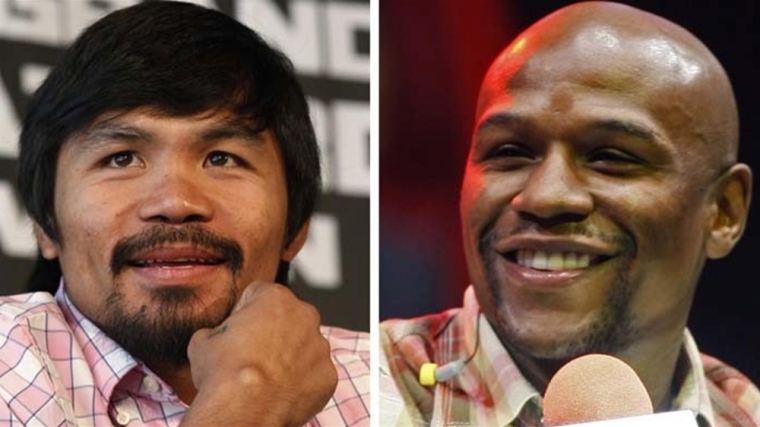 Manny Pacquiao has a deadline for rival boxer Floyd Mayweather to sign a contract to step into the ring with him.
Pacquiao, the 36-year-old Christian fighter and politician, took to Twitter to taunt Mayweather, the 37-year-old undefeated fighter, who many have been trying to get him to battle in the ring for years.
"If you really care about the fans, you will fight. If you care about yourself... you won't fight. #MannySmile. I can easily beat @FloydMayweather, I believe that," Pacquiao tweeted. "Everyone had me as a big underdog to @OscarDeLaHoya too. If @FloydMayweather fights me boxing will get an even bigger upset victory."
Fans of the two fighters have been awaiting a bout between them for years. While allegations of drug use, and disagreements about the contracts and money split have been rumored to halt the anticipated fight in the past, reports have recently surfaced about the pair stepping into the ring this year.
While both men have been considered one another's rivals, they have both expressed interest in fighting one another throughout the years. Although Mayweather has been relatively tight lipped since Pacquiao began to verbally jab him at the start of the new year, the Filipino fighter gave the latter a deadline to sign a contract to step into the ring.
"My promoter and I, we've already agreed to the terms and conditions of whatever he wants. We're just waiting on the signed contract from him," Pacquiao told The Los Angeles Times Monday. "That's the hard part ... if they will fight or not. We have to know soon, because if they will not fight, we can move on and choose another opponent. We have a deadline … this month."
While Mayweather hasn't lost a fight in his 47-0 career with 26 knockouts, Pacquiao is 57-5-2, with 38 knockouts.