Manny Pacquiao Maintains Faith After Losing Title; Archbishop Suggests He Retire
Manny Pacquiao lost his first fight in seven years Saturday after undergoing a spiritual awakening. The boxer has maintained his faith despite the outrage of fans and split decision-loss of his WBO welterweight championship title to Timothy Bradley.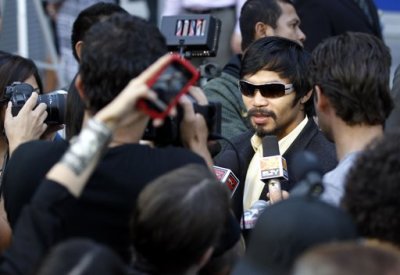 Pacquiao, 33-year-old Filipino congressman, lost the majority of the final six rounds to Bradley according to judges Duane Ford, C.J. Ross and Jerry Rith, which left many fans confused. Still, Pacquiao seemed to be in good spirits after the fight, giving credit to his opponent.
"One hundred percent I believe I won the fight. The decision has already been done, so you have to give credit to Bradley," Pacquiao said. "But I believe I won the fight. We have to respect my opponent also. The decision is done already."
Although Pacquiao believes he bested 28-year-old Bradley, he still gave credit to God.
"Thanks to God for everything... I give all thanks to God for keeping me safe and giving me strength," Pacquiao said in the post-fight press conference. "The best attitude is respect and professionalism in this boxing world."
However, many have begun to question the validity of the boxing world due to disagreement with the split decision favoring Bradley, who fractured his foot in the fight and appeared in a wheelchair when it ended. Curtis "50 cent" Jackson, best friend of Pacquiao's boxing rival Floyd Mayweather, questioned the boxing world on his Twitter account.
"Boxing is a mess right now," Jackson tweeted. "Do not watch the rematch, it's fixed. Both fighters are with the same promoters, they're just trying to get paid twice."
The rapper also insinuated that Bradley was proclaimed the winner so that Pacquiao wouldn't face the undefeated Mayweather after he serves an estimated three-month prison sentence, which began in June.
"At least you know Floyd fights to win. Pacquiao won, they just gave the win to their other fighter to make the rematch," Jackson said. "They don't want the Floyd fight to happen so they're pulling this on us."
Bob Arum, the promoter for both Bradley and Pacquiao, denied that he had any hand in fixing the match. Instead, he expressed outrage when speaking about Bradley winning the match.
"This isn't about a close decision," Arum told the press about the fight. "This is absurd and ridiculous and everyone involved in boxing should be ashamed."
Despite questions surrounding the fight and its results, some believe the time for Pacquiao to end his career has come.
Archbishop Oscar Cruz, senior member of the Catholic Bishops' Conference of the Philippines, reportedly saw the boxer's most recent loss as a sign that he needs to hang up his boxing gloves.
"We're very happy he has found his way after a spiritual conversion of some kind," Cruz said in a Super Sport report. "But he should quit now and just continue to inspire the people with his other pursuits."
However, Pacquiao did not seem ready to call it quits on his career or the chance to regain his title.
"I hope you're not dismayed or discouraged," Pacquiao told his fans after the fight. "I can fight. I can still fight."
Rick Warren Comments on Meeting Manny Pacquiao