Manny Pacquiao Says God, Sea Water Healed Shoulder After Surgery, Not Doctors or Rehab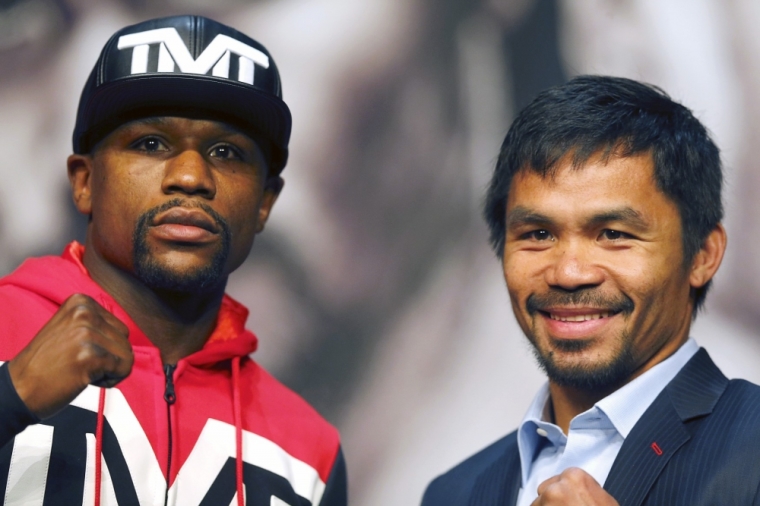 After undergoing surgery to repair a torn rotator cuff last May, Filipino pugilist Manny Pacquiao decided to forego doctors and rehabilitation programs in order to rely on God and the sea for healing.
Pacquiao, the 36-year-old boxer and politician, further aggravated a longstanding shoulder injury during a loss to Floyd Mayweather Jr., in a May 2 bout. Days later, Pacquiao underwent surgery and recently revealed that his healing process after the operation had nothing to do with the work of doctors.
"I'm fine. It's God's work," Pacquiao told The Philippine Star. " I never saw a doctor. I never did rehab. All I did was to swim in the sea as often as I could. The salt water healed my wound."
Eric Pineda, Pacquiao's business manager, credits the Christian fighter's faith for his miraculous progress only a few months after his surgery.
"Manny has strong faith," Pineda said in The Philippine Star report. "God did it. And all that swimming in the sea helped. Now, there's talk of his comeback fight."
Right before his surgery, the boxer's orthopedic surgeon, Dr. Neal ElAttrache, told ESPN.com about Pacquiao's injury. The doctor said Pacquiao would need rehabilitation and could take up to one year to be cleared for another fight.
"We have an MRI scan that confirms he has a rotator cuff tear. He has a significant tear," ElAttrache told ESPN.com. "If all goes as expected with the surgery and the rehab is successful, Manny could be back training in about six months. At that point, he will be regaining strength and endurance, and competition is reasonable within nine months to a year, but this is a severe enough tear that it won't heal without being repaired."
After the news broke that it could take some time for his shoulder to heal, Pacquiao spoke to The Christian Post about focusing on his spiritual well being last May.
"I keep meditating on the (Bible) verse Romans 8:28: 'And we know that all things work together for good to them that love God, to them who are called according to His purpose," Pacquiao previously told CP.
Pacquiao's faith is much more important to him than any outcome of a boxing match or the world's view of him. He spoke to CP before the big fight about the type of legacy he would like to leave outside of the ring.
"I love my boxing, but I realize now that is not what my life is all about. I just want to encourage all those who are a Christian, to share their salvation experience to others," Pacquiao previously told CP. "I think that we could make an impact in this world. I'm not sure yet if I'm going to retire in 2016, but the legacy that I want to leave is to be a role model and an inspiration, not only the boxing fans, but to everyone around the world."
The professional pugilist also previously spoke about the importance of Christian athletes using their platform to share their faith.
"I think every Christian athlete should be open about their relationship with the Lord, as well as every believer. That is what the Bible commands," Pacquiao told CP. "When I am vocal to others about my faith and my hope of eternal life, it helps those fans of mine and those who watch me to know they can also have a hope."