March for Marriage to Protest 'Insane' Agenda of 'Transgender Equality,' Obama's Bathroom Directive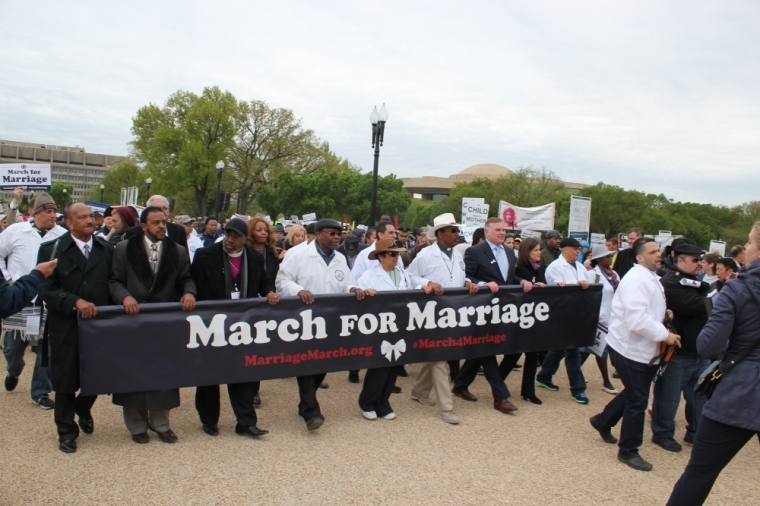 An organizer for the annual "March for Marriage" event in the District of Columbia stated that President Barack Obama's transgender bathroom directive is the "next step" for the LGBT agenda.
Later this week the National Organization for Marriage will organize its latest "March for Marriage" in the nation's capital. The event lobbies for the government to recognize marriage as being between one man and one woman only.
National Organization for Marriage President Brian Brown told The Christian Post in emailed comments that the current effort to allow men to use women's restrooms was the next step after last year's Supreme Court decision legalizing gay marriage.
"At the same time, we already see the extreme LGBT agenda proceeding on to the 'next steps' after radically redefining marriage, and now trying to impose an insane agenda of 'transgender equality' which puts our wives and daughters in the uncomfortable and dangerous situation of sharing intimate facilities like bathrooms and changing rooms with biological men who simply 'identify' as women," said Brown.
"We are confident that people will see that there is still a lot of work to do in stopping this radical progression toward a genderless society, and that those who still hold firm to the belief that marriage is the union of a man and a woman have a place in our public discourse."
Scheduled for Saturday, June 25, the annual march in support of traditional marriage will include as part of its focus the growing debate over transgender issues, such as access to public facilities.
Brown explained that this March "will be similar in its schedule and program to previous years."
"The focus this year will be broader and timely: in addition to protesting the illegitimate Supreme Court ruling of last year, and the threats to religious liberty and freedom of conscience which have arisen in its wake, we will also be standing against the unprecedented and deplorable overreach of the Obama administration in trying to force the radical gender ideology of LGBT extremists on our communities," said Brown.
"[This ideology] would allow men who 'identify' as women to gain access to intimate facilities like changing rooms, locker rooms, and bathrooms, and saying that any women who object that they are uncomfortable with such an arrangement are 'bigoted.'"
Scheduled for June 25, the March for Marriage will begin with a rally at 11:30 AM on Capitol Hill, with the March taking participants to the U.S. Supreme Court building.
Past Marches for Marriage have included notable social conservatives as featured speakers, like former U.S. Senator Rick Santorum and former Arkansas Governor Mike Huckabee.
The first March for Marriage was held in 2013 during the first day of oral arguments before the Supreme Court on the constitutionality of the federal Defense of Marriage Act.
During that march, NOM and their allies were met with a roughly equal number of pro-gay marriage demonstrators outside the high court's building.
This year's date was selected because it is the closest Saturday to June 26, which is the one-year anniversary of when the Supreme Court ruled 5-4 in Obergefell v. Hodges that all state level gay marriage bans were unconstitutional.
"Obergefell v. Hodges … illegitimately determined that all states must issue and recognize 'marriages' to same-sex couples, imposing the skewed values of a handful of judges on the nation with no legal foundation and in a gross example of legislating from the bench," said Brown.
"Countless Americans recognize that this decision is illegitimate and unlawful and the March for Marriage provides an opportunity for them to stand up and say so."
When asked by CP if the Obergefell decision effectively ended the marriage equality debate, Brown replied that the "fight is far from over."