Mariano Rivera Thanks 'Lord' Jesus for Yankees Baseball Career as Last Active Player Wearing Jackie Robinson's '42' Retires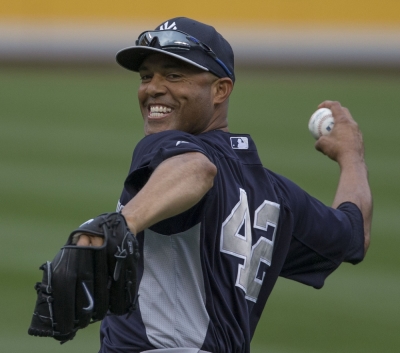 In a ceremony that honored New York Yankees closer Mariano Rivera Sunday, the pitcher thanked God for his years on the team and for the opportunity to play for the organization.
"I would like to start thanking my good Lord because He has made this possible and without Him I couldn't be here," said Rivera. "So thank you Lord for this."
Rivera also gave shout-outs to his wife, his parents and past and present teammates, many of whom were on the field, including Jorge Posada, David Cone, Hideki Matsui, Tino Martinez, Bernie Williams, and former manager Joe Torre.
"The Lord has blessed me with a big family and all these men have been part of my family," said Rivera. "I thank you – every one if you guys individually – for what you have meant to me. I love you guys. You are special to me and my family."
He also expressed his love for the United States, which has been his home the majority of the last 23 years.
"To America, that has given me the pleasure since I left my country 23 years ago. That's why America is a great country," said Rivera, who was born in Panama.
Yankees executives also presented Rivera with a $100,000 donation to the Mariano Rivera Foundation, which in the past has funded the construction of churches in New York and Panama.
Rivera, who has played for the Yankees the past 19 seasons, announced his retirement in March. The year has played out much like a farewell tour, for the pitcher who met with the behind-the-scenes baseball employees and fans of the various roadtrip stops that the Yankees made throughout the year and ensured that everyone left with an autographed baseball and photo with him. The Yankee opponents also gave Rivera customized gifts, saluting both his sportsmanship and athletic performance.
Yankees' shortstop and captain Derek Jeter and manager Joe Girardi gave Rivera a rocking chair made of bats, emblazoned with a logo honoring Rivera that has been on the team's caps all season.
The 50-minute ceremony opened with Metallica playing a special rendition of "Sandman," Rivera's walk-up music as the closer walked onto the field.
The family of Jackie Robinson also attended, with Rachel Robinson unveiling a plaque dedicated to her husband. Rivera is the last active player to wear number "42" which was retired by Major League Baseball in 1997 in honor of Jackie Robinson.