Mark Houck recalls 'most intimate prayer experience' in FBI custody: 'I was at the foot of Calvary'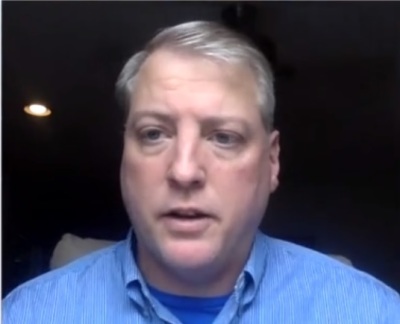 Catholic pro-life activist Mark Houck, who spent several hours in detention after a highly publicized early-morning arrest last September, said he had the "most intimate prayer experience" of his life while in custody.
Houck appeared on Steve Bannon's Real America's Voice program "The War Room" Tuesday, one day after a grand jury in Philadelphia, Pennsylvania, acquitted him of Freedom of Access to Clinic Entrances (FACE) Act charges.
In addition to announcing his intent to sue in response to FBI agents and state troopers descending on his house to arrest him at 6:45 a.m. on Sept. 23, Houck detailed the spiritual experience he had while spending nine hours in detention following his apprehension.
Houck's arrest and the indictment was in response to an altercation with an abortion clinic escort near a Planned Parenthood clinic in Philadelphia. 
Houck told Bannon that upon arriving at the federal building in Philadelphia, he was "shackled at my waist and shackled on my feet." 
"They put me in a room, a white room, with just a table in it, and they chained me to a table. That seemed a little extreme," Houck said. "I'm shackled on my feet and my waist for six hours."
The activist, who is president of the Catholic ministry The King's Men, described the time as "the most intimate prayer experience of my life."
"I was at the foot of Calvary," he said. "I was beneath Christ at the cross, and I felt tremendous peace, love and joy."
After Houck lamented his shackling as a "pure act of humiliation" and the United States Marshals' treatment of him as "a convicted felon," he elaborated even further on his spiritual experience.
Houck acknowledged that the shackles around his bare ankles were "put on pretty tightly" to the point where he could "feel the pain of it." He said, "entering into that pain" was "easy for me."
"Being a Catholic Christian man, I just invoked all the saints who I knew were persecuted over the course of their journey, all the martyrs," he said. "I prayed every mystery and decade of the rosary. I prayed every devotional novena I could think of. It was prayer without ceasing; I literally could feel the feathers of my guardian angel. It's the only thing I could do but offer up what I was dealing with for my wife and my children."
Houck said he didn't know what was going to happen to his family or if he'd be reunited with them. But he continued to pray. 
"I felt so much peace because I was so intimate, so close to the cross of Christ that I could take the splinters off that cross," Houck said. "I could feel the sweat of my Lord."
Houck said he "felt blessed" and "honored to suffer," saying it was a "great gift in that way."
"I knew as I was dealing with this persecution that I was in the will of God, that I knew without a shadow of a doubt that I was in the will of God and that I was right where he wanted me to be," Houck said. 
As he spent the day in a dark room, Houck said he was "alone with his thoughts" and "alone with my God."
Bannon likened the behavior of the FBI agents and state troopers who detained Houck to "the Romans that [were] torturing and persecuting first-century Christians."
"Mark Houck was chained like a dog and brought in with all those FBI agents, all those state troopers for one simple reason," Bannon asserted. "He's lived Christianity. He doesn't talk about his religion. He doesn't go to church once a week like most Catholics and most Christians. It is his lived Christianity that brought him to be chained like a dog in that room."
After his release from custody, Houck reunited with his family.
"We embraced and we prayed and hugged and celebrated our reunion," he said.
Houck faced up to 11 years in prison and a fine of up to $350,000 as a result of an encounter that took place outside a Planned Parenthood clinic in Philadelphia on Oct. 13, 2021.
While an indictment handed down by the U.S. Department of Justice contended that Houck "twice assaulted a man because he was a volunteer reproductive health care clinic escort," Houck provided a different characterization of what happened. He told Bannon that he "pushed" the Planned Parenthood escort after he continued engaging in conversation with the pro-life activist's then-12-year-old son as they prayed outside the clinic, even after he informed the man that he did not have permission to talk to the child.