Massacre Prevented at Kentucky Black Church? Kroger Shooter Tried Church First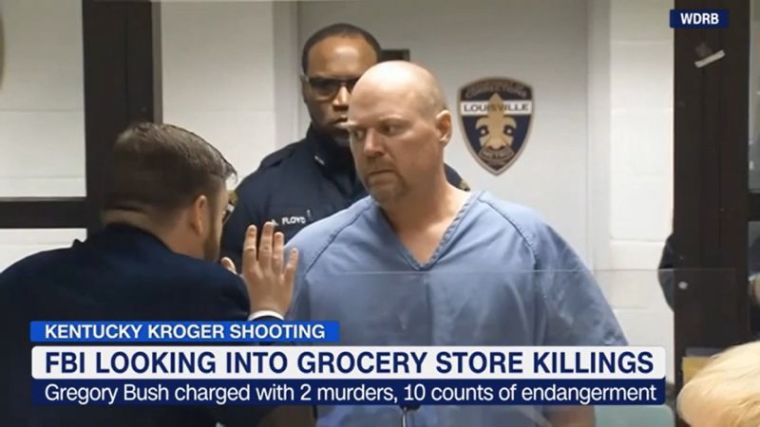 The white man who killed two black people at a Kentucky grocery store last week had tried minutes before to enter an African-American church, with fears it could have led to a massacre.
Gregory A. Bush, 51, was arrested and charged with murder shortly after he shot dead two people, Maurice Stallard and Vickie Jones, at a Kroger grocery on Wednesday, CNN reported. 
"Our hearts break for the families of the those we lost to the tragedy at the Jeffersontown Kroger," said Russell M. Coleman, the U.S. attorney for the Western District of Kentucky.
"The murders are not being taken lightly by the United States government. Federal investigators are supporting local law enforcement and examining this matter from the perspective of federal criminal law, which includes potential civil rights violations such as hate crimes," he added.
The suspect apparently pulled out his gun and shot Stallard in the back of the head when he walked in the Kroger, before proceeding to shoot him several times on the floor. He then walked outside the store and shot dead Jones, who was in the parking lot.
Surveillance video has shown that he tried to enter First Baptist Church in Jeffersontown, which has a predominantly African-American congregation, just 10 to 15 minutes earlier, however. With as many as 70 people present at the church earlier in the day, fears are there could have been a massacre if he was successful.
"Loss of life anywhere is pretty tragic, but just to think that an hour and a half earlier we had 70 people in the church," church administrator Billy Williams said.
"But by the time he came through, all doors were locked, and there were probably eight or 10 still in the building," Williams added, according to WDRB.com.
The Associated Press added that Bush has a history of mental illness and violence. His ex-wife is reportedly an African-American woman, who received protection against him in 2009 following violent outbursts. The woman had told police that he used racial slurs against her during a custody exchange of their son.
What is more, Bush physically assaulted his elderly parents in 2009, who told police that they were "terrified of (his) unpredictable behavior." Following the incident, a judge prohibited Bush from possessing firearms for two years, ordering him to comply with mental health treatment.
City police chief Sam Rogers said that it was too early to confirm whether the grocery shooting was racially motivated.
"I can't speculate on motive at this time," Rogers said on Thursday. "We are pursuing all avenues of the investigation no matter where that takes us or what it involves."
The FBI added, however, that it is "evaluating the evidence to determine if there were any violations of federal law," and if a hate crime was committed.
Louisville Mayor Greg Fischer slammed what he called an "epidemic of gun violence" that "hit close to home."
"People getting shot at a grocery store, a school, outside a church. Can't we all agree that that is unacceptable?" Fischer asked.
On Sunday, the congregation at First Baptist spoke out against hate and division in America.
"We need to change our hearts," said pastor Kevin Nelson.
Nelson also called for faith and forgiveness to defeat "evil men and their ugliness."
"We've been here since 1833," he added, according to Louisville Courier Journal. "We don't plan to go anywhere."