Matt Chandler: 4 Ways Christians Can Start Sharing Their Faith With Nonbelievers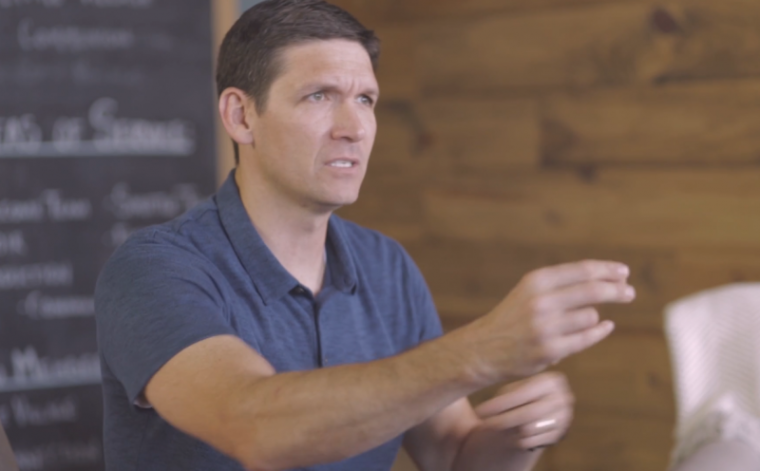 Megachurch Pastor Matt Chandler says there are four simple steps Christians can take to start sharing their faith with nonbelievers.  
"This is a great time to be a Christian. Not an easy time — but an exciting one. I know it doesn't look that way. Spend a few minutes on your social media feed, and you'll see just how lost and broken we are right now," Chandler, who preaches at The Village Church in Highland Village, Texas, and serves as president of the Acts 29 Network, wrote in an article for Relevant magazine last week.
"Ours is a world full of contradiction and confusion. And it's not a great place to be a Christian: We're now seen by most of the world as intolerant and irrelevant. Yet, while the end of Christendom may surprise and scare many us, that's not true of God," he added.
He said that God is calling on the Church to be "bold and strong," and to declare the good news of the Gospel in a time that is "so confusing, so transient, so difficult."
Chandler said believers can reach out to nonbelievers by first finding common ground.
"Even though we're living in a world where many people are leaving the Church and don't consider themselves to be Christians, I really don't think there are many staunch atheists out there. Yes, our world is disenchanted and secular, but I still believe people are searching for something. They are eager for more," he argued.
"This means, when we approach these conversations, we don't need to assume that everyone hates God or hates Christians. Now they probably have some serious problems with our faith and perhaps some deep wounds, but I find that they are often open to talking about spiritual, meaningful things."
Secondly, Chandler encouraged believers to share their personal stories, as that is what draws people in.
"It's a part of our DNA because, well, we're all caught up in God's bigger story. And because our culture today is so story-laden and driven, it's important that we share our personal stories. Over and over, we see in Scripture the power of testimony, and the book of Acts tells us to be prepared to give a defense of our faith," he wrote.
"This is Paul's exact approach in Acts 26 before King Agrippa: He starts with his personal story before preaching the Gospel. Where people might be turned off by Christianity and the Gospel, I still think they're open to hearing our personal stories."
Next comes sharing the actual Gospel, Chandler advises.
"We've always been called to preach the full Gospel, but there was a time where handing out a tract or focusing on a very specific part of the Gospel worked. I'm not knocking those methods. That's how so many people in my life were saved. Yet, I'm not sure how well they work today, especially in the West," he continued.
"No longer can we ask someone if they think they'd go to Heaven or Hell if they died today because they may not have a framework for those things or may have a very different framework because they're a different religion."
He said that believers need to tell others how they can play a part in the narrative concerning personal salvation and the forgiveness of sins.
Finally, he focused on the power of prayer.
"We're called to be people of prayer, casting our cares and needs upon the Lord and asking Him to redeem, heal and move by the power of the Holy Spirit. And in a culture growing increasingly hostile and noisy, where we have less of a voice and less credibility, I can't highlight enough the need for prayer," Chandler added.
"Where we don't get opportunities, we can pray. Where we don't feel heard, we can pray. Where our story and presentation of the Gospel are dismissed and deprecated, we can pray. After all, there's nothing we can do in our power and might to save ourselves — much less anyone else," he added.
"Only God can save, and His arms are not too short to save the greatest of sinners, which means we must keep coming back to Him in prayer, begging and pleading for salvation."
Back in October 2017, Chandler said that another very important thing for Christians as they face more and more hostility in American culture is to seek unity and to stop vilifying one another.
He warned that while they are core beliefs, such as the Trinity and the resurrection of Jesus, some Christians are also allowing secondary issues, such as the continuation of spiritual gifts, or women in ministry, to drive them apart.
"I think the posture we need to have with one another is if we agree on the closed hand, then we need to be in open dialogue and friendly dialogue with one another about ... why we're seeing what we're seeing and do as much as we can to walk in unity with one another," he said back then.