Max Lucado Stands Up for Muslim NFL Player Penalized for Praying During Game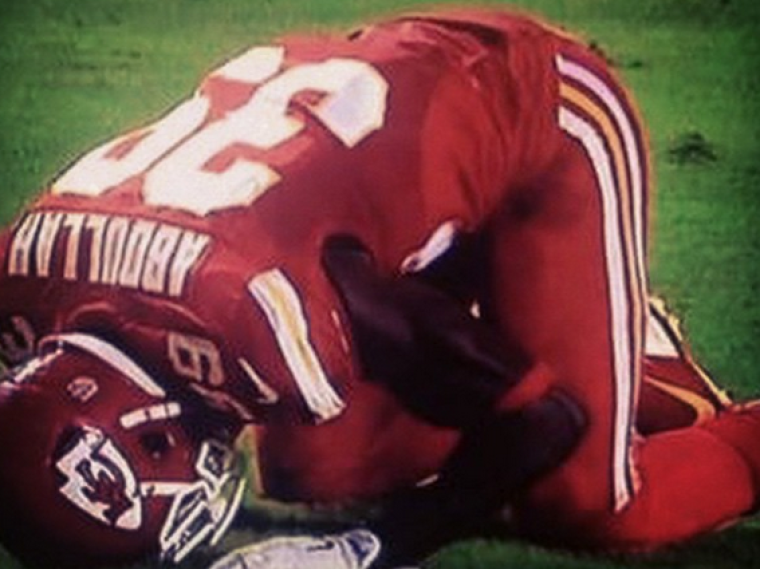 View Photos
Christian author and preacher Max Lucado has come to the defense of an NFL player recently punished for praying after making an interception.
In a column published Wednesday, Lucado wrote that when Kansas City Chiefs player Husain Abdullah was given a personal foul for praying on the field it "was hard to watch."
"For decades competitors have bowed their heads, crossed their hearts, kissed their rosaries and lifted their eyes to heaven as they sought favor on the fields of competition," wrote Lucado.
"Is a little petition or gratitude so bad? If the act is sincere toward God as opposed to insincere, for show, what is the harm?"
Lucado also compared Abdullah's prayer to former Denver Broncos Tim Tebow's famous "tebowing" posture done during games.
"I know prayer has changed my life — I'm happier, healthier and more hopeful than I have ever been. Struggles come, for sure. But so does God," continued Lucado.
"Prayer is not a privilege for the pious or an opportunity for a chosen few. Prayer is God's open invitation to talk with him: simply, openly and powerfully. Even on the football field."
During the Monday night game where the Chiefs played the New England Patriots, Abdullah intercepted a pass and made a 39-yard interception for a touchdown.
After doing so, the devout Muslim player bowed in prayer and received a 15-yard penalty for allegedly exhibiting unsportsmanlike behavior.
According to the NFL's Rule 12, Section 3, Article 1 (d), "Players are prohibited from engaging in any celebrations or demonstrations while on the ground."
Within hours of the penalty, the NFL declared the penalty wrong, with Michael Signora, NFL vice president of football communications stating, "Abdullah should not have been penalized."
"Officiating mechanic is not to flag player who goes to ground for religious reasons," continued Signora on Twitter.
The Council on American Islamic Relations, which had spoken with concern about the initial penalty, gave their approval of the NFL's statement.
Ibrahim Hooper, spokesman for CAIR, told The Huffington Post earlier this week that he was satisfied with the NFL's fast response.
In the past, Hooper had urged the organization to give clarification as to its stance on prayer in order "to prevent the appearance of a double standard."