Harass Trump Officials in Public Places, 'God Is on Our Side,' Dem. Congresswoman Says at Rally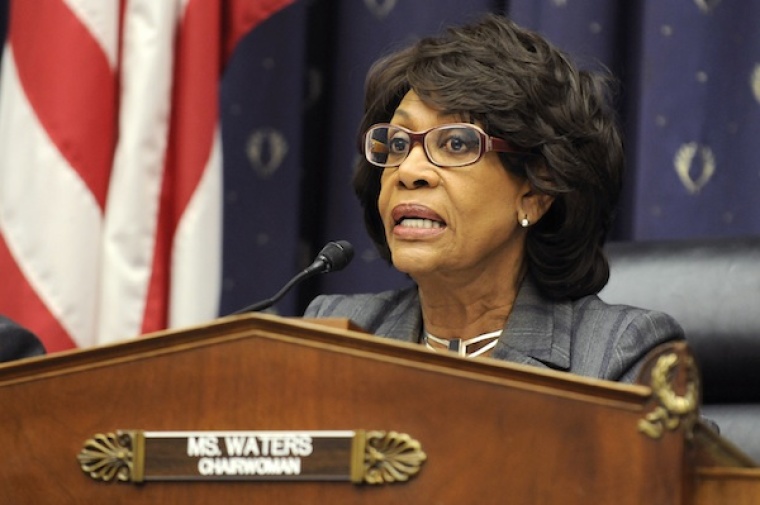 Update Appended
At a weekend rally in California, Democratic Rep. Maxine Waters encouraged her supporters to "absolutely harass" Trump staffers when they visit restaurants, gas stations or departmental stores as a way to protest the president's "zero-tolerance" immigration policy.
"I have no sympathy for these people that are in this administration who know it is wrong what they're doing on so many fronts but they tend to not want to confront this president," Waters told her supporters in Los Angeles Saturday, according to a video.
"For these members of his cabinet who remain and try to defend him they're not going to be able to go to a restaurant, they're not going to be able to stop at a gas station, they're not going to be able to shop at a department store, the people are going to turn on them, they're going to protest, they're going to absolutely harass them until they decide that they're going to tell the president 'no I can't hang with you, this is wrong this is unconscionable and we can't keep doing this to children,'" she added.
Waters also told the crowd "God is on our side," in reference to Trump's immigration policies. 
"While you try and quote the Bible, Jeff Sessions and others, you really don't know the Bible. God is on our side, on the side of the children, on the side of what's right ...," she said. 
Attorney General Jeff Sessions and Press Secretary Sarah Huckabee Sanders cited Romans 13 from the Bible to defend the administration's immigration policies earlier this month, a position Sessions described as not extreme to CBN Saturday. 
Columnist and author Meghan McCain, daughter of U.S. Senator John McCain, reacted to Waters' call. "This is absolutely insane - and extremely dangerous," she wrote on Twitter. "My father in law works in the administration, does this mean when we go out to dinner we should be ambushed?!? Don't ever again give me any of the 'when they go low, we go high' lip service."
Jon Ward, senior political correspondent for Yahoo, called it close to incitement to "mob violence."
"This is an elected official in America coming very close to encouraging mob violence. I was incredibly disturbed when Trump incited violence at his rallies. This is also very disturbing," he tweeted.
Fox News anchor Bret Baier wrote, "I'm not sure this will sell for Democrats in the midterms. I highly doubt @SenDonnelly or Sen @jontester will be running on this."
Waters' provocation comes the day after President Trump's press secretary Sarah Huckabee Sanders said she was asked to leave a Virginia restaurant because of her work in the Trump administration.
"Last night I was told by the owner of Red Hen in Lexington, VA to leave because I work for @POTUS and I politely left. Her actions say far more about her than about me. I always do my best to treat people, including those I disagree with, respectfully and will continue to do so," she tweeted Saturday.
"I'm not a huge fan of confrontation," co-owner Stephanie Wilkinson told The Washington Post. "I have a business, and I want the business to thrive. This feels like the moment in our democracy when people have to make uncomfortable actions and decisions to uphold their morals."
Trump's immigration policy has resulted in the separation of immigrant families, as over 2,000 children were taken from their parents who are being held in Border Patrol detention centers as their claims are being processed. Last week, Trump signed an executive order ending such separations. However, he also met with families whose loved ones have been killed by illegal immigrants to highlight their "permanent separation" in response to criticism over his administration's crackdown on illegal immigration.
In an interview aired Saturday on Trinity Broadcasting Network, Trump told former Arkansas Gov. Mike Huckabee that Democrats failed to "sit down to draw an agreement that's good for security."
"We need merit-based immigration," he stressed.
Update, June 25, 2018: Democrat House leader Nancy Pelosi criticized Waters, saying in part on Twitter, "Trump's daily lack of civility has provoked responses that are predictable but unacceptable."