Houston Mayor Annise Parker Drops Subpoenas Demanding Pastors Turn Over Their Sermons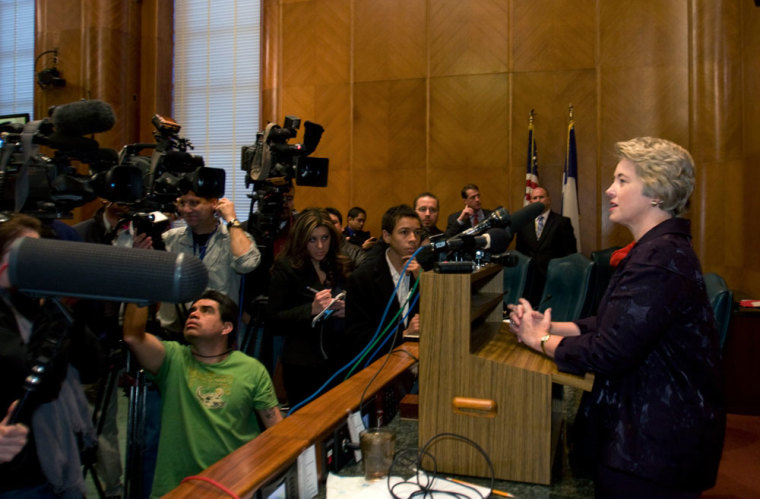 Houston Mayor Annise Parker has announced that she will withdraw the subpoenas against five pastors who have spoken out against the Houston Equal Rights Ordinance, an LGBT city ordinance that some opponents claim would allow men to use women's public restrooms.
"After much contemplation and discussion, I am directing the city legal department to withdraw the subpoenas issued to the five Houston pastors who delivered the petitions, the anti-HERO petitions, to the city of Houston and who indicated that they were responsible for the overall petition effort," Parker said during Wednesday's press conference.
"It is extremely important to me to protect our equal rights ordinance from repeal, and it is extremely important to me to make sure that every Houstonian knows that their lives are valid and protected and acknowledged," added Parker, who's the city's first openly-gay mayor.
Earlier this month it was revealed that the city of Houston had subpoenaed five pastors regarding a rejected referendum about a recently passed LGBT city ordinance, known by the acronym, HERO.
HERO amended Houston's Code of Ordinances, prohibiting discrimination in public facilities and private employment on the basis of "protected characteristics."
This list of protected characteristics included race, color, ethnicity, national origin, age, sex, familial and marital status, military status, disability, religion, genetic information, pregnancy, sexual orientation and gender identity.
Opponents of HERO claim it will have several unintended consequences, such as allowing transgender men to use women's restrooms.
Critics turned in a petition to get the ordinance repealed or put on the ballot, which Houston's city attorney rejected. In response, conservatives filed suit.
Five Houston pastors whom city officials believed opposed the ordinance were told they had to turn over all sermons they had preached regarding homosexuality, HERO, and about the mayor, who is a practicing lesbian.
The subpoenas garnered nationwide criticism from liberal and conservative organizations alike, with Parker initially narrowing the scope of the subpoenas to include "speeches" rather than "sermons."
Parker's decision to drop the subpoenas came days in advance of the "I Stand Sunday," event announcement, in which multiple conservative groups, along with former Arkansas Gov. Mike Huckabee, the Benham brothers, and members of the "Duck Dynasty" cast will unite for a 90-minute simulcast in solidarity with the five pastors on Sunday, Nov. 2.