Megachurch Pastor Ed Young Jr.: Anger Is Gift From God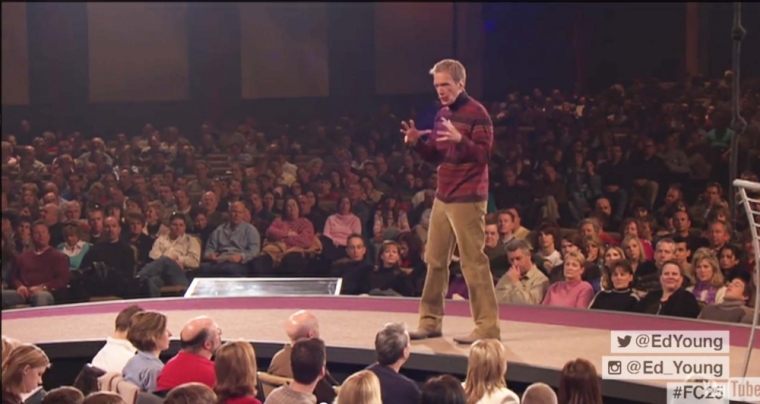 Texas megachurch Pastor Ed Young Jr. told his congregation Sunday that while all Christians get angry, not all understand what this emotion is. He called anger "a gift from God," explaining how it can be used constructively, which is its purpose.
Anger is not the primary emotion; it's something that we process, said Young, the founding and senior pastor of Fellowship Church, as he began his sermon, titled "Good 'n' Angry."
"It is usually a secondary emotion, not the first thing we feel," he said, adding that from the human perspective, there's a good side to anger and there's a bad side to anger.
But "anger is a gift from God," he emphasized, saying it is one of the most misunderstood and distorted of all human emotions.
He quoted Ephesians 4:26, 27: "Be angry, and yet do not sin; do not let the sun go down on your anger, and do not give the devil an opportunity."
God got angry, and Jesus got angry, according to the Bible, he told the church members.
The verse, he explained, warns that if we use anger in a sinful way, instead of a saintly way, we'll give the devil an opportunity.
"We live in an age of rage ... we have a very angry culture," Young cautioned, saying, however, that anger is our friend.
"Anger is the key to deeper intimacy in marriage," he said, giving an example. Anger is an indication that we need to change, he said. "You show me your anger, and I'll show you your passion. You show me your anger and I'll show you your purpose of living."
However, destructive anger comes like weather patterns, sometimes like a snowstorm, Young said. It makes us cold towards the other, isolates us and we refuse to communicate.
Some handle anger like a tornado, which explodes and causes devastation. Some seek to retaliate, he added.
Anger is a learned response, Young underlined. "God wants us to leverage anger."
He explained, saying, "We should get angry at what angers God because when we get angry at what angers God, we can change the world."
We should get angry when God's word is maligned, for example, he said.
Anger so often can't drive people without Christ, to Christ, Young said. Many young people, because of their exposure to technology and because they have tried many things early on in life, are angry because nothing has given them satisfaction, he said, sharing some experiences from his interactions with youth.
But anger can lead to God because the cross is about the anger of God, the pastor said. The cross is all about God's wrath on Jesus Christ, the perfect sacrifice.
There's something that drives our anger; it's a secondary emotion, he told the congregants. It could be fear or frustration or insecurity or something else we try to escape.
"Feel the fear, feel the frustration, feel the insecurity," instead of choosing the easier way of getting angry, he concluded.