Megan Rapinoe jokes that injury during final game 'proof' there is no God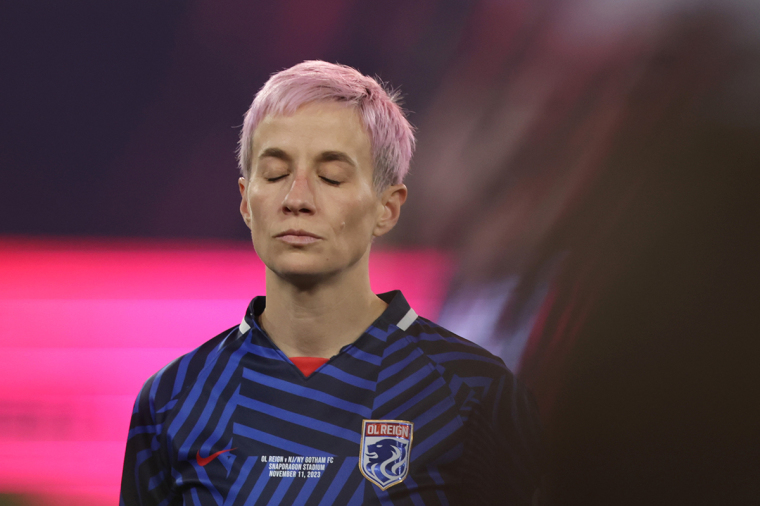 Retiring professional soccer star Megan Rapinoe joked that the injury she suffered during the final match of her career on Saturday is evidence there is no God.
Rapinoe, who has won two World Cup titles and an Olympic gold medal, said she believes she tore her Achilles tendon during the sixth minute of the National Women's Soccer League Championship between Rapinoe's Seattle-based OL Reign and Gotham FC, according to The Seattle Times.
OL Reign lost 2-1 to the NY/NJ Gotham.
"I'm not a religious person or anything and if there was a God, like, this is proof that there isn't," Rapinoe, 38, said during a post-match press conference. "This is f---ed up. It's just f---ed up. Six minutes in and I eat my Achilles."
Rapinoe also said she intended to get the "Aaron Rodgers treatment" to get over her injury while teammate Rose Lavelle, 28, laughed at her profanity-laden comments.
"If there was a God, this is proof there isn't"

Megan Rapinoe after getting injured and leaving the game early.pic.twitter.com/QByyJzoltL

— OutKick (@Outkick) November 12, 2023
"Everyone is always like, 'Who kicked me?' And obviously, no one was even around me, and I was pressing," Rapinoe described her non-contact injury to The Seattle Times.
"That's what it felt like. Just a huge pop and I can't even feel where the Achilles is, but pretty sure I tore my Achilles. The worst possible outcome," she said.
"Thank God I have a f—ing deep well of a sense of humor. It's devastating to go out in a final so early," she added.
Before she left the field on Saturday, an emotional Rapinoe gave a hug to Ali Krieger, a player with Gotham FC who had played with her on the U.S. Women's National Team (USWNT).
The injury marked the end of Rapinoe's professional athletic career, during which she made headlines in recent years for her political stances that repeatedly drew scorn from former President Trump.
Rapinoe, who first came out publicly as a lesbian during a 2012 interview with Out magazine, was the first white female athlete to follow former 49ers quarterback Colin Kaepernick's example of kneeling during the national anthem in 2016.
She would go on to describe herself as "a walking protest" to the policies of Trump, who publicly criticized her decision to kneel during the national anthem. In 2019, Trump hit back at her after she said she would refuse to visit the White House if the USWNT won the World Cup, urging her to "WIN first before she talks!"
When the USWNT lost to Sweden in August following Rapinoe's missed penalty kick, she described the situation as a "sick joke," according to The New York Times.
Trump wrote on Truth Social that the team's loss was "fully emblematic of what is happening to our once great Nation under Crooked Joe Biden."
"Many of our players were openly hostile to America — No other country behaved in such a manner, or even close," Trump wrote. "WOKE EQUALS FAILURE. Nice shot Megan, the USA is going to Hell!!! MAGA."
In 2022, President Biden awarded Rapinoe with a Presidential Medal of Freedom for her activism seeking equal pay for women soccer players.
Rapinoe had been one of five players who reached a $24 million settlement with the U.S. Soccer Federation in February 2022 after they filed a complaint with Equal Employment Opportunity Commission over alleged gender discrimination.