Melania Trump Touts Husband, Says She Will Focus on Women and Children as First Lady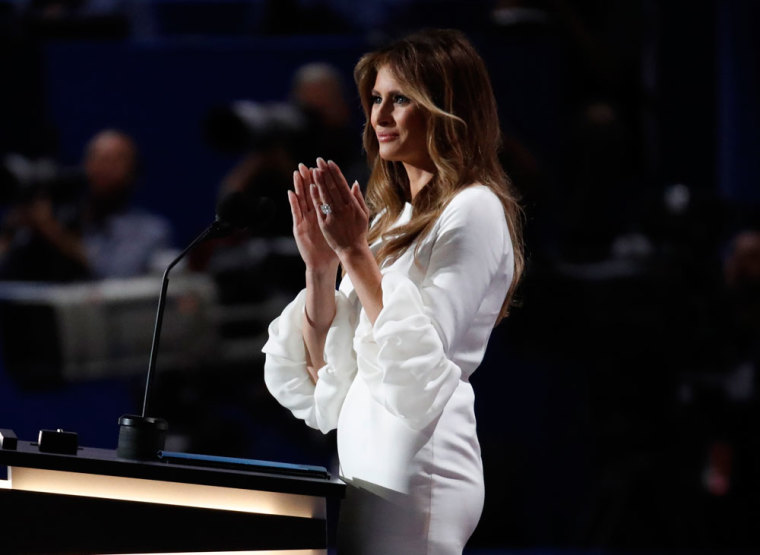 Melania Trump, wife of Republican presidential nominee Donald Trump, pitched her husband as America's best choice for president and pledged to focus on helping women and children as First Lady of the United States in a rare speech on the first day of the Republican National Convention in Cleveland, Ohio on Monday night.
"If you want someone to fight for you and your country I can assure you he is the guy. He will never ever give up and most importantly he will never ever let you down. Donald is, and always has been an amazing leader," the former model who grew up in Slovenia before immigrating to the U.S. 20 years ago told delegates.
"He will go to work for you. His achievements speak for themselves and his performance throughout the primary campaign proved that he knows how to win. He also knows how to remain focused on improving our country, on keeping it safe and secure," she said. "He is tough when he has to be but he is also kind and fair and caring. This kindness is not always noted but it is there for all to see. That is one reason I fell in love with him to begin with."
Before Melania began making the case for her husband, however, he broke with tradition by appearing on the opening night, to introduce her.
"Ladies and gentlemen, it is my great honor to present the next First Lady of the United States, my wife, an amazing mother, an incredible woman, Melania Trump," Trump said in his brief introduction of her to the convention that greeted him with rapturous applause after he made a grand entrance at about 10:22 p.m. to Queens' "We are the Champions" soundtrack.
"You have all been very kind to Donald and me. To our young son Baron and to our whole family. It's a very nice welcome. And we are excited to be with you at this historic convention," Melania said as the crowd cheered her heavily accented speech.
"I'm so proud of your choice for president of the United States, my husband, Donald J. Trump. I can assure you, he is moved by this great honor," she added.
In her speech, the First-Lady hopeful painted both herself and her husband as very family-oriented and patriotic.
"From a young age, my parents impressed on me the values that you work hard for what you want in life. That your word is your bond and you do what you say and keep your promise," she said.
"That you treat people with respect. They taught and showed me values and morals in their daily life. That is a lesson that I continue to pass along to our son and we need to pass those lessons on to the many generations to follow," she continued. "We want our children in this nation to know that the only limit to your achievement is the strength of your dreams and your willingness to work for them."
If she becomes First Lady, she explained, she would try to help people who "need it the most."
"If I'm honored to serve as First Lady, I will use that wonderful privilege to try to help people in our country who need it the most. One of the many causes dear to my heart is helping children and women. You judge society by how it treats its citizens. We must do our best to ensure that every child can live in comfort and security with the best possible education," she said.
Melania explained that becoming a U.S. citizen in July 2006 was the greatest privilege on the planet and praised veterans for helping to defend those freedoms.
"I cannot or will not take the freedoms this country offers for granted. But these freedoms have come with a price so many times. The sacrifices made by our veterans are reminders to us of this," she said.
"I can tell you with certainty that my husband has been concerned about our country for as long as I have known him. With all of my heart, I know that he will make a great and lasting difference," she said before also describing the real estate mogul as a fighter who is "intensely loyal to family, friends, employees and country."
"Donald thinks big which is especially important when considering the presidency of the United States. No room for small thinking, no room for small results. Donald gets things done. Our country is underperforming and needs new leadership. Leadership is also what the world needs. Donald wants our country to move forward in the most positive of ways. Everyone wants change. Donald is the only one that can deliver it. We should not be satisfied with stagnation. Donald wants prosperity for all Americans," she noted.
Melania also pointed to her husband's ability to work with diverse groups of people.
"Donald intends to represent all the people. Not just some of the people. That includes Christians and Jews and Muslims. It includes Hispanics and African Americans and Asians and the poor and the middle-class. Throughout his career Donald has successfully worked with people of many faiths," she said.
"And with many nations. Like no one else. I have seen the talent, the energy. The tenacity, and the resourceful mind and the simple goodness of the heart that God gave to Donald Trump. Now is the time to use those gifts as never before. For purposes far greater than ever and he will do this better than anyone else can. And it won't even be close," she noted.
"You have turned this unlikely campaign into a movement that is still gaining in strength and number. The primary season and its toughness is behind us. Let's all come together in a national campaign like no other," she said to cheers. "The race will be hard-fought all the way to November. There will be good times and hard times and unexpected turns. It would not be a Trump contest without excitement and drama."