Meriam Ibrahim, Daniel Wani and Children Leave Rome for US After Escaping Sudan; Persecuted Christian Family to Be Welcomed by Philadelphia Mayor
Family to Then Travel to New Hampshire Where They Will Be Embraced by Christian Sudanese Community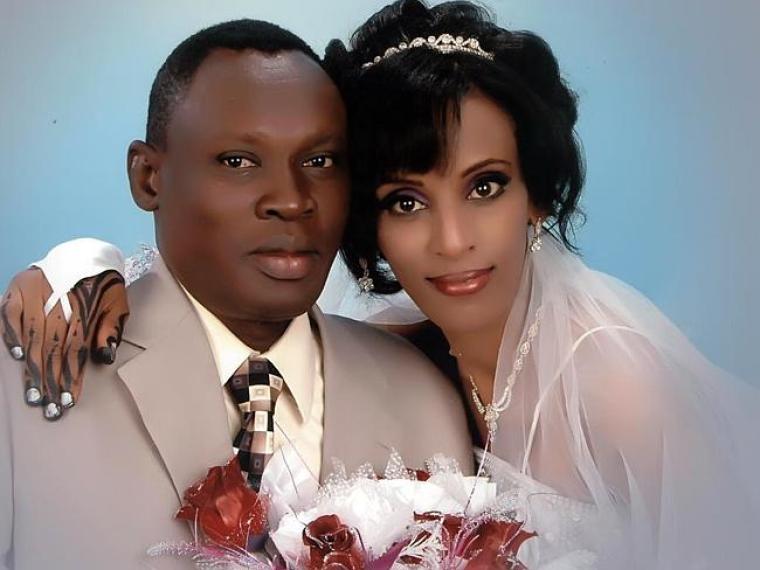 Meriam Ibrahim, her husband, Daniel Wani, and their two children will be greeted quietly Thursday afternoon by Philadelphia's Mayor Michael Nutter upon their arrival at the Philadelphia International Airport, in another leg of a harrowing persecution case that nearly resulted in the Orthodox Christian woman being executed for her faith by Sudanese authorities.
The family departed earlier this morning from Fiumicino Airport in Rome, where they had been transported after a hellish year-long ordeal that has enshrined Ibrahim, 27, as a near-martyr and resulted in her giving birth to her youngest child while shackled in prison.
The family is expected to touch down on an American Airlines or US Airways flight at the Philadelphia International Airport just a little after 3 p.m. According to an email sent Thursday morning by the Philadelphia mayor's office, "Mayor Nutter will welcome Meriam Ibrahim and her family at the airport."
According to a source close to the situation, Ibrahim, Wani and their children were being heavily shielded by the FBI and the TSA, so the family's welcome by Mayor Nutter reportedly will happen quietly with no fanfare.
Ibrahim, holding her months-old daughter, Maya, was photographed as they made their way through Fiumicino Airport to catch their flight leaving Rome.
According to Antonella Napoli, an Italian journalist and activist who has been working closely with the family, Ibrahim stated that she was "a bit scared to leave Rome."
"We have been very happy here. We have felt like a real family," said the 27-year-old woman.
During their week in Rome, the family reportedly visited the Roman amphitheater or Colosseum, where in the third century Christians were martyred for amusement.
Ibrahim added, "We saw the whole city, we went to the Colosseum, we went to mass on Sunday, and we went shopping. We returned to life. And now I don't know what to expect but at least we will all be together."
As for Wani, Ibrahim's husband, he was looking forward to returning to his home in Manchester, New Hampshire, where his brother, Gabriel Wani, also lives. Members of the local Sudanese Evangelical Covenant Church were also waiting with anticipation to welcome the brave family home.
"My brother will help us, I'm sure, and the Christian community in New Hampshire will be with us. The future is always unknown but I am optimistic," Wani said, according to the Daily Mail.
Napoli, apparently travelling with the family from Rome to the U.S., shared a photo of Ibrahim, Wani and baby Maya seated on the plane and prepared for departure.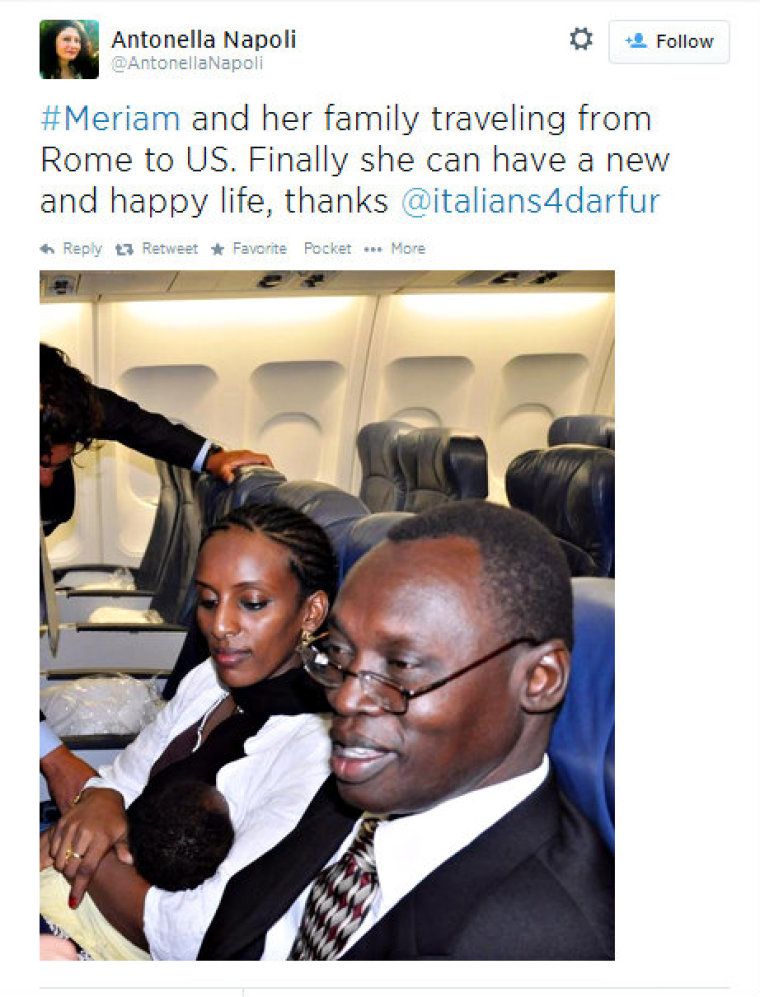 Ibrahim's case drew international attention when it was revealed earlier this year that she was facing death due to her Christian faith, after being accused by family members of apostasy. The Sudanese court that convicted her on the charge did so on grounds of identifying her as a Muslim because her father is a Muslim. Being labeled as a Muslim by the courts, Ibrahim was also charged with adultery and threatened with 100 lashes, because Sudanese law prohibits interfaith marriages for Muslims.
Ibrahim repeatedly testified that she was raised as a Christian by her Ethiopian Orthodox Christian mother since the age of 6, when her father was no longer in their lives. The defiant woman's case was compounded by the fact that she was pregnant at the time with her daughter, Maya, whom she give birth to in prison less than two months ago. Officials also kept Ibrahim's toddler son, Martin, with her in prison reportedly because they viewed his Christian father as illegitimate.
Sudan's Supreme Court overturned Ibrahim's charges on June 23 and she was released from prison. But when Italian and U.S. authorities tried to transport Ibrahim and her family out of Sudan the following day, they were detained at the airport in Khartoum under allegations of falsifying documents. After being detained at the airport, the family eventually found shelter at a safehouse at the U.S. Embassy in Khartoum. The family's freedom was reportedly brokered on July 23, and on July 24, they were quickly and quietly ushered out of Sudan by Italian officials.
Despite intense pressure to recant her faith to alleviate the apostasy charge and subsequent death sentence during her time in prison, Ibrahim refused to deny Christ. "I am a Christian, and will remain a Christian," she reportedly stated in court the same day her sentence was handed down.
"Even when they condemned me to death I never thought of renouncing my religion. When I was asked to renounce my religion I knew what I was risking. But I didn't want to do it," Ibrahim told reporters upon her arrival in Rome, where she and her family met with Pope Francis at the Vatican.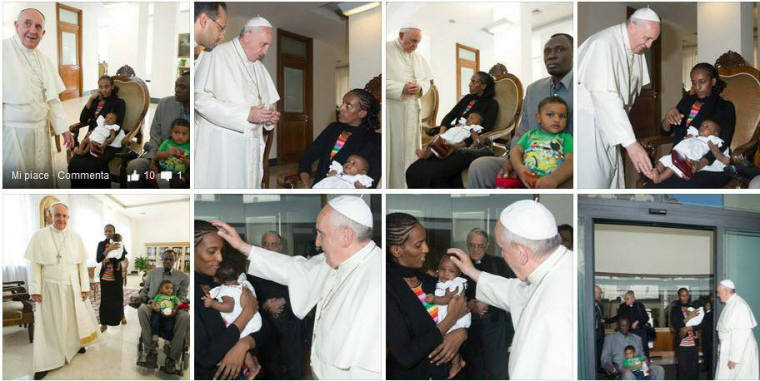 Ibrahim described her meeting with Pope Francis as "the peak in the faith which I have never abandoned." The pope for his part reportedly expressed gratitude to Ibrahim and her family for their "courageous witness and constancy of faith," a sentiment shared by many Christians around the world who petitioned governments, organized rallies, and fasted and prayed for her survival and freedom.
In a statement last week, National Security Advisor Susan Rice said she was "delighted" that Ibrahim's safety and freedom had been secured and that she would be traveling to the states.
"Her departure with her immediate family — including her infant daughter born in custody — is a testament to her unyielding faith and the support she received from friends and allies, including our Embassy in Khartoum and the broader U.S. government," stated Rice.
Ibrahim, a doctor, and Wani, a biochemist who holds dual U.S.-Sudan citizenship, married in 2011, the same year Ibrahim's mother died. In addition to baby Maya, the couple have a toddler son named Martin. After a brief stopover in Pennsylvania, the family will continue on Friday to Manchester, New Hampshire.