Meryl Streep Urges Stronger Press in Trump Tirade at Golden Globes; Trump Responds 'Media is Fake'
In her acceptance speech at the 2017 Golden Globe Awards, Meryl Streep called out Donald Trump for mocking a disabled reporter and highlighted the importance of a free press to "safeguard the truth".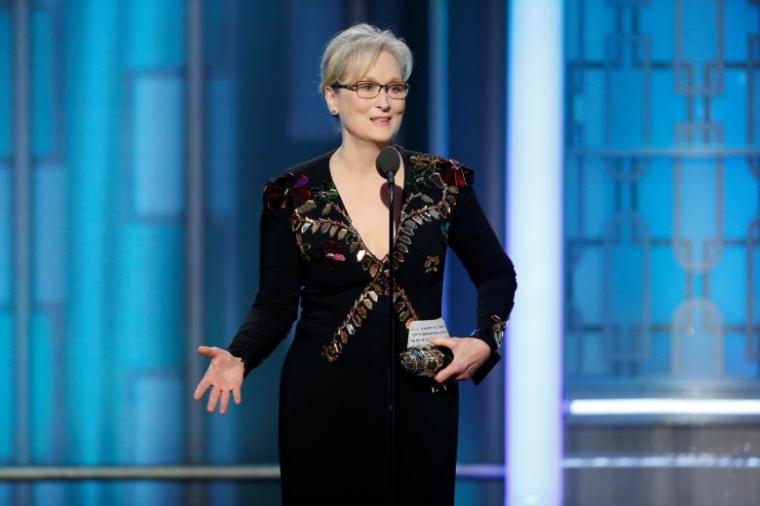 Being honored at the 2017 Golden Globes for her outstanding work in the film industry, Meryl Streep delivered a passionate acceptance speech which received a standing ovation from the audience so nearly moved to tears.
After receiving the honorary Cecil B. DeMille award on Sunday night, Ms. Streep delivered a 6-minute address in which she tore into President-Elect Donald Trump for mocking a disabled reporter, Serge F. Kovaleski from New York Times, citing it as a performance that stunned her.
"There was one performance this year that stunned me. It sank its hook in my heart not because it was good. It was ‑‑ there was nothing good about it, but it was effective, and it did its job. It made its intended audience laugh and show their teeth. It was that moment when the person asking to sit in the most respected seat in our country imitated a disabled reporter, someone he outranked in privilege, power and the capacity to fight back," Streep said in the emotionally-charged acceptance speech.
"Disrespect invites disrespect. Violence incites violence. When the powerful use their position to bully others, we all lose," she said to overwhelming applause.
Without referencing him by name, Ms. Streep, who supported Hillary Clinton's bid for presidency, spoke about the dangers of Trump's rhetoric in influencing public opinion and action. She also highlighted the presence, and importance, of the cultural and ethnic diversity that exists in Hollywood.
Mentioning the foreign birth places of various actors like Ruth Negga, Amy Adams, Dev Patel, and Natalie Portman among others, Streep posed a taunting question nonchalantly directed at Trump: "Where are their birth certificates?"
"Hollywood is crawling with outsiders and foreigners and if we kick them all out, you'll have nothing to watch but football and mixed martial arts, which are not the arts," she added.
Meryl Streep also spoke about the importance of a free press when it comes to "holding power to account."
She called for the Hollywood Foreign Press Association (presenters of the Golden Globe Awards) and the entire film and television community to protect journalists who "we're going to need going forward ---- to safeguard the truth."
While the soulful speech gained a lot of support on Twitter with the likes of Ellen DeGeneres, Julianne Moore, and Laverne Cox among those who thanked Meryl Streep for her message, Streep also faced backlash for her comments.
Sean Hannity, Fox News host, and Meghan McCain, radio host and daughter of Republican Senator John McCain, pointed out the hypocritical nature of Hollywood illustrated in Meryl Streep's speech.
Just as the ceremony was coming to an end, Donald Trump took to twitter to lambast the "dishonest media". Talking about the U.S.- Mexico border wall (one of his Trump's key campaign promises) and the issue of who is paying for it, he said: "Dishonest media says Mexico won't be paying for the wall if they pay a little later so the wall can be built more quickly. Media is fake!"
Talking to the New York Times about the Golden Globes speech, Donald Trump dismissed Ms. Streep as a "Hillary Lover" saying that he was "not surprised" that he had come under attack from "liberal movie people." He did however, say that he had not yet seen Ms. Streep's speech or any other part of the awards ceremony.