Michael Moore And Gun Control, Demands Obama to Act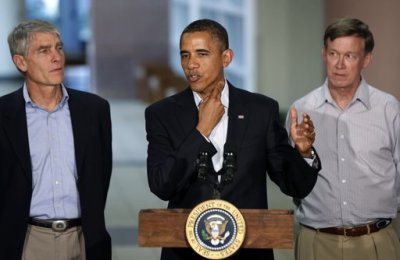 Filmmaker Michael Moore has called out President Obama over the issue of gun control following the recent movie theater massacre in Aurora, Colo.
Notorious for his staunch political beliefs, Moore directed the 1999 documentary "Bowling for Columbine" where he drew attention to the nation's debate about the availability of fire arms.
Now, 13 years later, Moore is as passionate as ever over the cause and is pleading that the President take action. In light of the latest shooting in Aurora, the director told CNN's Piers Morgan that Obama needs to be the "leader" on gun control issues.
"If people would just rise up and say, 'Damn it, this is not the America I'm going to live in.' This is too great of a country to let this happen again. And I am not going to let this happen again," said Moore while on "Piers Morgan Tonight."
"And I am not going to come on another one of these damn TV shows either, after the next one of these shootings, Piers … I'm sick of this," continued the filmmaker. "I refuse it. I refuse to live in a country like this, as I said before, and I'm not leaving. So therefore, what am I going to do? It's got to change."
Although the Academy Award winner acknowledged that Obama's speech regarding the shooting was "powerful," Moore criticized the President for not taking a firm stance on gun control laws.
During Obama's speech last week, the President noted the reference to his own daughters attending the movies. Moore further questioned the comparison.
"I guess if President Obama is watching right now, and I said this with due respect: What if it were [Sasha and and Malia Obama]," Moore asked.
"What if it were them Thursday night," he continued. "Would you stand at the microphone the next day and say I feel your pain and, you know, the existing gun laws, that's what he said, the existing laws are enough. Is that really what you'd say, Mr. President? I don't think so."
Moore has also directed films "Fahrenheit 9/11," "Sicko," and "Roger & Me." The Flint, Michigan native's documentaries are among the highest-grossing. He has also written and starred in television shows "TV Nation" and "The Awful Truth."
The director often takes aim at globalization, large corporations, the Iraq War, the American healthcare system, and of course, assault weapon ownership, among other issues.
Michael Moore Speaks Out on Gun Control