Michigan abortionist accused of running over pro-life activist with car, breaking his leg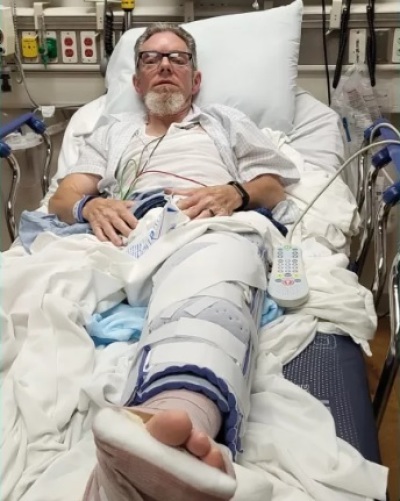 An abortion provider in Michigan is accused of running over a pro-life sidewalk counselor with his car near an abortion clinic, breaking the individual's leg.
Mark Zimmerman, who regularly prays outside of the Women's Center of Saginaw, claims he was run over twice by 88-year-old Theodore Roummel in an incident last Friday.
"I was standing in the driveway and the abortionist ran over my leg," Zimmerman told Live Action News. "And then he had to reverse to get off my leg, so he ran me over twice."
"He parked his car and came over when the police came, and was screaming at the police about how we always run in front of him — we don't."
Zimmerman said there were "four witnesses who saw what happened."
"So they gave a statement to police, and he was not arrested. He went about and finished his day by doing five abortions," Zimmerman claims. 
A spokesperson for the Saginaw Township Police Department told The Christian Post on Wednesday that the incident is "still under investigation." The department "does not have any information to release at this time."
The Christian Post reached out to the Women's Center of Saginaw for comment. A response was not received by press time.
A crowdfunding campaign was launched by friends of Zimmerman on GiveSendGo, which as of Wednesday morning, has raised more than $1,800 out of a goal of $40,000.
"After years of faithfully praying and advocating outside an abortion clinic in Saginaw, MI, our pro-life brother, Mark Zimmerman, was viciously targeted and intentionally hit by an abortionist," stated the campaign.
"Mark suffered a broken leg from the attack and will have to have surgery to repair the fracture. At this time, we are raising funds to help with the medical bills for Mark and possible attorney fees as he considers legal action against the abortionist."
The campaign claimed that after Roummel struck Zimmerman, "the abortionist got out of his vehicle after the attack and laughed at Mark as he lay injured on the ground."
"The police and paramedics did respond to the scene after the attack. Mark was transported via ambulance to the hospital to receive treatment for his injuries," it added.
"According to witnesses, the police did go into the clinic to talk to the abortionist, but they came out shortly afterward."
According to Live Action News, Roummel was arrested in 2012 and charged with assault after he struck pro-life activist Lynn Mills with his car. He was placed on probation for six months.
Last September, another pro-life activist in Michigan, 84-year-old Joan Jacobson, was shot while going door-to-door to campaign against the state's ultimately successful referendum to establish abortion as a state constitutional right.
Richard Harvey, the man who shot Jacobson, was arrested and charged with assault with a dangerous weapon, reckless use of a firearm and careless discharge causing injury.