Michigan Basketball Coach Fired for Christian Tweets, Controlling 'How Much Players Ate'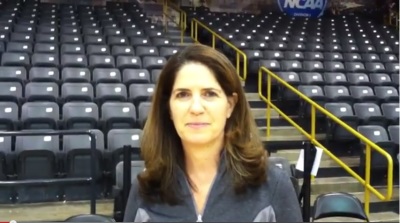 A Michigan basketball coach was fired from her position for sharing her Christian faith against the orders of the college's athletic director and for emotionally abusing her players driven by her obsession with her players' weight, a new university court document asserted.
Beckie Francis, Oakland University's (OU) former women's basketball coach, and spouse of the school's former president, defied the school's athletic director's orders to keep her faith out of social media and attempted to control her players' eating habits, reported the "Francis Board of Trustees Executive Summary," Exhibit 3 of OU's Friday court filing,
"[Francis] sent countless tweets demonstrating a total disregard of her direct supervisor's reasonable instruction that she keep her religious proselytizing separate from her activities as Oakland's basketball coach," stated the report.
It also noted that the coach was "obsessed with nutrition and body fat" and that "Francis wants a small, light and lean team; Francis controls how much they eat, when and what they eat."
The report also stated that Francis "expects automatic compliance with her instructions and/or expectations; exploits personal relationships to achieve her own ends; lacks empathy and is unwilling to recognize or identify with feelings or needs of others."
The Detroit Free Press, the region's local newspaper, first reported many of these claims in a story in July when several Oakland players came forward to speak with the media, but last Friday was the first time the university had acknowledged its decision, though it has still not addressed the media publicly.
Also included in the OU report, which documented Francis' offending social media posts, the coach tweeted several dozen Bible verses and faith-related posts.
"Ever1 who competes in games does strict training, do it 2 get the crown does not last; but we do it 2 get crown will last forever," she tweeted on May 28.
"Those who hope in the Lord will renew their strength. They will soar on wings like eagles; they will run & not grow weary…" Isaiah 40:31," Francis posted on May 31.
In addition to the state university's report, the newspaper's investigation also revealed that Francis documented players' weight by photographing them in sports bras and Spandex.
"She was fixated on my weight; she was fixated on what I ate," Jenna Bachrouche, who played two seasons before transferring in 2012, told The Detroit Free Press. "I would have to have my teammates sneak me snacks on the road. She would subtly tell me, but most of the times it was through the captains. She would tell the captains to tell me to cut down on my eating because I was eating too much at meals."
Bachrouche said ultimately Francis' constant criticism caused her to leave.
"Honestly, it was exhausting; it was stressful," Bachrouche said. "I tried to avoid as much conversation with her as possible. I know it was the same for a lot of other girls. I got stressed out just thinking about talking to her or going to practice or having something to do with basketball. My academics suffered."
Prior to her firing, Francis had used her platform as coach to share her story of being a sexual abuse survivor and lobbied to pass Erin's Law in Michigan, which allowed "schools to educate students about sexual abuse."
For sharing her story, the U.S. Basketball Writers Association honored Francis earlier this year with the Pat Summitt Most Courageous Award, for her "extraordinary courage while facing adversity in life."
While the team struggled the past year, going 9-20, they were successful off the court. The 2012-13 team had an average GPA of 3.503, the 11th-highest grade-point average among Division I teams, according to the Women's Basketball Coaches Association.