Michigan Bishop Re-Affirms Ban on Guns in Churches and Schools as Priest Pens Letter Encouraging Catholics to Carry Firearms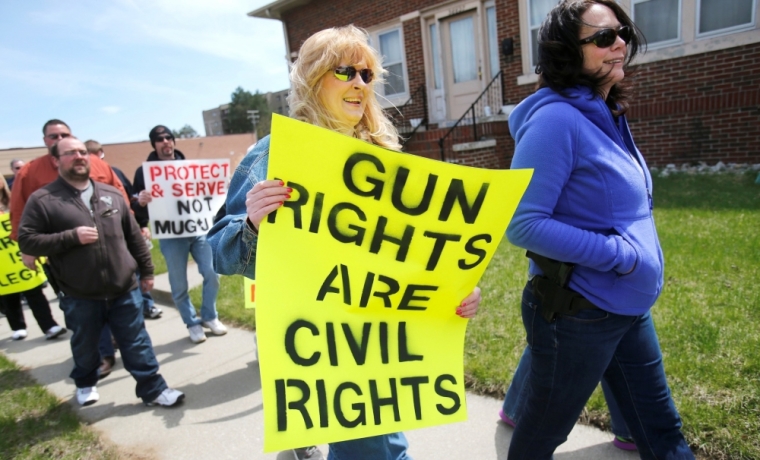 A Michigan Catholic priest believes faith in Jesus might not be enough for his congregation when it comes to protecting themselves from outside forces and a growing criminal threat in the area.
Father Edward Fride of Christ the King Church in Ann Arbor, Michigan, penned a letter titled "We're Not in Mayberry Anymore Toto," addressing parishioners on the topic of protection by using a narrative that compared residents' mindset in the area to that of people found in the fictitious city of Mayberry, a town featured in the 1960s hit "The Andy Griffith Show."
"It is very common for Christians to simply assume that they live in Mayberry, trusting that because they know the Lord Jesus, everything will always be fine and nothing bad can happen to them and their families. Those who have followed the Lord Jesus for more than 20 minutes, however, have often experienced first-hand that the reality of living in a fallen universe can be very different," he wrote.
Fride explains that Christians living in Ann Arbor cannot walk around ignorant to the fact that within the last 50 years, criminal activity has increased significantly and due to budget cuts, the number of available armed police has dropped.
He then goes on to discuss recent statements made by the Detroit police commissioner who's encouraging civilians with Concealed Pistol Licenses to carry their weapons, and mentions a CPL class he's running at Christ the King Church while concluding that Catholic teaching does not prohibit the use of guns for self-defense purposes.
Bishop Boyea of the Diocese of Lansing, where Christ the King is located, issued a statement regarding the use of guns inside Catholic schools and churches, declaring them to be sanctuaries which should be free from the threat of gun violence.
"We are followers of Jesus Christ, who raised not a hand against those who mocked, tortured, and finally murdered him. While we grasp both the Second Amendment and the legitimate right of some persons to defend themselves, our churches and our schools are dedicated to a far different approach to life's problems," wrote Boyea on the Diocese of Lansing's official website.
Boyea hasn't allowed for the use of firearms in schools or a church. He's also against holding Concealed Pistol License classes on church property.
Michigan law allows citizens to apply for a CPL and prohibits the concealed carry of pistols in churches as a general rule of law. Owners of churches possess the right to lift that ban, making Boyea directly responsible for allowing the use of guns in Fride's church building. The ban also extends to "open carry," which allows citizens to carry handguns in public for personal protection.
Owners also have the ability to lift the ban "open carry."
Michael Diebold, a spokesman for Diocese of Lansing, told The Christian Post that Boyea "has declared" their churches and schools to be "gun free."
Brantly Millegan, a PhD candidate at Catholic University of America in Washington D.C. used the Catechism of the Catholic Church to discuss the church's view of self defense and using lethal force to do so.
"Love toward oneself remains a fundamental principle of morality. Therefore, it is legitimate to insist on respect for one's own right to life. Someone who defends his life is not guilty of murder even if he is forced to deal his aggressor a lethal blow:
If a man in self-defense uses more than necessary violence, it will be unlawful: whereas, if he repels force with moderation, his defense will be lawful. ... Nor is it necessary for salvation that a man omit the act of moderate self-defense to avoid killing the other man, since one is bound to take more care of one's own life than of another's."
Millegan also believes that Catholics will hold different opinions on whether or not they should use guns to protect themselves.
"Now, the question of whether it's a good idea to encourage every person to have a gun, or to have gun classes at a parish, that's a different story. That would certainly be up for debate within Catholic circles, with faithful Catholics taking different positions," he told CP.
"In this case, the local bishop obviously has the final say as to whether gun classes should be held at the parish."