Ben Carson Clarifies Stance on Gun Control: Law-Abiding Citizens Should Be Allowed to Own 'Any Kind of Weapon They Want to Protect Themselves'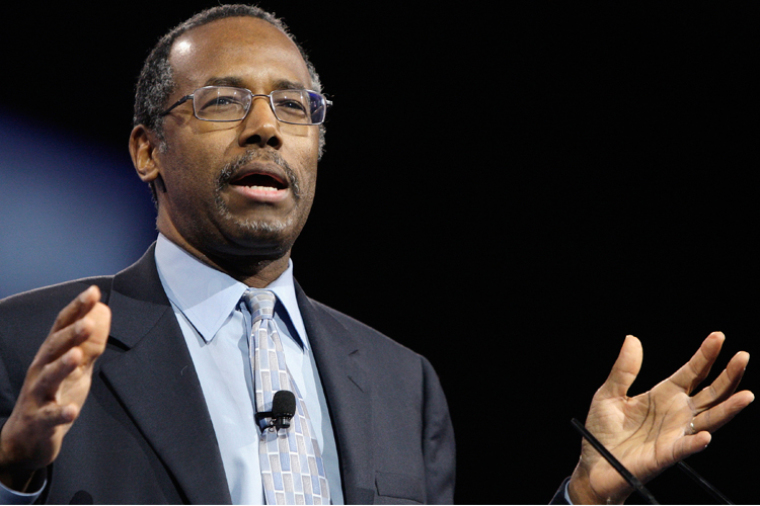 Potential Republican presidential candidate and retired neurosurgeon Ben Carson reassured potential conservative supporters last week that he opposes any kind of ban on assault weapons and that he would firmly defend the full extent of the Second Amendment if he were to be elected to a political office.
Troubled by the criticism he's received from conservative skeptics over a gun control comment made in a 2013 interview with Fox News' "Glenn Beck," Carson hosted a conference call last week to clarify his stance on gun control before setting off to speak at a fundraising event in Iowa over the weekend.
The 63-year-old conservative's mission in hosting the conference call was to elaborate on a comment he issued while speaking with Beck in February 2013, where he said that he would "rather not have" semi-automatic weapons in the inner cities.
When Beck asked Carson if he believed if people had the right to own semi-automatic weapons, Carson replied: "That depends on where you live. If you live in the midst of a lot of people, and I'm afraid that that semi-automatic weapon is going to fall into the hands of a crazy person, I would rather you not have it. If you live out in the country somewhere by yourself, I have no problem."
As Bloomberg Politics reports, Carson told listeners on last Wednesday's conference call that if he were president or in a position of power, "under no circumstances" would he "allow a bureaucrat to remove any law-abiding citizen's rights for any kind of weapon that they want to protect themselves."
He continued by saying that he would strive to allow citizens the right to bear "automatic and semi-automatic weapons" and he would stand against any bans limiting ownership of assault weapons or handguns. Additionally, he's opposed to any expanded background check requirement for gun ownership.
Carson admitted that he should have clarified his stance while appearing on Beck's program because he felt he didn't "convey" his gun control stance "appropriately."
"I wanted to convey that, you know, I've lived in urban areas. I've worked in urban areas. I've seen a lot of carnage, and I prefer a situation where the kinds of weapons that create that kind of carnage don't fall to the hands of criminal elements or insane people," Carson asserted. "But that is secondary to the desire to always defend the Second Amendment."
Although Carson's political popularity has been on the rise ever since he criticized the Affordable Care Act at the 2013 National Prayer Breakfast, his gun control comment has seemingly caused many conservatives to think twice about supporting him.
However, Carson feels that those who've criticized him for his prior remarks are basing their judgements of him off of "one little thing" he said.
"There seemed to be group of people, I don't know exactly who they are, who seize upon one part of something that I said," Carson stated. "Sometimes people just hear one little thing and they don't hear anything else."
When asked during the conference call about whether or not he would support the rights of convicted felons being allowed to own guns, Carson said that he thinks it should depend the nature of the crime. Carson further added that a "mental patient" or somebody with a violent history should not be allowed to own "anything" that would allow them to "wreak havoc on society."
As Carson gears up for a potential run at the presidency in 2016, he has already made a few trips to the influential primary caucus state of Iowa in recent months.
Over the past weekend, Carson spoke to a crowd of about 900 people at The Family Leader's "Celebrate the Family" fundraising dinner, a social conservative banquet opposing gay marriage and abortion. In his hour-long speech, Carson touched on basic social conservative principles and the importance of Judeo-Christian values.