Mike Huckabee Says Supreme Court's Gay Marriage Ruling 'Has Left Christians With No Choice but to Follow God or Civil Law'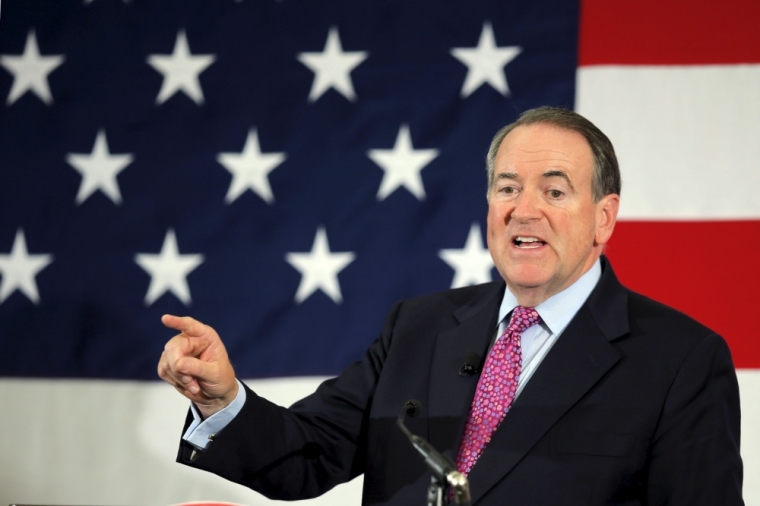 Republican presidential candidate Mike Huckabee said Sunday that the U.S. Supreme Court ruling in favor of same-sex marriage has left Christians with no choice but to follow God or civil law. He also said he might put a nativity scene on the White House lawn, if he becomes president, just as Obama used rainbow-colored lights to celebrate the court's decision.
"I don't think a lot of pastors and Christian schools are going to have a choice. They either are going to follow God, their conscience, and what they truly believe is what the Scripture teaches them or they will follow civil law," the former governor of Arkansas said on ABC's "This Week" on Sunday.
"They will go the path of Dr. Martin Luther King, who in his brilliant essay the letters from a Birmingham jail reminded us, based on what St. Augustine said, that an unjust law is no law at all. And I do think that we're going to see a lot of pastors who will have to make this tough decision," added Huckabee, who's also a Baptist minister.
"This case wasn't so much about a matter of marriage equality, it was marriage redefinition," Huckabee went on to say. "And I think people have to say, 'If you're going to have a new celebration that we're not going to discriminate [against], may I ask, are we going to now discriminate against people of conscience, people of faith who may disagree with this ruling?'"
The Supreme Court ruled on Friday that the Constitution guarantees the right to same-sex marriage. In the 5-4 ruling, Justice Anthony Kennedy wrote: "In forming a marital union, two people become something greater than they once were. Their hope is not to be condemned to live in loneliness, excluded from one of civilization's oldest institutions. They ask for equal dignity in the eyes of the law. The Constitution grants them that right."
Huckabee also said that county clerks who are opposed to granting same-sex marriage licenses should not be forced to do so. "If they have a conscientious objection, I think they should be excused."
He added: "I'm not sure that every governor and every attorney general should just say, 'Well, it's the law of the land,' because there's no enabling legislation."
Responding to the rainbow-colored lights that lit up the exterior of the White House after the court ruling, Huckabee said, "If I become president, I just want to remind people, that please don't complain if I were to put a nativity scene out during Christmas and say, 'You know, if it's my house, I get to do with it what I wish despite what other people around the country may feel about it.'"
The host asked whether Huckabee would refuse to enforce the court's ruling if he becomes president. "When the Congress provides enabling legislation and the people's representatives vote and it gets to my desk, then we'll consider it," Huckabee responded.