Mike Pence, Franklin Graham Help Commemorate First Anniversary of Louisiana Flooding
Mike Pence, Franklin Graham Help Commemorate First Anniversary of Louisiana Flooding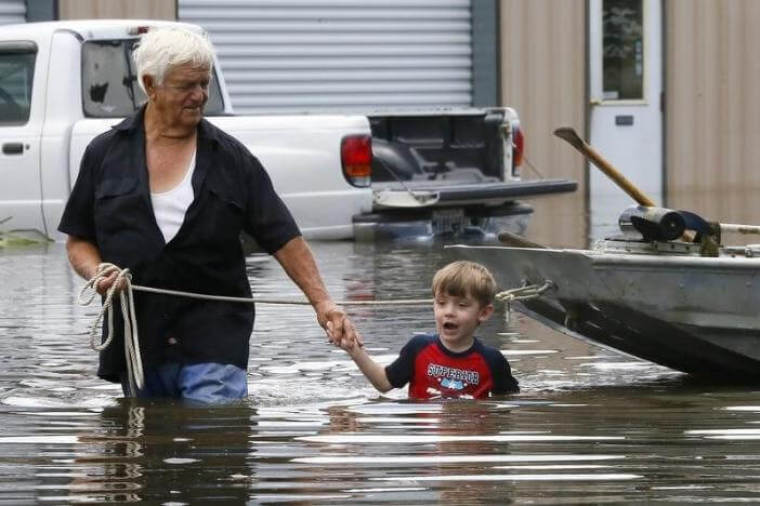 Leaders from both political parties gathered together in worship on Sunday to commemorate the first anniversary of the catastrophic flooding that damaged tens of thousands of homes and killed 13 people last year in the Baton Rouge region of Louisiana.
Democrat Gov. John Bel Edwards, Republican U.S. Sen. John Kennedy and a number of state and local government officials and lawmakers attended a Sunday morning service at Greenwell Springs Baptist Church, which acted as a hub for humanitarian relief efforts in the community when the flooding hit in August 2016. The service also featured comments prepared by Vice President Mike Pence and leading evangelist Franklin Graham.
At the time, Edwards called the flood "historic" and an "unprecedented flooding event" and declared a state of emergency as a number of rivers and waterways reached record levels. The storm dumped three times as much rain in Louisiana than Hurricane Katrina did in 2005, The Washington Post reported.
The storm caused billions of dollars in damage and many homeowners did not have flood insurance that would cover the damage. But a year later, leading political and religious figures offered their thanks to God at Greenwell Springs Baptist.
"Sometimes when you go through tragedy, giving thanks is not the first thing that is on your mind. But the fact of the matter is we have much to be thankful for this morning," Edwards, the 50-year-old governor, said during his brief remarks from the podium.
"We know that God was with us because Isaiah 43:2 says that when 'You pass through rough waters, I will be with you.' He has been with us and we can be thankful for that. While we have a lot of work to do, I know that we are going to come together and get it done."
The Greenwell Springs community was particularly hard hit.
The church's interim pastor, Tony Perkins, a Louisiana resident who is best known as one of the leading social conservative advocates in Washington, D.C., and president of the Family Research Council, was forced to flee with his family from their home on Aug. 13, 2016, via a canoe.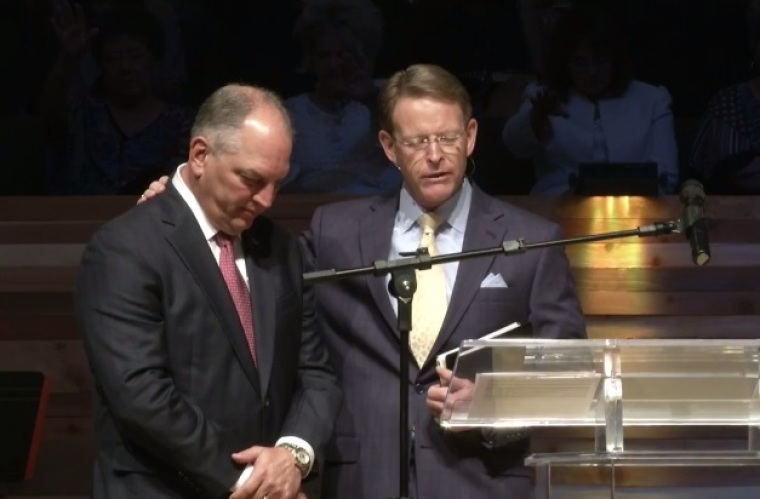 "When we had to paddle out of our home and someone took us in — literally, we were homeless and someone took us in — the first phone call I made was to Franklin Graham. When I understood the devastation that had taken place, I knew Samaritan's Purse, the work that they would do and they would be willing to help us," Perkins said during the service. "Within 72 hours, they were set up operating here on the church facilities."
Greenwell Springs Baptist served as a hub for charities like Samaritan's Purse, which operated volunteer campaigns out of the church to help gut and repair some of the damaged properties. Samaritan's Purse, whose president is Graham, also offered hot meals served at the church.
The church was visited last year by then-Republican presidential nominee, Donald Trump, and his running mate, Pence. Trump donated $100,000 to the church's relief fund. A letter written by the vice president to the church community, which was obtained by The Christian Post, was read aloud during the service.
"Serving as an operational hub for for relief efforts, Greenwell Springs Baptist Church helped lead the way in bringing resources and helping hands from across the country," Pence wrote. "Much like Nehemiah rebuilding city walls found in ruin, you rebuilt homes that had been reduced to rubble and restored hope that had all but washed away."
"Thanks to your outpouring of compassion and care, restoration and renewal now abound and despair is on retreat," Pence continued. "I applaud your showering of love that has lifted lives and turned bitter waters sweet across Louisiana."
Graham also offered his words of appreciation via a video message played during the service.
"I just want to take a moment to say thank you to Greenwell Springs Baptist Church for Samaritan's Purse and the Billy Graham Evangelistic Association for letting us come to partner with you to help the people there in your community," Graham, who is on a trip in Africa, said. "I just never dreamed that we would be able to help as many people as we have and being able to do it in Jesus' name. But we couldn't have done it without the support of the church and without your help."
"I was so impressed with how you people took care of the folks in your community," he added. "I believe as Christians, we should always respond when there is a crisis and do it in Jesus' name."