Mike Pence launches new conservative organization to advance Trump-era policies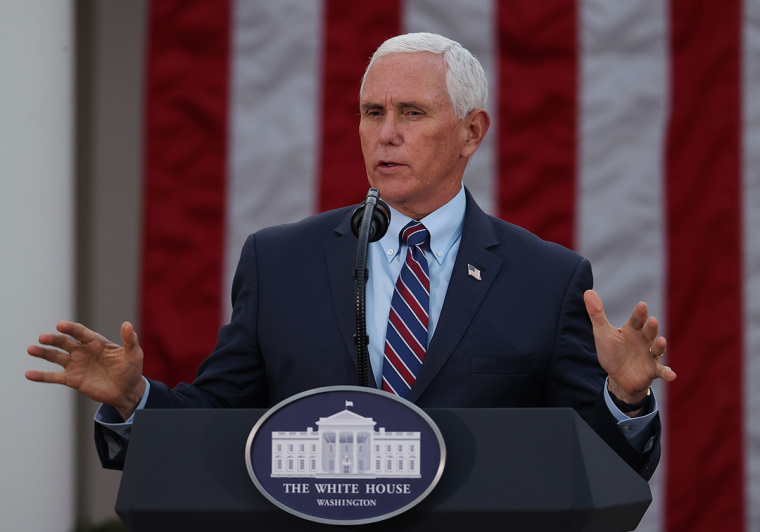 Former Vice President Mike Pence has created a conservative advocacy group to advance policies that were championed during the Trump administration.
Known as Advancing American Freedom, the launch of the conservative policy group was announced last week, with Pence explaining in a statement that its goal is to "build on the success of the last four years by promoting traditional Conservative values and promoting the successful policies of the Trump Administration."
"Conservatives will not stand idly by as the radical Left and the new administration attempt to threaten America's standing as the greatest Nation in the world with their destructive policies," stated Pence in the announcement.
Advancing American Freedom will engage in policy discussions and issue advocacy at both the state and federal level by proposing conservative policy solutions. Among many policy focuses, the group will try to "stop taxpayer dollars from funding abortions domestically and globally" and "defend religious liberty, including the conscience rights of doctors, nurses, teachers, and religious charities." 
The announcement also listed the Advancing American Freedom Advisory Board members, which comprises several leading conservative activists and public figures.
Advisory board members include former House Speaker Newt Gingrich, former U.S. Sen. Rick Santorum, Texas megachurch Pastor Robert Jeffress, former Trump campaign manager Kellyanne Conway, former Heritage Foundation President Kay James, former U.S. Sen. Jim DeMint, and Susan B. Anthony List President Marjorie Dannenfelser, among others.
In an interview with The Christian Post, Dannenfelser, who heads one of the nation's leading grassroots pro-life organizations, explained that she has known Pence and his team for many years and has worked alongside them to advance pro-life policy efforts.
"I've known Mike Pence and his team for many, many, many years. So, I think it's a natural extension of our friendship and our partnership and the fact that I really believe in him," said Dannenfelser. "He invited me to be on the advisory board, and I said yes."
Dannenfelser spoke positively of Pence, saying he "makes this organization what it is" and has a strong "adherence to principle" and "ability to lead" in what she called a "moment" for the pro-life movement.
She told CP that she believes Pence can be an important factor for helping to support pro-life legislation, especially at the state level, and aid in having Republicans take back the U.S. House of Representatives in 2022.
"This is a larger moment for the pro-life movement. And for him to lead at this moment is particularly important, and it is a watershed because of the complete transformation of the federal judiciary," she continued.
"All of those [state-level pro-life] bills will require articulation, they require advocacy, and then the people who are the governors, who are signing those bills, the legislators that are advancing those bills, the people running for Congress later need an advocate that has a high profile, [an] articulate advocate like Mike Pence."
Although Pence wants to build upon the Trump administration's policies, former President Donald Trump recently criticized his vice president at a fundraiser event in Florida.
At the invitation-only speech held Saturday at his Mar-a-Lago resort, Trump reportedly told Republican donors that he was "disappointed" in Pence. Trump also attacked U.S. Senate Minority Leader Mitch McConnell, R-Ky.