Minnesota to require teachers affirm transgender ideology, critical race theory for license, critics say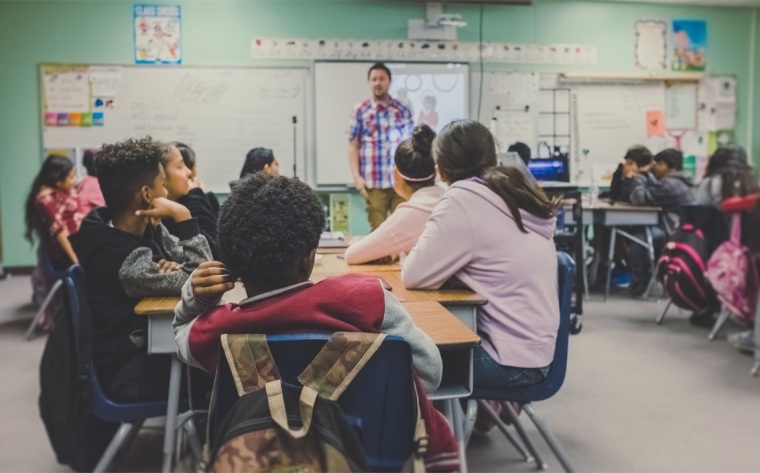 A parental rights group and Christian scholars are criticizing the new requirements for a teaching license in Minnesota, which include a mandate that teachers must address trans-identified students by their stated gender identity and embrace controversial ideologies on race. 
A new set of Permanent Rules Relating to Licensing and Academic Standards for teachers in the state are slated to go into effect on July 1, 2024, nearly three years after they were first proposed in December 2021. 
The new requirements completely overhaul the "Standards of Effective Practice" for teachers and contain multiple passages indicating teachers are expected to affirm "students' background and identities." 
A standard on student learning has been amended to read, "The teacher understands that students bring assets for learning based on their individual experiences, abilities, talents, prior learning, and peer and social group interactions, as well as language, culture, family, and community values, and approaches their work and students with this asset-based mindset, affirming the validity of students' backgrounds and identities." 
The document maintains that teachers must create "opportunities for students to learn about power, privilege, intersectionality, and systemic oppression in the context of various communities" and teaching their students to act as "agents of social change to promote equity."
Teachers are expected to understand "the diverse impacts of individual and systemic trauma," including "racism, and micro and macro aggressions, on learning and development" and embrace "culturally responsive strategies and resources to address these impacts." 
Additionally, the standards outline requirements on how teachers should set up their "learning environments." 
A teacher who meets the requirements laid out by Minnesota's Professional Educator Licensing and Standards Board "fosters an environment that ensures student identities such as race/ethnicity, national origin, language, sex and gender, gender identity, sexual orientation, physical/developmental/mental ability, socioeconomic class, and religious beliefs are historically and socially contextualized, affirmed, and incorporated into a learning environment where students are empowered to learn and contribute as their whole selves."
The call to affirm students based on their gender identity suggests that teachers will be required to refer to trans-identified students by names and pronouns that correspond with their stated gender identity as opposed to their biological sex.
The new standards come as teachers elsewhere in the United States have been suspended and taken their cases to court after refusing on religious grounds to embrace an LGBT ideology that contradicts their sincerely held religious beliefs about sex and gender.
While most of the policies many parents and citizens find concerning are implemented at the local level by school boards, the new standards for Minnesota teachers are issued by the state. 
In an op-ed published in Alpha News, Bethany Lutheran Theological Seminary Adjunct Professor Allen Quist and Julie Quist, chair of the Minnesota parental rights advocacy group the Child Protection League, warned that "the new standards will embed basic Marxist principles such as critical race theory, fluid sexual identity, and gender politics into all Minnesota schools." 
"Standard Marxist principles and dogma divide people into opposing groups so that students and teachers must view themselves not as individuals, but as members of groups — oppressor groups or oppressed groups, and oppressed groups must be liberated from the exploitation of their oppressors. When formally adopted, the new requirements must be met to become or remain licensed to teach in Minnesota." 
Catrin Wigfall, a policy fellow at the Minnesota-based conservative think tank Center of the American Experiment, notes that formal adoption of the rules is anticipated later in the winter or early this spring after most components of the document were approved by administrative law judges.
"American Experiment believes the proposed rule changes to the Standards of Effective Practice (both those approved and modified) are bad policy, politicizing teacher training requirements by using language that is political and ideological, not academic," Wigfall wrote. 
"These proposed rule changes drew overwhelming public opposition throughout the 2022 public hearing and comment periods — from teachers, education specialists, parents, legal centers, and many others."
She adds that the rule changes "are not a license renewal requirement, and they do not determine or set standards and benchmarks, which are set by the Minnesota Department of Education, or curricula, which are selected by local school boards."
She claims the new policy will impact teacher candidates completing their initial licensure program, existing teachers seeking an initial Tier 3 license and teacher preparation providers. 
A teacher who meets the standards laid out in the document "understands and supports students as they recognize and process dehumanizing biases, discrimination, prejudices, and structural inequities." To account for what the document characterizes as pervasive biases, teachers must "[understand] bias in assessment, [evaluate] standardized and teacher-created assessments for bias, and [design] and [modify] assessments that minimize sources of bias."
Minnesota teachers are called to select "anti-racist, culturally relevant, and responsive instructional strategies, accommodations, and resources to differentiate instruction for individuals and groups of learners." 
In addition, Minnesota's Professional Educator Licensing and Standards Board mandates the use of "resources written and developed by traditionally marginalized voices that offer diverse perspectives on race, culture, language, gender, sexual identity, ability, religion, nationality, migrant/refugee status, socioeconomic status, housing status and other identities traditionally silenced or omitted from curriculum."
The standards proclaim that teachers should encourage "critical thinking about culture and race and [include] missing narratives to the dominant culture in the curriculum."
Much of the document is devoted to ensuring "equitable" outcomes, featuring instruction for teachers to understand "the historical foundations of education in Minnesota, including laws, policies, and practices that have had and continue to create inequitable opportunities, experiences, and outcomes for learners, especially for Indigenous students and students historically denied access, underserved, or underrepresented on the basis of race, class, gender, sexual orientation, language, socioeconomic status, or country of origin." 
It also asks teachers to engage in self-reflection by examining "how their biases, perceptions, and academic training may affect their teaching practice and perpetuate oppressive systems and [utilize] tools to mitigate their own behavior to disrupt oppressive systems." Teachers are also urged to make "adaptations and adjustments toward more equitable outcomes." 
When outlining the expectations for "collaboration and leadership" with parents, the document stresses "the importance of engaging in culturally affirming, reciprocal communication with families about student development, learning, and performance" as well as using a "culturally relevant and responsive lens" to communicate with families. 
An entire section of the document is explicitly dedicated to "racial consciousness and reflection." Teachers must understand "multiple theories of race and ethnicity, including but not limited to racial formation, processes of racialization, and intersectionality" and  comprehend "the definitions of and difference between prejudice, discrimination, bias, and racism." The document identifies "ethnocentrism, eurocentrism, deficit-based teaching, and white supremacy" as sources of a lack of equity.
"The teacher understands that knowledge creation, ways of knowing, and teaching are social and cultural practices shaped by race and ethnicity, often resulting in racially disparate advantages and disadvantages," the document states. "The teacher understands the histories and social struggles of historically defined racialized groups, including but not limited to Indigenous people, Black Americans, Latinx Americans, and Asian Americans."
Additionally, the state wants teachers to acknowledge "the impact of the intersection of race and ethnicity with other forms of difference, including class, gender, sexuality, religion, national origin, immigration status, language, and age."
Ryan MacPherson, a history professor and director of Apologetics and Worldview Studies at Bethany Lutheran College, contends that the new Minnesota standards mean that teachers "must personally advocate critical race theory and transgender ideology" to be licensed by the state. 
He warned that education departments at colleges and universities "must document their fulfillment of the new standards" or risk having their program certification rescinded by Minnesota's Professional Educator Licensing and Standards Board. He added that teachers must "positively affirm extremist leftist positions about human nature and sexual practices in order to be allowed to teach in government schools."
"The state's insistence that every teacher positively affirm homosexual behaviors and transgendered identities understandably aggravates consciences among moral traditionalists, but the issues run deeper than the 'culture war,'" MacPherson wrote for The Federalist. "What is at stake is the nature of knowledge, the future of liberty, and the prospects for a sustainable social order. In a word: civilization."
"Teachers will be required to choose 'anti-racist' — i.e. critical race theory — instructional strategies for students," he added. "An administrative judge told the state to amend No. 4 here requiring teachers to expose children to sexual identities. It will likely still go into effect, with slightly different language."
As noted in the Quists' op-ed, "the Minnesota teacher licensing board is called the Professional Educators Licensing and Standards Board or PELSB. Each board member was appointed by [Democratic] Gov. Tim Walz."
To change the makeup of the board, parents concerned about the new standards would have to elect a new governor who would have the power to appoint new members.
Walz, a Democrat, just won re-election by nearly 8 percentage points. The next gubernatorial election in the state will occur in 2026, more than two years after the standards are slated to go into effect. 
Opposition to the implementation of elements of critical race theory in public schools has led to the creation of advocacy groups such as the 1776 Project PAC.
The 1776 Project PAC focuses on "electing school board members nationwide who want to reform our public education system by promoting patriotism and pride in American history" and working to abolish critical race theory from the public school curriculum. The organization has succeeded in helping candidates win elections in school board races in Texas and Florida before the 2022 election and more than 100 races nationwide in the general election.
As defined by Encyclopedia Brittanica, critical race theory is "an intellectual and social movement and loosely organized framework of legal analysis based on the premise that race is not a natural, biologically grounded feature of physically distinct subgroups of human beings but a socially constructed (culturally invented) category that is used to oppress and exploit people of colour."