Minnesota Vikings Coach Suspended After Calling for Gays to Be Nuked
An NFL coach has been suspended without pay for the first three weeks of the 2014 season for pejorative remarks he made about the LBGT community in 2012.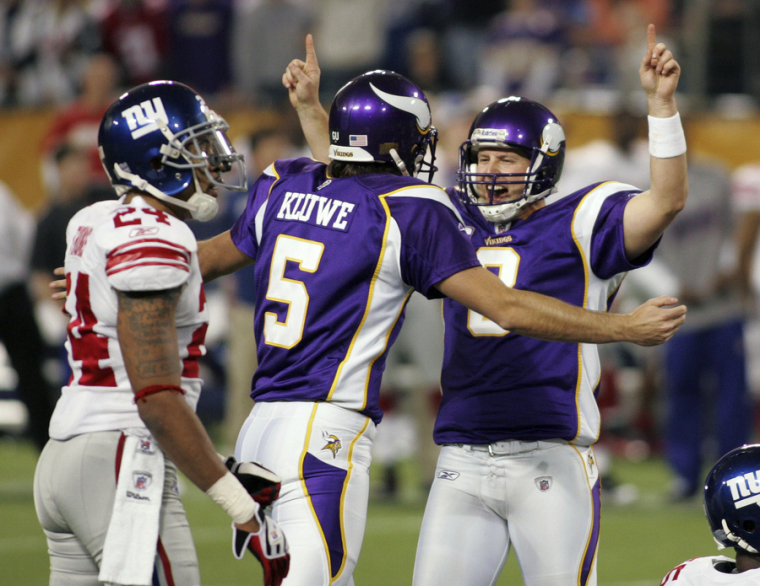 In January, former Minnesota punter Chris Kluwe alleged that Vikings special teams coach Mike Priefer said, "We should round up all the gays, send them to an island, and then nuke it until it glows."
Following the NFL player's claims, an investigation by two Minneapolis attorneys confirmed last week that the coach had made a "single homophobic statement to Kluwe."
"In this instance, Coach Priefer fell short of what is expected. We will continue to hold all team members accountable and take the outlined critical steps to further educate everyone within our organization both individually and collectively," Vikings owner Zygi Wilf and president Mark Wilf said last week in a statement.
Should Priefer attend a sensitivity training, his suspension could be cut down to two games. The NFL coach apologized for his remarks in a statement following the findings of the investigation.
"I regret what has occurred and what I said. I am extremely sorry but I will learn from this situation and will work on educating others to create more tolerance and respect," he said.
In January, in a post for Deadspin, Kluwe, who was a punter for the Minnesota Vikings for eight seasons, argued that he was "pretty confident" he was let go from the Vikings at the start of the 2013 season due to his outspoken support for same-sex marriage. Kluwe described his former special teams coach, Mike Priefer, as a "bigot" and called for him to lose his coaching position.
Kluwe later backtracked on his remarks and stated that he would rather see Priefer get counseling and come back to the NFL as a role model and supporter of the LGBT community than lose his job entirely.
Priefer released a statement shortly after the publication of the Deadspin article denying any accuracy to Kluwe's claims.
"I want to be clear that I do not tolerate discrimination of any type and am respectful of all individuals [...] The comments today have not only attacked my character and insulted my professionalism, but they have also impacted my family," the coach said in a statement to the StarTribune of Minneapolis.
The Vikings also released an official statement denying Kluwe's claims. "Any notion that Chris was released from our football team due to his stance on marriage equality is entirely inaccurate and inconsistent with team policy. Chris was released strictly based on his football performance."