Mississippi Supreme Court Sets Date to Hear Its First Same-Sex Divorce Case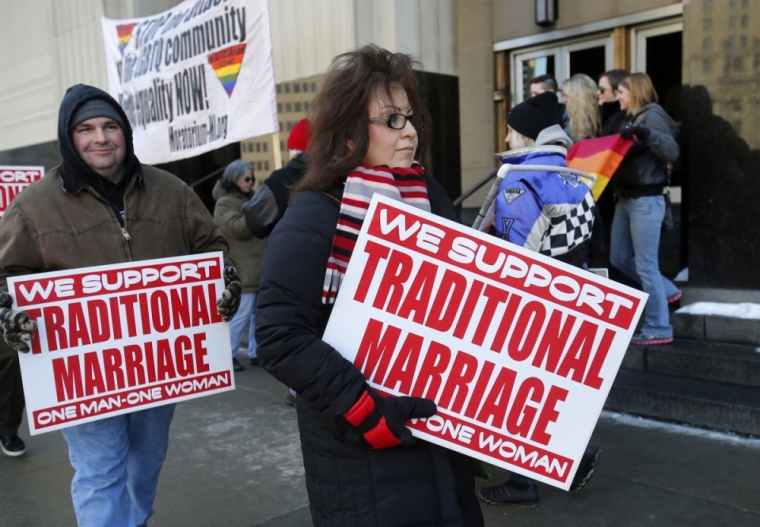 The state Supreme Court in Mississippi, where same-sex marriage is not recognized, will hear arguments Jan. 21, 2015, from a woman who has asked the state to recognize her gay marriage so that she can be granted a divorce.
Lauren Czekala-Chatham and Dana Ann Melancon, who married in California in 2008, cannot be granted a divorce in Mississippi due to the state's constitution and statutes, DeSoto County Chancery Judge Mitchell Lundy Jr. ruled last year.
"All same sex Mississippi couples lack a right to have their marriage recognized by the state regardless of whether newly arrived here, having lived here all their life or anywhere in between," The Associated Press quoted Assistant Attorney General Harold E. Pizzetta III as saying in briefs.
"Valid federal law grants states the right to choose whether to recognize marriages from other jurisdictions. States are not bound to import other states' laws or policy choices. They are, and forever have been, free to choose their own public policy, as Mississippi rightfully has done here."
Czekala-Chatham's attorney does not agree. "Lauren does not seek to be married — she seeks a divorce. Lauren does not complain of Mississippi's refusal to recognize her marriage to Dana on a going-forward basis. Her complaint is that Mississippi law relegates her to a declaration of voidness, when a party to an opposite-sex marriage in otherwise similar circumstances would be entitled to a divorce," the attorney was quoted as saying.
Federal judges started striking down state amendments and laws banning same-sex marriage as unconstitutional after the Supreme Court last June squashed a key part of the federal Defense of Marriage Act, or DOMA.
Courts, legislatures and voters in 35 states and the District of Columbia have legalized gay marriage or are about to do so, according to Pew Forum.
These states are: Alaska, Arizona, California, Colorado, Connecticut, Delaware, Hawaii, Idaho, Illinois, Indiana, Iowa, Kansas, Maine, Maryland, Massachusetts, Minnesota, Montana, Nevada, New Hampshire, New Jersey, New Mexico, New York, North Carolina, Oklahoma, Oregon, Pennsylvania, Rhode Island, South Carolina, Utah, Vermont, Virginia, Washington, West Virginia, Wisconsin and Wyoming.
The Sixth Circuit Court of Appeals is the only federal appeals court to uphold state same-sex marriage bans, a ruling that applies to Michigan, Ohio, Kentucky and Tennessee. Due to this decision, the Supreme Court is expected to rule on the constitutionality of gay marriage bans soon.
Fifteen states have constitutional amendments banning gay marriage.