Mitt Romney Calls Robert Jeffress a 'Bigot' for Comments on Jews, Mormons, Muslims and Hell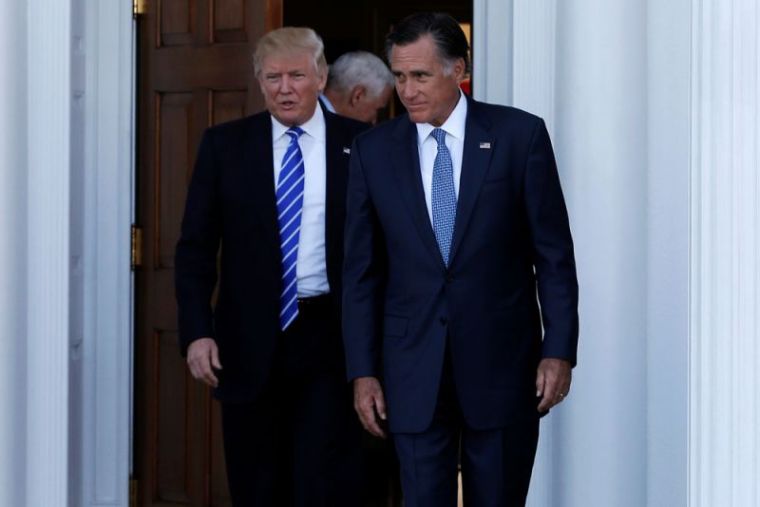 Former Governor of Massachusetts Mitt Romney has condemned First Baptist Dallas Pastor Robert Jeffress for his past comments on Jews, Mormons, Muslims, and Hell, arguing that he is a "religious bigot" who should not be delivering a prayer at the new American embassy in Jerusalem.
Jeffress and a number of major evangelical pastors have hit back against Romney, however, positioning that Jesus Christ being the only way for salvation is a view in line with Christian belief.
"Robert Jeffress says 'you can't be saved by being a Jew,' and 'Mormonism is a heresy from the pit of hell.' He's said the same about Islam. Such a religious bigot should not be giving the prayer that opens the United States Embassy in Jerusalem," Romney, who is also a Utah Senate candidate and a Mormon, tweeted on Sunday.
His comments refer to U.S. President Donald Trump inviting Jeffress to deliver a prayer at the opening of U.S. embassy in Jerusalem on Monday. The moving of the embassy itself is a controversial move that has been hailed by a number of evangelicals, but has led to mass protests and violence.
Jeffress told Todd Starnes of Fox News on Sunday that he was "stunned" by Romney's remarks.
"Historical Christianity has taught for 2,000 years that salvation is through faith alone in Jesus Christ," Jeffress declared. "The fact that I, along with millions of evangelical Christians around the world, espouse that belief is neither bigoted or newsworthy."
Big-name pastors also came to Jeffress' defense, including Greg Laurie of Harvest Christian Fellowship in California.
"I'm so glad my friend @robertjeffress is doing a prayer at the opening of the US Embassy in Jerusalem!" Laurie tweeted in response to Romney's Sunday message.
Jack Graham, pastor of Prestonwood Baptist Church in Plano, Texas, added: "Well... I'm very grateful @robertjeffress boldly stands for Truth and is representing Jesus at the dedication of the Embassy in Jerusalem."
While he did not address Romney's comments, the First Baptist pastor appeared on "Fox & Friends" on Monday morning and talked about his prayer at the opening of the embassy.
"First of all I am going to take some time to thank God for His faithfulness to Israel for 4,000 years. You know, 4,000 years ago God said to Abraham that He would make him the father of a great nation that would be a blessing to all the nations on the earth," Jeffress said.
"And Israel has been that, and God has supernaturally protected Israel from all of her enemies," he added.
When Romney ran for president in 2012, Jeffress caused some controversy by claiming during the primaries that Christians shouldn't support Romney because Mormonism is a "cult." After Romney became the Republican nominee, Jeffress revealed that he backed Romney as the "lesser of two evils" when Romney challenged former President Barack Obama for the White House in 2012.
Separately, Jeffress has said that although he finds Romney to be a "good and moral family man," as he is a Mormon, he would not be considered to be a born-again follower of Jesus Christ.
Speaking with The Christian Post in 2011 about the controversy he had garnered from calling Mormonism a "cult," Jeffress said that what people find offensive is the notion that not everyone is going to Heaven.
"That is why this debate is so insidious about all of this. We sometimes use the same terminology but it has vastly different meanings and I just really encourage people now that they know Mormonism is a theological cult, to go ahead and do the research on their own," he said at the time.
Jeffress, one of Trump's strongest evangelical supporters, also said that when evaluating candidates Christians should consider, "Is the candidate a Christian? Do they integrate their faith with their practices? What are their views of the Constitution? What about their moral character?" 
CP has reached out to Jeffress for further comment and will update the article if a response is received.