Christians and Jews Worship Same God, but Only 1 Religion Can Be Right on Salvation: Robert Jeffress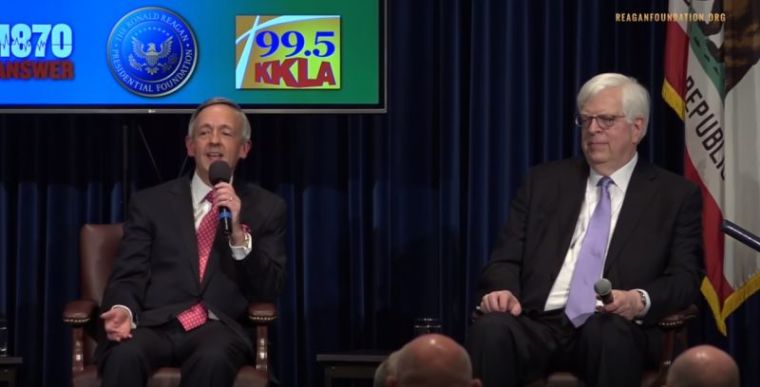 First Baptist Dallas Pastor Robert Jeffress has said that while he believes Jews and Christians worship the same God, both religions cannot be right about how to be saved.
Jeffress was part of a dialogue event on Sunday alongside Jewish conservative radio personality Dennis Prager that was hosted by the Ronald Reagan Presidential Foundation & Institute in Simi Valley, California, known as "Ask a Jew. Ask a Gentile."
During his opening remarks, Jeffress explained that he and Prager were going to point out many similarities between Christianity and Judaism, one being that "we worship the same God."
"All gods are not the same," explained Jeffress. "But Dennis and I both worship the same God. We revere the scriptures, we both believe in the inspiration of the Old Testament."
"We both believe in a messiah. Dennis is looking for a messiah yet to come. I believe messiah is come and provided the forgiveness of sins and is coming again as the sovereign over all of the world."
Jeffress warned that while he believed that Jews and Christians both worship "Jehovah God," the two religions cannot both be correct when it comes to salvation.
"You're such a gracious person," Jeffress said to Prager with sincerity. "You don't want to say that I'm wrong or Christians' theology is wrong, but I'm going to tell you, if you're right, I am wrong."
"Because you can't reconcile what Jesus said when He said, and He was a Jew, 'I am the way, the truth, and the life; no man comes to the Father except by me.' The Apostle Paul, who was a Jew, said, 'I desire that my brethren Israel be saved.' ... The Apostle Peter said there was salvation under no other name, 'there's no other name given among men by which we can be saved.'"
Jeffress stressed that "either Jesus was telling the truth, Paul was telling the truth, Peter was telling the truth that there's only one way to God or they were sadly mistaken."
Regarding the accuracy of Christianity, Prager said that he believed Christians "are doing God's work" and that he saw Christianity as bringing the Torah to the world.
"The Christian is in effect God's vehicle to bring the Torah to the world," said Prager, adding that while being Jewish he saw "God's hand in Christianity as well."
Prager said that because he did not think "God judges people by belief" but rather "by deed," he explained that he thinks when it comes to Christians "God is thrilled with you."
Presented by AM 870 The Answer, the interfaith dialogue between Prager and Jeffress took place before a sold out crowd and centered on theological topics such as the purpose of Old Testament sacrifices, the nature of salvation, and who is the messiah.
The dialogue comes the same month as the release of Prager's book, The Rational Bible: Exodus, which seeks to showcase that "the Bible is not only powerfully relevant to today's issues, but completely consistent with rational thought."
"Do you doubt the existence of God because belief in God is 'irrational?' This book will give you reason after reason to rethink your doubts," noted the book's description on Amazon.
"The Rational Bible is the fruit of Dennis Prager's 40 years of teaching the Bible to people of every faith, and no faith. On virtually every page, you will discover how the text relates to the contemporary world and to your life. His goal: to change your mind — and then change your life."