Stormy Daniels Says Rumor She Attends Robert Jeffress' Church Is 'Most Offensive Lie'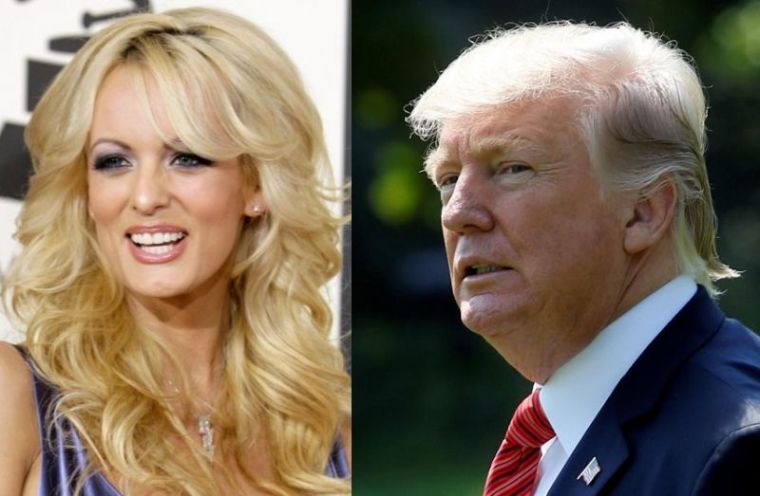 Stormy Daniels, the porn star who allegedly had an affair with President Donald Trump in 2006 and was paid to keep quiet about it weeks before the 2016 election, has quashed a rumor that she attends the church of pastor Robert Jeffress, describing it as the "most offensive lie" about herself.
Daniels replied Saturday to a tweet claiming that she is a member of Jeffress' First Baptist Church in Dallas by stating:
"This is THE most offensive lie I've read about myself to date. Can we please go back to calling me a drug addicted male prostitute from outer space? Thanks!"
The porn star has been active on the social media platform defending the claims she made on "60 Minutes" in March about her alleged affair with Trump, which the now-president has denied.
Daniels, who in the past has also passed a lie-detector test about the claims, insisted that she had a sexual encounter with the billionaire businessman in July 2006, when he was already married to his wife, current first lady Melania.
Jeffress, the leader of the First Baptist megachurch in Dallas, has spoken out about the alleged affair in the past, arguing that evangelicals will continue to support Trump even if the story is true.
"Evangelicals know they are not compromising their beliefs in order to support this great president," Jeffress, who has expressed strong support for Trump throughout his presidency, said when asked about evangelical hypocrisy in an interview with Fox News last month.
"Evangelicals still believe in the commandment: Thou shalt not have sex with a porn star. However, whether this president violated that commandment or not is totally irrelevant to our support of him," Jeffress added.
The pastor said that evangelicals know that Trump is no "altar boy," but that many back him due to his policies and leadership.
"Evangelicals understand the concept of sin and forgiveness. We are all sinners. We all need forgiveness. That forgiveness is available through Christ for anyone who asks. Whether the president needs that forgiveness for this particular allegation, whether he's asked for it, is between him, his family and his God," Jeffress said.
Several big-name pastors have made Daniels and her claims a topic of discussion of late. Pastor Greg Locke of Global Vision Bible Church in Mount Juliet, Tennessee, was slammed on social media after attempting to disparage the porn star, however.
"The funny thing is @realDonaldTrump is still the President and she's still a hooker. #StormyDanielsDay," Locke tweeted after the "60 Minutes" interview.
Weekly Standard Editor Bill Kristol wrote in response: "The funny thing is that in our fallen world, porn stars can sometimes demonstrate better character than self-styled pastors."
Daniel Bennett, political science professor at the Arkansas-based John Brown University, also called out Locke for his tweet, writing: "It's easy to write this off as a misguided pastor, but it's harder to grapple earnestly with how detrimental this is to the Gospel. This is how some see the church. Very troubling."