Mitt Romney Surprisingly Urges Arizona Gov. Jan Brewer to Veto Controversial Religious Freedom Bill; Republicans Think She Will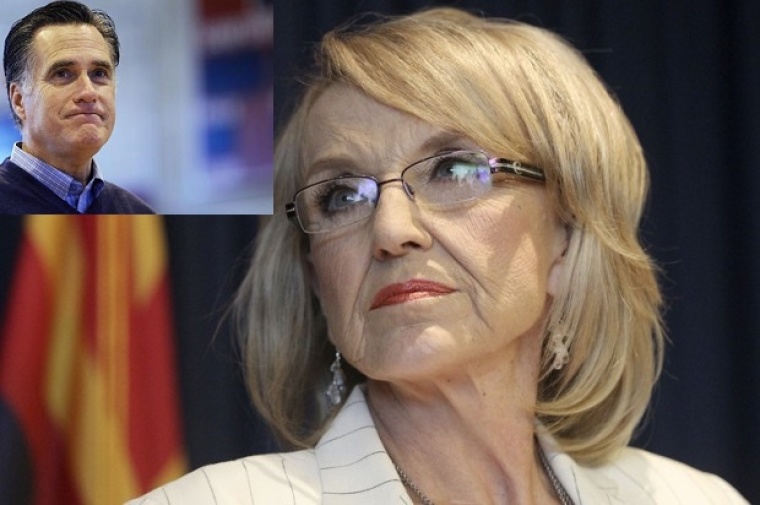 Mitt Romney, the 2012 GOP presidential nominee, waded into the fray surrounding Arizona's controversial religious freedom bill which opponents say discriminates against gays when he urged the state's Republican Gov. Jan Brewer to veto it because it is the "right" thing to do.
In a tweet to Gov. Brewer shared with his 1.55 million followers Tuesday evening, Romney noted: "veto of #SB1062 is right." It has since been retweeted more than 2,500 times as of Wednesday morning and has more than 1,400 favorites.
Romney's tweet came as a surprise to many, particularly due to his staunch opposition to same-sex marriage.
"This coming from the guy who opposed same sex marriage. Massachusetts as governor? @MittRomney:@GovBrewer: veto of #SB1062 is right," tweeted Jason Evan Mihalko.
"Wow. I really did NOT see that one coming. #progress," tweeted Dan Richter.
In an interview with CNN on the issue Monday Brewer, who has until Saturday to sign or veto SB 1062, did not indicate which way she will decide. If she does nothing, the bill will automatically become law.
"I can assure you, as always, I will do the right thing for the state of Arizona," she told CNN.
"I'm going to go home, and when I receive the bill, I'm going to read it and I'm going to be briefed on it. We have been following it. And I will make my decision in the near future," she said.
According to the report, however, Arizona Republicans who know the governor well say it is very likely that she will veto the bill that many argue if it becomes law will be bad for Arizona's economy.
Popular conservative radio host Rush Limbaugh charged on his radio show Tuesday that Gov. Brewer is being bullied into vetoing the bill by gay advocates.
"Religious beliefs can't be used to stop anything the left wants to impose, unless they're Muslim religious beliefs and then we have to honor those. But any other religious beliefs are not permitted," said Limbaugh, according to a Politico report. "The left will not allow them. Now, the current thinking is that Gov. Brewer will probably veto the bill, which, you might think on the face of it will make her a hero with the news media and the rest of the left."
He explained that vetoing SB 1062 will make her a hero for a total of "five minutes." After that, she will continue to be a "near criminal conservative Republican," said Limbaugh. "Their reaction will be, what took her so long? Why did she even consider not vetoing this?"
"She's being bullied by the homosexual lobby in Arizona and elsewhere," he continued. "She's being bullied by the nationwide drive-by media, she's being bullied by certain elements of corporate America in order to advance the gay agenda. I guess in that circumstance bullying is admirable. In fact, this kind of bullying is honorable."