MLB Star Cole Hamels Donates $9 Million Lake Home, 100 Acres to Christian Camp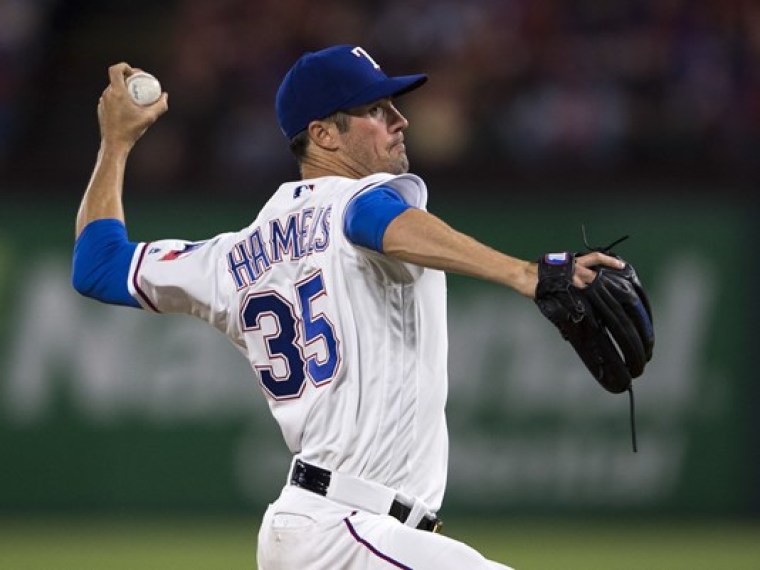 Former World Series MVP and Major League Baseball all-star Cole Hamels and his wife, Heidi, have donated their nearly $10 million lake house and 100 acres of land in Missouri to a Christian camp that provides summer memories to individuals with special needs and chronic illnesses.
Camp Barnabas, which has two campuses in the Ozarks of Missouri, announced this month that it received an extremely large Christmas gift from the Texas Rangers pitcher and his wife — a 32,000-square foot home and more than 100 acres on Table Rock Lake.
"There are tons of amazing charities in Southwest Missouri. Out of all of these, Barnabas really pulled on our heartstrings," the 33-year-old Hamels said in statement. "Seeing the faces, hearing the laughter, reading the stories of the kids they serve; there is truly nothing like it. Barnabas makes dreams come true, and we felt called to help them in a big way."
The Hamels' gift is the largest that Camp Barnabas has ever received.
"This is so much more than a beautiful property," Krystal Simon, the nonprofit's chief development officer, said in a statement. "This incredible gift allows us to further our ministry and truly change thousands of lives for years to come."
The Hamels Foundation also shared the news in a tweet.
"This morning co-founders @ColeHamels and Heidi Hamels gifted their home on Table Rock Lake to @CampBarnabas," the tweet reads. "We are so excited for the lives that will be changed by this gift."
Over 75,000 campers and missionaries have been hosted by Camp Barnabas over the past 24 years, the organization stated.
"At our two locations, we meet the needs of people with disabilities so they can have an incredible camp experience and learn more about Christ," the Camp Barnabas webpage reads.
Barnabas also operates a two-year collegiate prep school in Branson, Missouri, that helps students with special needs. The school helps students "recognize their strengths and potential while challenging them to grow into their best selves."
"Our mission is to change lives through disability ministry, and we've been strategically looking for ways to expand our ministry outside of a summer camp," Camp Barnabas CEO Jason Brawner said in a statement. "We have no doubt that this gift will allow us to do just that."
Cole and Heidi Hamels explained in a statement that they wanted to help Barnabas because the organization "sees the bigger picture."
"They are changing the way the world sees disability ministry," the Hamels said.
Through The Hamels Foundation, which was founded in 2008 when he played with the Philadelphia Phillies, Hamels has been actively involved in providing educational opportunities to children in the United States and Africa.
The organization has awarded over $4 million in grants worldwide, over $140,000 in scholarships and has over 70 schools across the globe, according to the foundation's website. The organization has also impacted over 2,500 people in Malawi, Africa.
Hamels was selected this past season as the Rangers' nominee for the Roberto Clemente Award, which is given to the player who "best exemplifies the game of baseball, sportsmanship, community involvement and the individual's contribution to his team." Hamels was also nominated for the award in 2016 and 2009.
Hamels is in the middle of a six-year, $144,000,000 contract. He is slated to make $22,500,000 for the 2018 season.