Benjamin Watson, Ravens Players Take 25 Underserved Families on Christmas Shopping Spree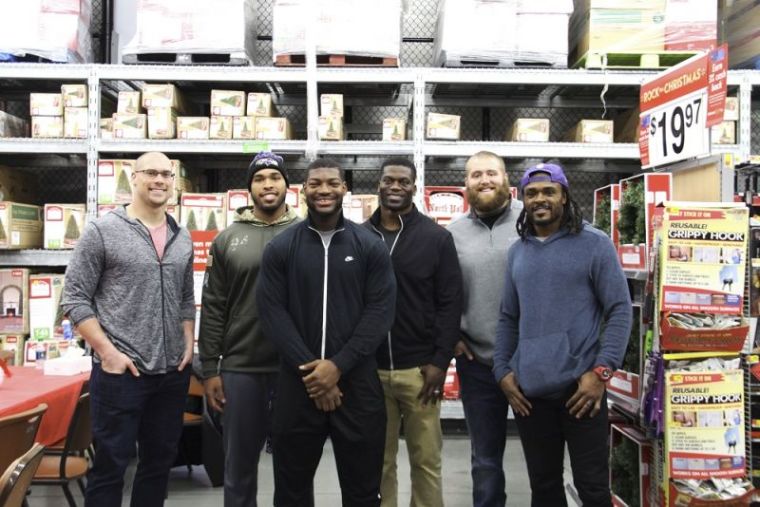 RANDALLSTOWN, Md. — Less than 24 hours after suffering a tough primetime loss to their rivals in Pittsburgh on Sunday night, a handful of Baltimore Ravens players, led by devout Christian tight end Benjamin Watson, gave over two dozen underserved families a big Christmas surprise on Monday.
Parents and guardians from 25 Maryland families were called down to a Baltimore area Walmart where they were not only greeted with a free Chick-fil-A dinner but were each given $325 gift cards to help them fulfill their children's Christmas wishes this year.
The parents were assembled by the nearly century old Christ-centered nonprofit Building Families for Children on behalf of Watson and his wife, Kirsten, who together run the One More Foundation and have been supplying Christmas surprises for children since 2008.
In a sectioned-off "Garden Center" in the Walmart off Liberty Road, the parents feasted on chicken sandwiches and waffle chips as they listened to Watson's two daughters play their violins. They would later be presented with Gospel messages from both Benjamin and Kirsten Watson.
The parents were gathered for the Watsons' annual Big BENefit event, which he and his wife have held every year in the cities in which he has played football professionally. After hosting the event in Boston, Cleveland and New Orleans, Monday's Big BENefit marked the second year in which the Watsons held the event in the Baltimore area.
"Our idea is that if we are able to positively affect one person and that person does something for someone else, then that is how change happens. We can all do something for somebody else," Watson told the parents.
"There is a verse in Matthew that says, 'Whatever you do for one of the least of these you do for me,'" he continued. "As believers, we believe that we are not doing things for people just for us but for them because that is what God has commanded us to do. We are doing this because we are being obedient.'"
Kirsten Watson, who homeschools their five children, followed her husband and shared the biblical account of Jesus feeding the 5,000, as told in John 6.
"Your kids need you more than ever. There is a role that you play that no one else can play. No one else can be that for them," she said. "Our encouragement for you tonight is for you to be the hero [for your children] and for you to say, 'You know what, I don't have it all together but this is what I have.' And pray to your God that He is going to step in and provide everything else that [you] don't have and [you] don't have to worry about it because He will provide that."
After their remarks, Benjamin Watson told the families that they would be given $325 to spend in the store. Additionally, Watson announced that he recruited a few of his Ravens teammates to assist the parents as they browsed the store to help them keep tabs on how much money they were spending.
Running back Danny Woodhead, cornerback Brandon Carr, tight end Nick Boyle and linebacker Carl Davis were among the guest shoppers.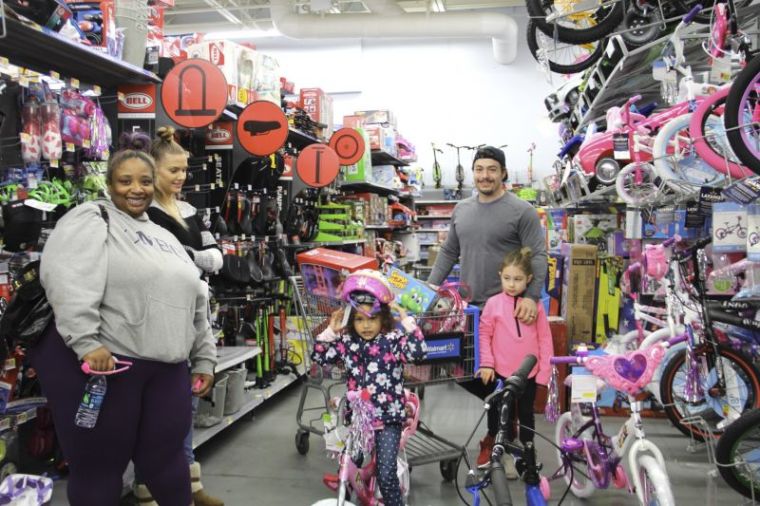 The families chosen to participate in the event were associated with Building Families for Children, a charity that strives to support and keep struggling families together.
According to the organization's executive director, Debbie Marini, the families who participated in the Big BENefit were from a variety of the organization's programs and a few families associated with a partnering church.
The mother of five who Watson escorted around the store is a part of the charity's "Safe Families" program, in which a network of volunteers throughout the metropolitan area open up their homes to children in need when situations arise to allow parents to work out their problems.
Bryant Loomis, a volunteer who has opened up his home to children as part of the program, told The Christian Post that the family who Watson was helping shop for had been divided between two host homes but were recently reunited because the mother was able to move into a rental home.
"Today was just complete icing on the cake because now all the necessities have been met. Though the finances are still tight, they will be able to have a really fun and exciting Christmas that she just wouldn't have been able to provide for her kids this year," Loomis explained. "The generosity of Benjamin Watson and his foundation is just really great. I think she was blown away that an NFL player would not just give her money but take the time to walk around and get to know her just for the half hour that we were walking around."
Loomis explained that the mother was able to find something special for each of her five children.
Watson told CP after the event that he has come across plenty of family stories in his years doing the Big BENefit.
"Everybody, every year we have done it have had different stories. Some people said they honestly didn't know where any Christmas presents were going to come from. For some people, that wasn't their situation," Watson said. "But I have had people say that, 'God has provided.' They don't quite know why it happened. I think all of us have a story like that where we are going about our business and things were hard and God just shows up because He has proved Himself faithful over and over again."
"It's not just for Christmas presents but in our life in general," Watson continued. "For me, having injuries and coming back from them or having to move to another place or failure and success. Different things happen in life but God is always faithful and He always shows up."
The Watsons firmly believe in the importance of a strong family unit. Watson wrote the May 2017 book The New Dad's Playbook: Gearing Up for the Biggest Game of Your Life to encourage young fathers to take a proactive role in their children's lives.
Watson was also selected to be the Baltimore Ravens' nominee for the NFL Walter Payton Man of the Year Award, which is awarded to one player in the league each year who has done the most for charity and community outreach.
More pictures of Monday's Big BENefit are available here.