Mormon Church, Largest Boy Scouts Sponsor, Says It Will 'Re-Evaluate' Participation Following Admittance of Gay Leaders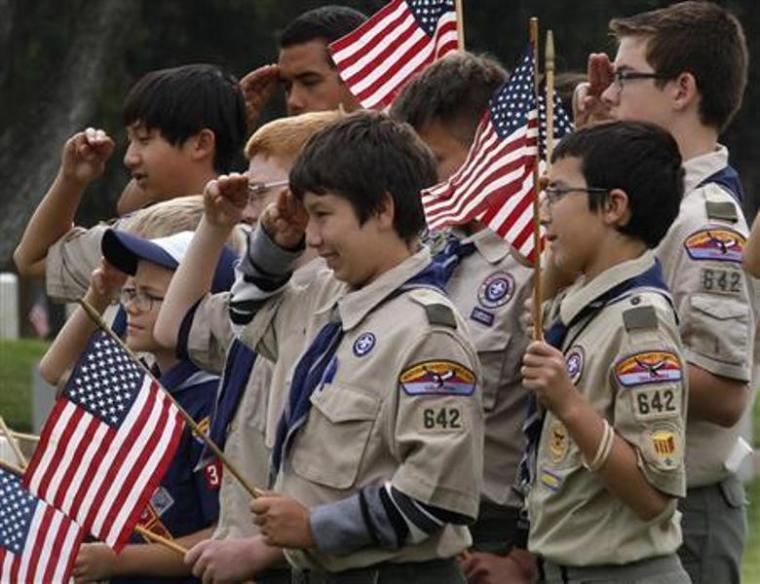 The Church of Jesus Christ of Latter-day Saints has said it will be re-evaluating its long-standing participation in the Boy Scouts of America, following the latter's decision to end its blanket ban on openly gay adult leaders.
"The Church of Jesus Christ of Latter-day Saints is deeply troubled by today's vote by the Boy Scouts of America National Executive Board. In spite of a request to delay the vote, it was scheduled at a time in July when members of the Church's governing councils are out of their offices and do not meet. When the leadership of the Church resumes its regular schedule of meetings in August, the century-long association with scouting will need to be examined," the Mormon church said on Monday.
"The Church has always welcomed all boys to its scouting units regardless of sexual orientation. However, the admission of openly gay leaders is inconsistent with the doctrines of the Church and what have traditionally been the values of the Boy Scouts of America."
The BSA executive committee voted to end its historic ban on openly gay adult leaders earlier in July, a decision that was ratified by the National Executive Board on Monday in a 45-12 vote.
"For far too long, this issue has divided and distracted us," said the BSA's president, former Defense Secretary Robert Gates. "Now it's time to unite behind our shared belief in the extraordinary power of scouting to be a force for good.
While ending the blanket ban, BSA has said that church-sponsored troops will be allowed to set their own policies on adult leaders. The Boy Scouts leadership said in a memo earlier this month that it "rejects any interference with or condemnation of the diverse beliefs of chartering organizations on matters of marriage, family, and sexuality."
Some Evangelicals, such as Southern Evangelical Seminary President Dr. Richard Land, have backed the policy that allows for religious exemptions, but said that other concerns remain for children in scouting.
"If you put them in the compromising situations that you are sometimes in with Scout leaders and Scouts, in terms of camping and other situations, it could lead to great tragedy for children," said Land, who is also the executive editor of The Christian Post. "It's best to avoid the temptation."
CBS News noted that the decision remains a controversial one, and the Mormon church, which sponsors more Scout units that any other organization, could look at forming its own organization to replace the Boy Scouts.
The Boy Scouts have experiences a membership decline in recent decades, while the ongoing debate over the participation of gay members and leaders has stirred the formation of other youth groups based on upholding conservative values.
Trail Life USA is one such group, which formed after the BSA decision to allow gay youth members in 2013, and now claims a membership of more than 25,000 youths and adults.