Most Brits Think Only 6 of the 10 Commandments Are Relevant Today: Poll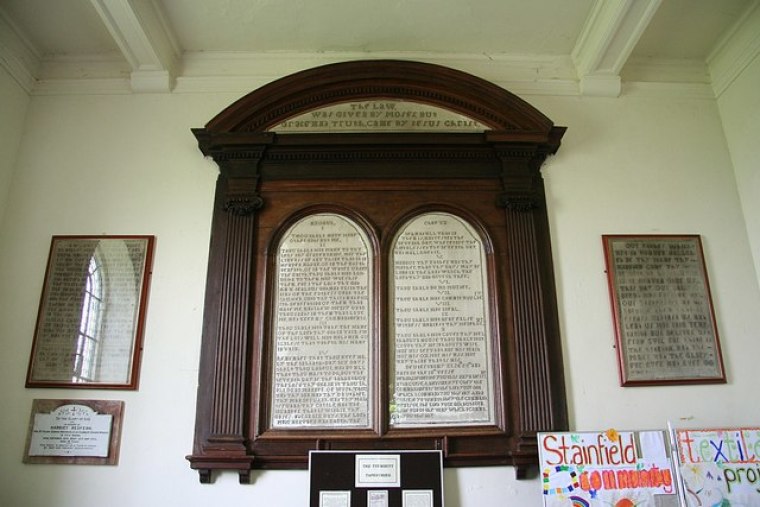 Most Britons believe that only six of the Ten Commandments are relevant today, and Christians are split over whether some, like the Commandment to not worship other gods, are essential to their faith, according to a new survey.
A YouGov research poll released on Wednesday found that 93 percent of Britons still find the Commandments against murder and stealing to be fundamental.
Another 87 percent agreed that "you shall not bear false witness against other people" is still relevant, along with 73 percent who agreed with the the Commandment against adultery.
Sixty-nine percent said that honoring one's father and mother is important, along with 61 percent who said the same for not coveting other people's possessions.
But only 31 percent said that not worshiping idols is still essential, and 23 percent agreed with not using God's name in vain. Only 20 percent agreed with not worshiping other gods, and only 19 percent said that keeping the Sabbath day holy is paramount.
"The four Commandments that do not have a majority of Brits saying they are still important are the ones most related to the practice of religion. Unsurprisingly, it is on these Commandments that opinion between Christians and the non-religious differs the most," YouGov observed.
The survey noted that 43 percent of Christians say that the Commandment against worshiping idols is important, with 38 percent of believers also backing the Commandment against using God's name in vain.
Only 36 percent of Christians said that not worshiping other gods is relevant, and 31 percent said that keeping the Sabbath holy is crucial.
The survey was conducted between Oct. 10–11, with a sample size of 1,680 British adults, including 638 Christians.
Other research has found a steady decline of religious faith in Britain in recent years.
Data from NatCen's British Social Attitudes revealed in September that for the first time ever, the number of people in Britain who say that they have no religion is over half the population, at 53 percent.
As much as 71 percent of young people aged 18–24 also said that they have no religion.
The Bishop of Liverpool, the Rt. Rev. Paul Bayes, said in comments to The Christian Post that "God remains relevant" despite such polls.
"The Church remains relevant. We in the Church, and all who love the Church, need to keep finding ways to show and tell those who say they have 'no religion' that faith — faith in the God who loves them still — can make that life-transforming difference for them and for the world," Bayes said at the time.
Another survey from September, this time carried out by ComRes, found that only 6 percent of British adults are practicing Christians, however, defining the term as those who read the Bible, pray, and attend church on a regular basis.