Most Undocumented Immigrants Are Christians From Latin America and Caribbean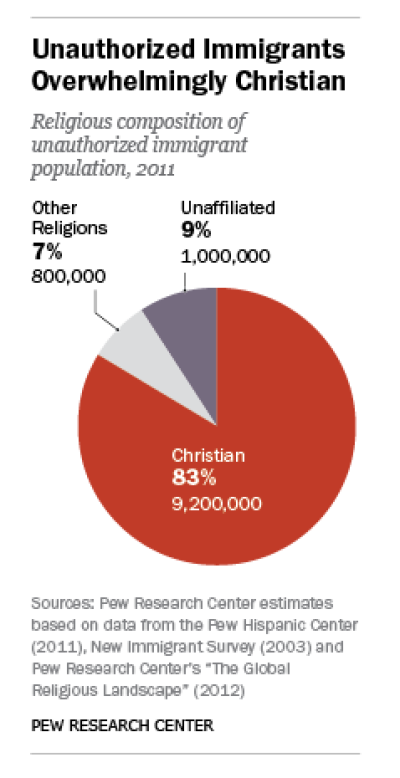 An estimated 83 percent, or 9.2 million, of the 11.1 million people living in the United States illegally are Christians from Latin America and the Caribbean, according to a recent study by the Pew Research Center's Forum on Religion & Public Life.
The study highlights this and other findings in an examination of recent trends in the geographic origins and religious affiliation of immigrants to the United States.
It also reveals that the share of Christians among undocumented immigrants is slightly higher than the percentage of Christians in the U.S. population as a whole. As of 2010, Christians were estimated to make up just under 80 percent of U.S. residents of all ages.
According to the study, in the last 20 years, the United States has also granted permanent residency status to an average of one million people annually through various means.
In the last two decades, an estimated 600,000 Christian immigrants have been granted permanent resident status annually. And although this figure accounts for the largest share of any religious group, the share of Christians granted permanent resident status has dropped seven points in the last decade.
An estimated 68 percent of legal permanent residents in 1992 were Christians compared with an estimated 61 percent in 2012. This is reflective of the smaller percentage of permanent residents who now originate from Europe and the Americas.
"Annual levels of legal Christian immigration appear to have been lower in the late 1990s (around 430,000 per year), while the recent peak (more than 800,000) was in 2006. The number of legal Christian immigrants per year has declined somewhat since 2006, and is estimated at 620,000 for 2012," notes the Pew Research Center.
The Pew estimates also show an increase in the percentage of religious minorities, including Muslims and Hindus, which reflects the growing share of permanent residents originating from geographic areas such as Asia, sub-Saharan Africa and the Middle East-North Africa region.
On May, 8, just one day before the Senate began their first markup of a bipartisan immigration reform bill, the Evangelical Immigration Table (EIT) launched "Pray for Reform: 92 Days of Prayer and Action to Pass Immigration Reform."
The effort is a grassroots and digital campaign lobbying evangelical communities in all 50 states and Congress to pass "commonsense" immigration reform.
"We understand that opponents of immigration reform will not make voting for reform politically easy, and we recognize the divisiveness surrounding the immigration debate and deeply held feelings of your constituents," noted the EIT in an open letter to Congress earlier this month.
"However, we believe the moral case for reform is clear. As such, we commit to supporting you in taking courageous votes both now and in the future. And we pray that God gives you wisdom and courage as you deliberate and vote on legislation we believe is vital for the future of our churches and our nation," it continued.
During the launch of that campaign, president and CEO of Sojourners and left-leaning evangelical leader Jim Wallis warned legislators to avoid tangling immigration reform with same-sex marriage issues, which could threaten bipartisan support for the bill.
"I support equal protection under the law but I think this is the wrong place in the wrong time to try and resolve this contentious issue. This must be a bipartisan bill. Our focus must be on the 11 million undocumented and vulnerable people who this is their time, their chance, this is their moment," said Wallis.