Movieguide's Editor-In-Chief Ted Baehr Says Christians Should Stop Accepting Media's 'Undermining of Faith and Values'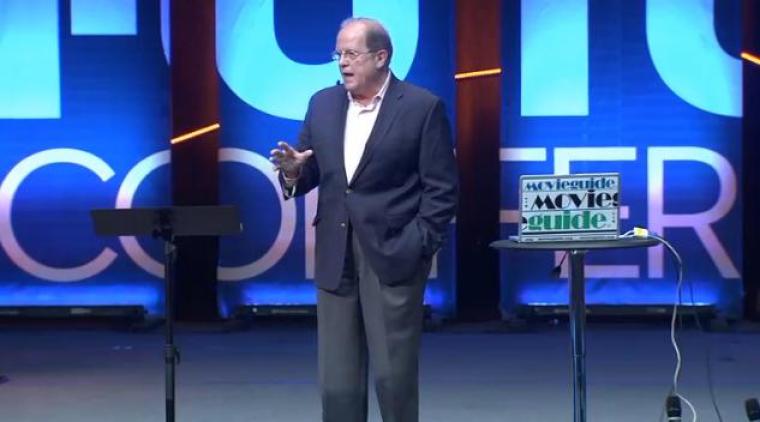 Movieguide's Editor-in-Chief, Ted Baehr, who also serves as chairman of the Christian Film and Television Commission, recently urged believers to take a moral stand in Hollywood and redeem American media in a push for more wholesome entertainment and films that glorify God.
In an impassioned speech at the Skyline Future Conference in La Mesa, California, which kicked off on Sunday, the prominent media critic said Christians have the power to transform the media by stepping out of the church and into the world. He pointed out that media today "is very powerful" because it's educating and influencing millenials.
"I want you to hear good news because this is not about me, it's about being equipped to take every thought captive for Jesus Christ in the media," said Baehr, whose wife, Lili, was also in the packed audience.
"The solution starts with you. We need to redeem the media; you know the most powerful person in Hollywood is not [media mogul] Ted Turner, it's the 12 to 24 year old who goes to movies. If they go see 'Purge Night' or 'Fifty Shades of Grey,' that's what movies will do well. If they go see something good [faith-based,] those movies will do well. You have to vote each weekend for 'A.D.,'" he later added.
Baerh, who described himself as once being a "hardcore, left-wing commie pinko rat" before he found Jesus, said Hollywood's moral decline and it's shift away from wholesome entertainment began some time ago and that it has never fully redeemed itself.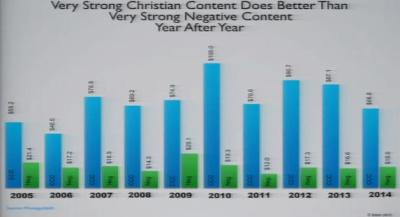 "The media has constantly been giving the drumbeat that has been undermining the faith and values of our parents. How did this happen? During the golden age of Hollywood — in that time movies had a biblical value. The church got involved in the 1930s and cleaned up movies (made them more clean and wholesome) and Hollywood excelled," he explained.
"What happened? Why did Hollywood turn away from faith and values? They shut down the church film offices. We abandoned the mission field. We abandoned the culture, and within three years you went from 'The Sound of Music' to the first X-rated film. You went from the greatest story ever told to the first sex and Satanism film. Why? Because pagans will be pagans unless you go into the world and take every thought captive. Unless the power of the Holy Spirit in you acts to redeem the culture around you."
Baehr acknowledged that Hollywood's Christian film market has begun to expand in recent years, thanks to a growing consumer appetite for faith-based films.
"So Christian content continued to increase," he said. "If you think last year was the year of 'The Bible' in movies, when you get to next year, you're going to get one a month."
Despite the increasing demaned for faith-based films, Baehr explained that Christian filmmakers still have work to do when it comes to producing quality films.
"My Berkeley [college] students used to laugh at that great movies are great stories well told. They are hard to do and a lot of these Christian movies don't know how to tell stories," he said.
He went on to explain that Christians should continue to support faith-based films if they want to have the power to shape the content that Hollywood produces.
"Great movies have a positive world view," he said. "Ninety percent of the top movies for the last two years had a Christian, moral or biblical world view. That means America is on your side. Every year movies with strong Christian content do better at the box office, that is an act of God. That means you're on the winning team. That means if Hollywood wants to continue in business, it's got to do movies that represent [faith]."
The Skyline Future Conference is designed to educate, embolden and activate pastors and other Christian leaders by discussing the condition of the church in America and throughout the world. The four-day event which began Sunday is set to feature uplifting talks from keynote speakers including Bishop Harry Jackson, former Speaker of the House Newt Gingrich and former U.S. Congressman Bob McEwen.
For more information on Skyline Church CLICK HERE