Murdered North San Diego Family Experiencing Heaven's Joys, Family and Friends Believe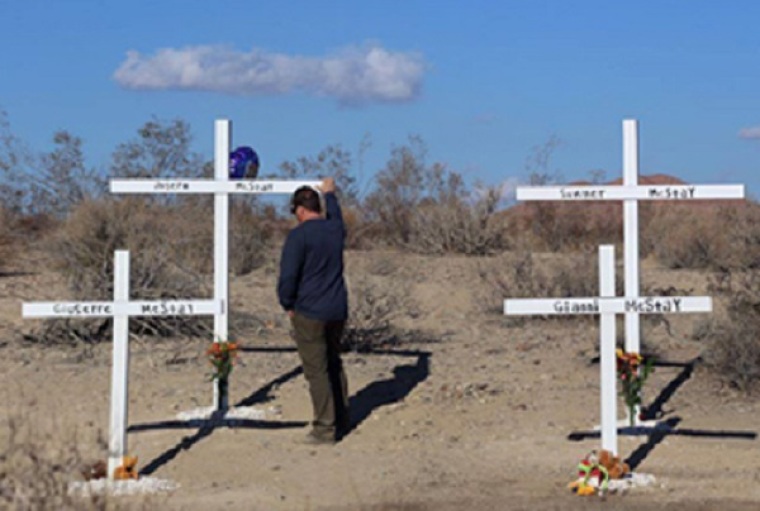 Mystery still surrounds the death of the McStay family, who disappeared in early 2010 from an idyllic northern San Diego community best known for its avocado groves and family-friendly lifestyle. But one thing is not in doubt to family members and close friends – their strong Christian faith and eternal destination.
On November 11th, a motorcyclist found the shallow graves of Joseph "Joey" McStay, his wife Summer, and their two children, 4-year-old son Gianni and 3-year-old son Joe Jr., in Victorville, 105 miles north of their home in Fallbrook. Their abandoned Isuzu Trooper was found near the U.S.-Mexico border shortly after their disappearance.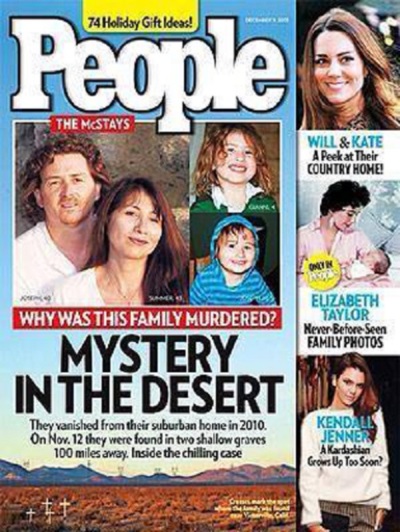 Joey and his brother Mike grew up in Santo, Texas, a wide spot on a dusty highway with a population of only 315 today. "We attended a little Baptist church but my mom never forced Christianity on us," Mike recalls. "She wanted us to make our own decision."
In Joey's case it was less a 'decision' and more of a power-encounter with God that led him to salvation at age 22. "He was dating a girl he really liked, but she broke it up because she wanted to get right with the Lord," Mike recounts.
Somewhat distraught, Joseph went to meet with an elder in his church, Steve Wilson, about the breakup. As Joey bared his heart with Wilson and the two closed their eyes to pray together, something surprising happened.
"He felt a warmth come on him like a presence and the room filled with light," Mike says. "His eyes were closed but it was bright white and he was crying. God's Spirit fell on him like a blanket of Daddy's love — He felt the Father's touch."
Joey rushed home to share the experience with his younger brother. As the two drifted off to sleep that night in their loft, Joey excitedly told Mike, "God is real! You can know Him! All you have to do is receive Him."
Not long after this, Mike surrendered his life to Christ as well. "Joey was a believer through and through," Mike says. "I know when I breathe my last I will awaken in Paradise and I'll see my brother and sister and those little guys, and there will be no more pain."
Mark Ellis' God Reports blog can be found at the CP Blog section.
Gerrit Macey worked with Joey at Cannon's Restaurant in Dana Point Harbor in the early 1990s. "Joey witnessed to me for a year and a half and I would just laugh at him," Macey recalls. Macey was the dining room manager at the time and led a fast lifestyle.
"Joey wanted to read his Bible in the service bar and I yelled at him for that," he says. "I used to party a lot, and one day Joey came to me and said, 'Enough is enough. I'm going to take you to church tomorrow morning.'"
"If you can wake me up," Macey replied. "I don't wake up too early on Sundays," he said.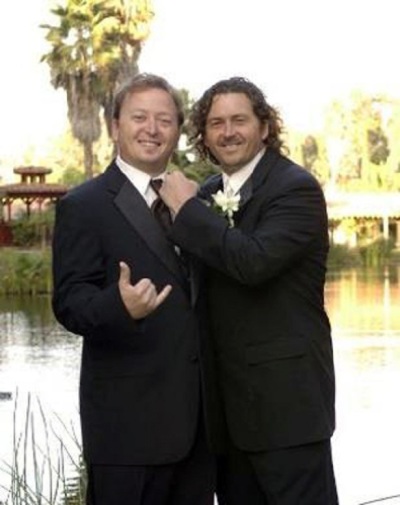 The next morning Joey's prayers were answered. Macey not only got out of bed and made it to church, he also received Christ.
"I didn't even hear the altar call. I just got up and moved forward. I turned around and I saw Joey crying and Mikey jumping up and down with excitement."
Teresa Baiz also worked with Joey at Cannons. She credits Joey with her rededication to Christ. "I backslid in high school and I was in a bad relationship," she recalls.
One night they closed the restaurant together. Joey turned to her and said, "Do you mind if I read something to you?
He opened a Bible and read the story of the Prodigal Son. "God wants you back," he told Baiz.
Then he read Psalm 139 to Baiz, which happened to be her favorite psalm. When she went to church the next Sunday with Joey, she went forward and rededicated her life to Jesus. "My life was never the same," she recounts. "He is a huge part of my testimony. All he wanted to do was bring people to the Lord."
"I know when he opened his eyes he was looking at Jesus and there will be many people in heaven because of him," she adds.
Joey attended Dana Point Lighthouse, then Church by the Sea in Laguna, and later, Vineyard Community Church (VCC) in Laguna Niguel, where his brother Mike helps with worship.
One of the former pastors at VCC, recalls Joey. "I knew him as a great young man who loved the Lord," says Jay Grant. "Joey and his second wife were believers. His faith was always solid."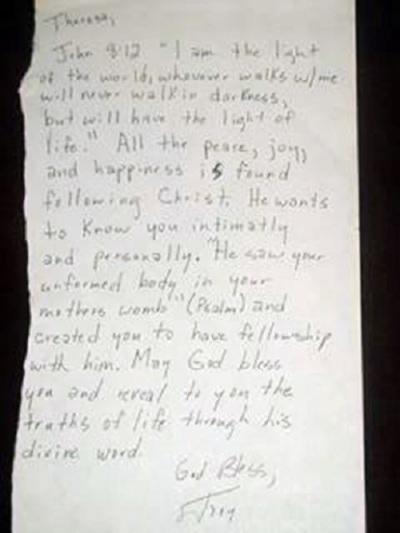 As the mystery of the killings deepens, and theories are tossed around, Mike tries not to dwell on the case. "I don't even try to wrap my head around it," he admits. "I expect the sheriff's department will call when they get them."
"When everything is caving in around you, you have to trust God," he says. "That's when you find out what your faith is based on. It's either built on the Rock or it's built on the sand."
"This kind of tragedy is the catalyst that solidifies your faith."
This article originally appeared here: http://blog.godreports.com/2013/12/murdered-mcstay-family-experiencing-heavens-joys-family-and-friends-believe/