'Muslim Hardline' Gunmen Open Fire on Catholic School in Pakistan; Injured Christian Student Taken to Hospital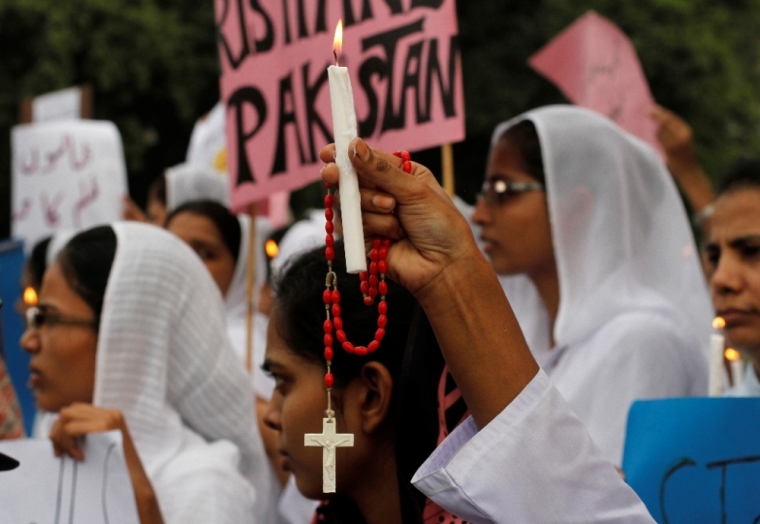 Two masked gunmen on motorcycles, believed to be Muslim, open fired on the campus of a Pakistani Catholic school in Lahore Friday morning, injuring one Christian student and two security guards.
The two gunmen began firing at the campus of St. Franciscan High School in the Behar colony of Lahore, the second largest Christian residential area in Pakistan, around 10:30 a.m. The masked perpetrators were able to race away on their motorcycles and were not identified.
Police have begun an investigation into the attack on the school, according to prominent Pakistani human rights attorney Sardar Mushtaq Gill, who told The Christian Post that the school shooting is yet another attack on the Lahore Christian community following the Youhanabad lynchings of two Muslims thought to be involved in the mid-march Taliban bombings of two Christian churches.
"They were [two] masked men, armed on motorcycles. They were masked with their faces covered," Gill explained. "It was in front of school. When they started firing, the guard intercepted. After making them injured, they fled away."
The unnamed injured Christian student was taken to a medical facility for treatment, where Gill says his condition is improving.
"He is a Christian student and was admitted to the hospital," Gill explained. "Just a few minutes ago, I received a phone call from our colleague and he told me that the condition is better."
Although the gunmen remain at-large and their motive remains unconfirmed, Gill said he believes the shooting was a clear act of Muslim extremism and continues with the trend of attacks on Christians designed to intimidate the Lahore Christian community.
"Definitely," Gill said, when asked if he believes the two gunmen are Muslim. "Because, after the incident of Youhanabad, this kind of incident is very, very common and … the wave of hatred is very bad among the Muslims and they are taking advantage. This is definitely that they are from the hardline, Muslim hardline."
Gill compared Friday's attack at St. Franciscan High School to an attack on March 24, where masked gunmen on motorcycles open fired outside the Church of St. Peter in Lahore, injuring two bystanders.
"[In] March, the same kind of incident happened in another area of Lahore in front of one church and a school," Gill said. "Two persons came and started firing on a security guard, making them injured and fled away. This is also the same kind of incident."
On Thursday, Muslim extremists in Karachi shot and wounded a U.S. national named Debra Lobo, who works as a vice principal at the Jinnah Medical and Dental College. Police officials said two gunmen on motorbikes were involved in Lobo's shooting, as they attacked her in her car while she was on the way to the college.
Officials also found Islamic State leaflets at the scene of the crime. However, it is not clear whether the gunmen were acting on behalf of the Islamic State or whether the leaflets were designed to throw off an investigation.
Gill said Lobo's shooting was consistent with the hatred that Pakistani Muslim extremists have toward the United States and Americans.
"She was over there as a vice principal in the dental medical college and she was also targeted by the hand of the activists, the group who do activity of terrorism," Gill said. "In Pakistan, the Muslims have hatred toward America, definately due to this … war on terror. America is in war on terror and due to this, hatred toward Americans is common in Pakistan."
Last Friday, a 15-year-old Christian boy was beaten and set on fire in Lahore after answering truthfully when asked by two Muslim men whether he was a Christian or Muslim. Five days later, the boy died from the burns that covered 55 percent of his body.
"This kind of thing is happening because they want to make us terrified," Gill, whose own brother was recently shot by Muslims, told CP.