Muslim Posing as Christian Teacher Tells Children How to Follow Allah, Muhammad; Attacks Director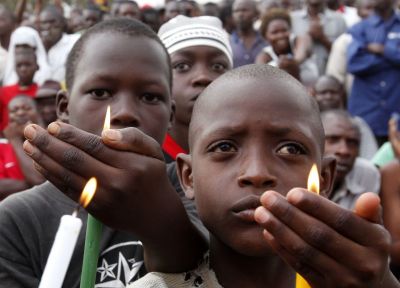 A Muslim man posing as a Christian teacher in eastern Uganda reportedly attacked the elementary school director after it was exposed that he was teaching students Islamic practices.
Morning Star News reported that the man, Mugooda Siraji, attacked Hope of Glory International Nursery and Primary School Director Hassan Muwanguzi on Nov. 4.
Siraji apparently hit Muwanguzi after the school board leaders asked him to take a leave of absence upon discovering that he had misrepresented who he is, and that he was trying to teach the children to follow Islam.
"Siraji came to our class and openly said he was a Muslim, and that his real name was Mugooda Siraji and not Simon Siraji," a fourth-grade child told a school official, according to head teacher Eric Kakonge. "He has been introducing to us Islamic ablution and how to be a true Muslim by believing in Allah and Muhammad."
The board accused Siraji directly of propagating Islamic religion, which goes against the Christian school's principles.
Although the Muslim initially agreed to take a leave of absence while an investigation was carried out, on Nov. 4 he reportedly strode into Muwanguzi's office, and hit the school director with a blunt object after shouting "Allah Akbar."
"Muwanguzi suffered face and right hand injuries, with serious bleeding from the face," Kakonge revealed.
Other school teachers confronted Siraji, but he managed to escape. Police have since opened a case against the man, but students are said to fear for their lives as he still remains at large.
Muslims make up only around 12 percent of the Christian-majority nation, with extremist factions carrying out several attacks on believers over the years aimed at punishing those who preach the Gospel.
A Muslim mob raped 15 Christian women and beat several members of a church back in January to punish their pastor for trying to lead Muslims to Christ.
The radicals attacked the 500-member congregation of Katira Church in Budaka District with clubs and sticks during an evening prayer meeting. The attackers locked the Christians inside the church, beating the men and raping several women.
Those who managed to escape were ambushed and beaten by other extremists waiting outside the building.
In November 2016, a teacher who converted to Christianity from Islam was severely beaten by Muslim villagers in Bufuja for his decision, with his maize crops destroyed.
"Be informed that you risk your life and that of the entire family if you happen to come back to your house," a threatening text left on his phone read. "We curse you and your family. You are an apostate according to Islamic law, and you deserve to die."