Myanmar Bombs 60 Churches in 18 Months, Replaces Some With Buddhist Pagodas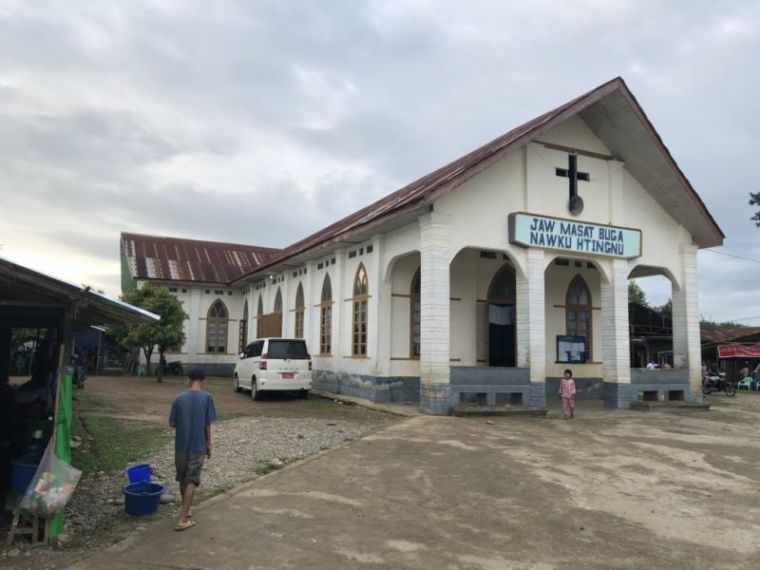 Myanmar's military forces have destroyed about 60 Christian churches and have turned some of those properties into Buddhist pagodas amid renewed attacks over the last year-and-a-half, an American pastor who recently traveled to the region said.
Bob Roberts, the founder of the Northwood Church in Keller, Texas, who is known for working with interfaith leaders to promote religious tolerance around the world, returned last week from his trip to the Kachin state of Myanmar (formerly known as Burma).
The evangelical pastor traveled there to see for himself the horrors that have escalated inside the state in recent months, as the Myanmar army has ramped up its attacks on the Kachin Independence Army and the predominantly Christian Kachin people.
As the Myanmar military has been fighting a civil war for decades, Roberts warned that since a ceasefire ended over seven years ago with the Kachin rebels, over 450 Kachin villages have burned down.
More recently, however, there has been an even more severe treatment of the Kachin people, 95 percent of whom are Christian.
"In the last 18 months, they have bombed 60 churches. Of the 60 churches they have bombed, they have put Buddhist pagodas in 20 of those sites to reclaim them. It is a pretty severe thing," Roberts told The Christian Post in an interview. "[To] be clear, most of it is about ethnic cleansing."
The world's attention last year was captured by the refugee crisis caused by violence committed by the army against the Muslim Rohingya people in Myanmar's Rakhine state. People were horrified to hear stories of babies being chopped in half and stories of mothers and daughters being gang-raped. Many human rights activists labeled the atrocities as a "genocide."
But since so much international attention was placed on the Rohingya crisis, the army has scaled back its efforts in the Rakhine state and transferred many of those same military units to the Kachin state.
"That is one of the reasons for big alarm because they are the exact same units," Roberts said. "Already, there has been murder, there has been rape, there has been all of these things. It has not yet gotten to the level of the Rohingya. But there is concern that it could real easy."
He added that there is "a tremendous amount of fear that things are about to seep up pretty dramatically."
While over 700,000 Rohingyas fled their homeland and are seeking refuge in Cox's Bazar in Bangladesh, the Kachin people are not able to flee the country because authorities in border countries China and India will not let them cross over.
Roberts said that as many as 130,000 Kachin people are now seeking refuge as internally displaced persons inside Baptist churches throughout the state.
"Nearly every Baptist church — I don't care if it is little or big and most of them are not all that large — has between 400 and 2,000 refugees now in the Kachin state," he said. "The Kachin Baptist Convention is the one that is doing the relief and they are the ones that are trying to help them."
Because the Kachin state is so isolated, major aid organizations are not able to provide support, leaving the Kachin Baptist Convention to carry most of the aid load.
"I was at many churches that would have a mini chapel that would hold a couple of hundred people, maybe 300 at most," he continued. "And they have literally tents built with bamboo. There are literally hundreds of people there."
In speaking with the people taking refuge in the churches, Roberts said he heard numerous stories about women being raped and firsthand accounts of "death and destruction."
"I spent time talking to a man who was with his son taking care of his cattle in the field and these jet fighters and helicopters came and started shooting and killed his son and shot him in the knee," Roberts said. "He had to hurry up and then bury his son and then leave the village."
According to Roberts, there have been over 600 violent encounters with jets and helicopters in the Kachin state in just the last year.
One of the biggest takeaways that Roberts had from the trip was that the Kachin people told him that they "feel forgotten by the Western church."
"They also feel a strong kinship to the American Church and so they have a sense of, 'Why are the Americans not speaking up for us?'"
Roberts feels that many Christians in the west just don't know about the situation that the Kachin people are facing. In other cases, people may be just too apathetic given the large quantity of human rights abuses going on around the world.
"I think there is already so many refugees — Syria, Iraq, Afghanistan. You look at what is going on in the world, there is a point to which it is just too many and we hear too many stories," he said. "I think we have become hardened by it and I think the international community is the same with that regard."
Roberts feels strongly that the American church must do more to speak out and drive government action on this matter. He said that he and other faith leaders have been working on a letter that will be sent to President Donald Trump and Vice President Mike Pence to demand more action against Myanmar and a return of targeted sanctions. Roberts said he is reaching out to other evangelical leaders to sign the letter and plans to release it on July 10.
The Texas pastor is also calling on the American church to provide financial support to the Kachin Baptist Convention.
"This is a very real case in which we have a chance to do something right now if we speak up," he said. "It's also one of those things to where if we don't speak up, then somebody's going to get hurt."
Roberts is a member of the Faith Coalition to Stop Genocide in Burma, which is a group of faith leaders from diverse backgrounds.