Nagorno-Karabakh Armenians seek guarantees before handing arms to Azerbaijan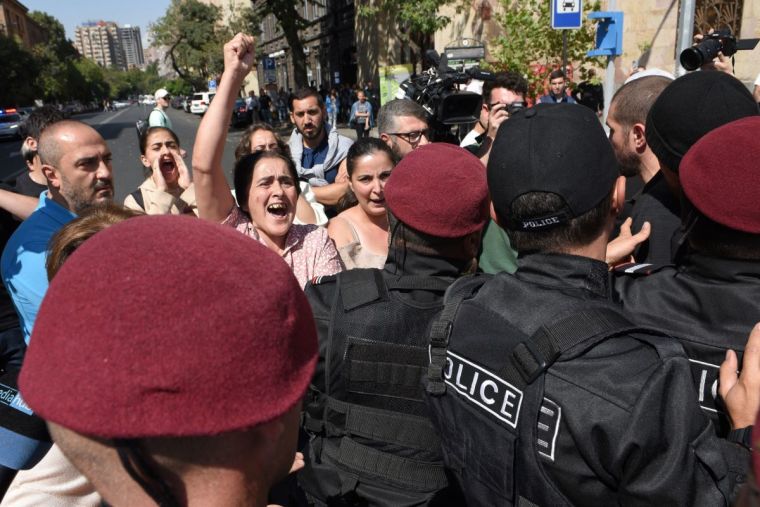 Ethnic Armenian Christians in Nagorno-Karabakh have demanded security assurances before disarming as Azerbaijan regained control over the breakaway region following a military offensive this week. 
David Babayan, an adviser to Nagorno-Karabakh's ethnic Armenian leader Samvel Shahramanyan, told Reuters that while a ceasefire exists, a final agreement is still pending. He emphasized the need for security guarantees before relinquishing weapons.
The Karabakh Armenian authorities accused Azerbaijan of breaching a ceasefire agreement made Wednesday, but the Azerbaijan defense ministry called such an allegation "completely false." While two sources in Stepanakert told Reuters that they heard heavy gunfire on Thursday morning, it wasn't clear who was firing. 
The ceasefire potentially ends decades-long aspirations for the Armenian-majority enclave's independence from Baku. The agreement came after Azerbaijan initiated a 24-hour offensive this week aimed at regaining full control of the territory.
Talks between the two sides are ongoing in the Azerbaijani city of Yevlakh.
Thousands of ethnic Armenians have gathered at Stepanakert airport or sought refuge with Russian peacekeepers, Christian Solidarity International said in a statement to The Christian Post, saying thousands are hoping for an international humanitarian airlift.
According to local officials, at least 200 ethnic Armenians, including 10 civilians, have reportedly died.
Russia's Ministry of Defense said the ceasefire would be coordinated with Russian peacekeepers. Armenian Prime Minister Nikol Pashinyan said Armenia was not involved in drafting the truce but expressed hope for stability and an end to combat actions.
"We hope that military escalation will not continue because, in the current conditions, it is very important to ensure stability and stop combat actions," Pashinyan said in a TV address, according to AFP. 
Protests erupted in Yerevan, Armenia's capital, with thousands demanding Pashinyan's resignation for failing to protect Karabakh. 
The region is recognized internationally as part of Muslim-majority Azerbaijan even though it has a majority Armenian population. It's been controlled by ethnic Armenians as the unrecognized Republic of Artsakh, a de facto independent state not recognized by the United Nations.
Azerbaijan regained control of territories surrounding Nagorno-Karabakh after a six-week war with Armenia in 2020. A Russia-brokered armistice left the region connected to Armenia only by the Lachin Corridor, where Russian peacekeepers were supposed to ensure free movement.
In Nagorno-Karabakh, residents are living in dire conditions, with no electricity and limited food supplies amid a monthlong blockade of the Lachin Corridor. 
Two days after the reported ceasefire, Azerbaijan says it delivered food and other humanitarian aid to the region on Friday. According to The Associated Press, Azerbaigan's emergencies ministry said two 20-ton trucks with food and hygiene items and two trucks with bread were sent to Nagorno-Karaback on Friday. 
CSI urged U.S. President Joe Biden to propose a four-point emergency response, including an immediate humanitarian airlift. The Switzerland-based human rights group also called for sanctions against Azerbaijan President Ilham Aliyev for policies of ethnic-religious cleansing.
"You were the first U.S. president to officially acknowledge the Armenian Genocide, thereby earning the gratitude of the Armenian people and all who abhor genocide," CSI President John Eibner said. "Let it not be said that, on your watch, Azerbaijan — a strategic partner of the United States — successfully executed another phase of the historic Armenian Genocide."
Azerbaijan has imposed a de facto nine-month blockade on Nagorno-Karabakh, denying the civilian population essential supplies. The blockade has heightened fears among the population, already traumatized by past atrocities, CSI said.
Luis Moreno Ocampo, an Argentine lawyer who was the prosecutor of the International Criminal Court from 2003 to 2012, told members of the U.S. Congress this month that the intent of the Azerbaijan leadership to starve the Armenians is a genocidal action. 
Azerbaijan has demanded the disbandment of political authorities in Karabakh before any future talks. The country aims for full integration of the region, raising questions about the fate of its ethnic Armenian population.
Residents of Stepanakert report that shops are empty, and people are resorting to cooking food over open fires in courtyards. The situation remains tense, with rumors and uncertainty prevailing among the population.