National Cathedral Rejects Call to Boycott Trump Inauguration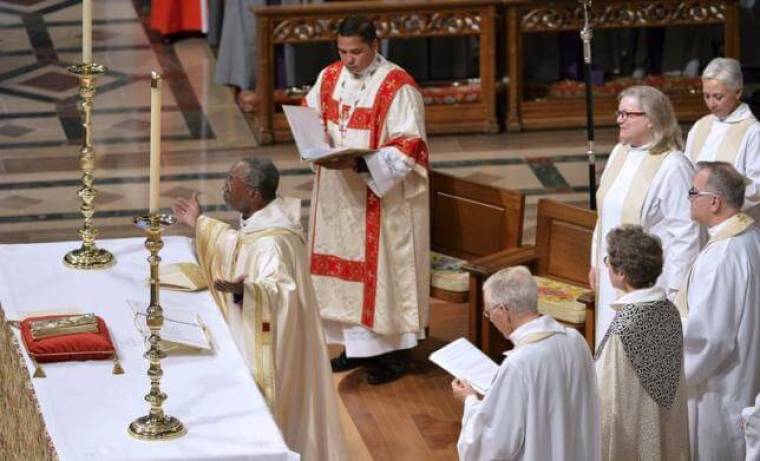 The Washington National Cathedral rejected a call from its former dean to cancel its traditional interfaith service over disagreements with President-elect Donald Trump.
The Very Reverend Randolph Marshall Hollerith, dean of the Cathedral, said in a statement released Tuesday that he will "stand by" the decision to participate as "an approach to civility" and not as an endorsement of Trump's views.
"Our willingness to pray and sing with everyone today does not mean we won't join with others in protest tomorrow. We will always strive to bridge the divide and repair the breaches in our life together," stated Rev. Hollerith.
"In this and in all disagreements, we should never turn away from the opportunity to engage in any conversation. We can have no conversation, and this Cathedral can have no convening authority, if those with whom we disagree only see a turned back or are met with condescension or derision."
In addition to the prayer service, the National Cathedral choir will participate in Friday's inauguration ceremonies. 
The Reverend Gary Hall, former dean of the National Cathedral, was among the critics of the decision to participate in the inauguration ceremonies.
"I would not have held the inaugural prayer service, nor would I have allowed the choir to sing because the positions Trump has taken are so inimical to the gospel," said Rev. Hall to the liberal blog Think Progress.
"I know it has been our tradition to do it, but this is a really different kind of candidacy and presidency — and it's a time, really, for the church to be the resistance to this kind of authoritarianism instead of legitimizing it by allowing it to use the symbols of Christianity."
Hollerith said that while it "pains me that our decisions have caused such anguish," if the Cathedral's actions "serve as a catalyst for bridging the divide then, God willing, we are on the right path."
"I believe our job is to work together to build a country where everyone feels welcome, everyone feels safe, everyone feels at home," continued Hollerith.
"We will need all people from across our nation to be a part of that process, and we cannot retreat into our separate quarters if we have any hope of accomplishing this task."
Hollerith's comments come as part of the debate over how progressive churches are to respond to the election of Trump, whose campaign rhetoric and platform went against many of their sensibilities.
One Episcopal congregation in California, All Saints Church of Pasadena, garnered national headlines earlier this month for its refusal to pray for President Donald Trump by name.
"We are in a unique situation in my lifetime where we have a president elect whose name is literally a trauma trigger to some people," said All Saints Church Rector Mike Kinman, as reported by local media outlet Pasadena Now.
"Whereas before we prayed for 'Barack, our president,' we are now praying for 'our president, our president elect, and all others in authority.' This practice will continue for at least the near future."
The Most Rev. Michael B. Curry, Presiding Bishop and Primate of The Episcopal Church, also stressed the need to pray for the incoming president despite ideological differences.
"When we pray for Donald, Barack, George, Bill, George, or Jimmy, Presidents of the United States, we pray for their well-being, for they too are children of God, but we also pray for their leadership in our society and world," wrote Rev. Curry in a column published last Friday.
"Prayer is not a simplistic cheer or declaration of support. Prayers of lament cry out in pain and cry for justice. Prayer can celebrate. Prayer can also ask God to intervene and change the course of history, to change someone's mind, or his or her heart."