Sacramento Kings NBA 2015 Trade News: Kings Sign David Stockton Through Next Season
The Sacramento Kings have signed David Stockton on a contract that enlists him on the team through the 2015-16 NBA game season, according to reports. The 23-year-old athlete is the son of Hall of Fame point guard and all-time NBA assists and steals leader, John Stockton.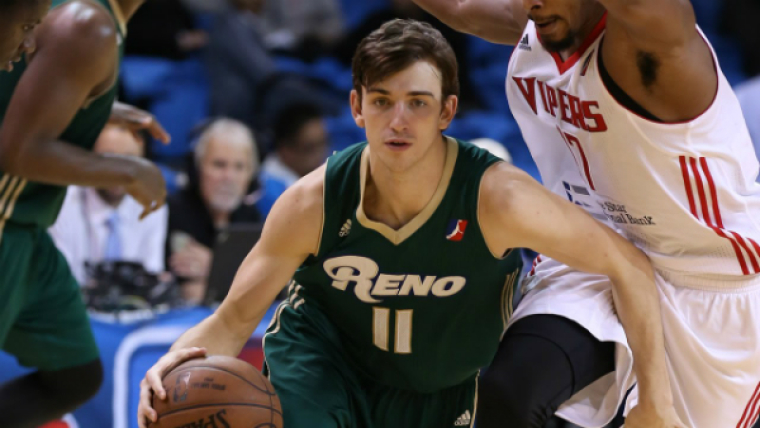 The younger Stockton was previously signed by the franchise to a 10-day contract earlier this season in February. The player made one point, two rebounds and one assist (0-2 FG, 1-1 FT) on his NBA debut at the Staples Center on a game against the Los Angeles Clippers, NBC Sports reported.
The point guard, who stands 5-feet-11-inches and weighs 165 pounds, spends most of the season playing with the Kings' NBA D-League affiliate, Reno Bighorns, where he averaged 20.1 points (.461 FG%, .398 3pt%, .824 FT%) 4.2 rebounds, 9.4 assists, 2.5 steals and has played about 30.5 minutes per game in the 43 contests he was in.
The undrafted rookie, who played in college at Gonzaga like his father, was selected by the Maine Red Claws in the third round of the 2014 NBA Development League Draft on November 1, 2014. The Red Claws later on traded Stockton to the Bighorns during the draft night.
The elder Stockton played 19 seasons straight for the Utah Jazz from 1984 until his retirement in 2003. The 10-time NBA All-Star was inducted twice in to the Naismith Memorial Basketball Hall of Fame first for his individual career (2009) and then for his participation on the 1992 United States men's Olympic basketball team, which was also known as the Dream Team.