NC Megachurch's LOVE Week to Feed 800,000 People, Serve Thousands of Underprivileged Kids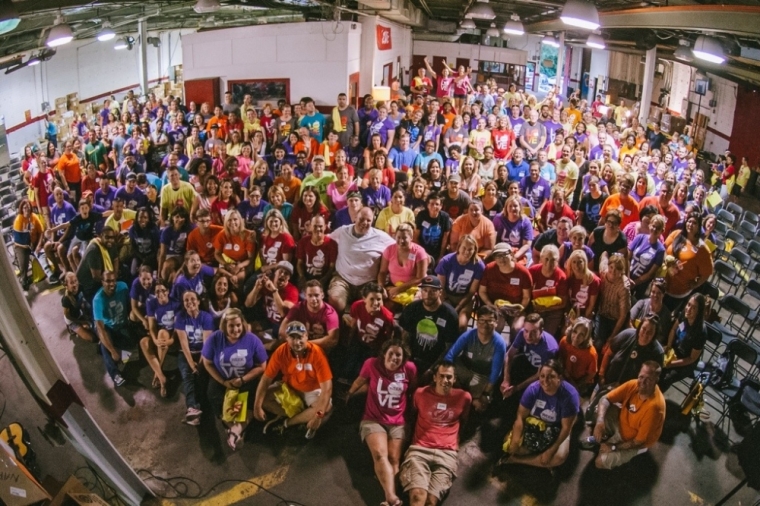 Elevation Church in Charlotte, North Carolina will send off thousands of volunteers to help communities in different cities throughout the United States and Canada next week in an effort to outwardly demonstrate God's love through large-scale servitude.
Led by senior pastor Steven Furtick and wife, Holly, LOVE Week is expected to be the biggest event the church has seen since kicking off the initiative five years ago.
"I'm grateful to lead and be a part of a church where we don't stop at just hearing God's word, we get out there and do something about it," said Holly in a blog post. "We believe you're never more like Jesus than when you're serving, so later this month we will give our time and talents to spend 9 days serving with 107 organizations in over 900 events."
Volunteers will have the opportunity to build a home, organize a food pantry, paint a non-profit organization's walls, cook or deliver a meal for the homeless or for a cancer patient.
In addition, other opportunities include spending the day at summer camp with a child who normally would not be able to afford it, play bingo with a senior citizen, or be a part of an outdoor landscaping makeover.
Earlier this week, over 300 LOVE Week leaders gathered to worship, pray, and finalize preparations for the event's kick off. Organizers anticipate their efforts will feed 800,000 people, provide school supplies for 3,000 children, build wells, and supply 20,000 cans of food.
In the past, Elevation Church's LOVE Week has been recognized by Charlotte's mayor as one of the most inspiring events in the region. Last year, the initiative engaged more than 11,000 volunteers in nearly 60,000 hours of community service and invested $400,000 into the work of their outreach partners.
Despite the magnitude of LOVE Week's impact, Elevation also engages in additional initiatives for the greater good of their city. Earlier this year, the church donated $300,000 towards a $20-million city fund to fight homelessness.
In a video interview with Furtick, Charlotte's former Mayor Patrick Cannon expressed gratitude for the donation, calling it a "big deal" and noted that the contribution was made "without asking for anything back."
"We never wanted as a church to create our own ministries but partner with people…Our church is a generous church and the thing I always teach when we hear of needs that are happening in our city, down the street or across the world, [is that] there seems to be three basic responses and the first one is greed then guilt…but generosity is God's answer," said Furtick.
Furthermore, the church formed a partnership with former Charlotte Mayor Anthony Foxx in 2011 to invest in schools, teachers, and students with their campaign called the Orange Initiative. During that time, they set a goal to serve 100,000 hours and give $750,000 to local organizations.
Since its inception in 2006, Elevation has given over $11 million to 84 outreach partners.
LOVE Week kicks off July 26 and runs through August 3. For more information, visit www.loveweekevents.com.