NCAA Is 'Being Used' by LGBT's Sexual Revolution, Benham Brothers Say (Interview)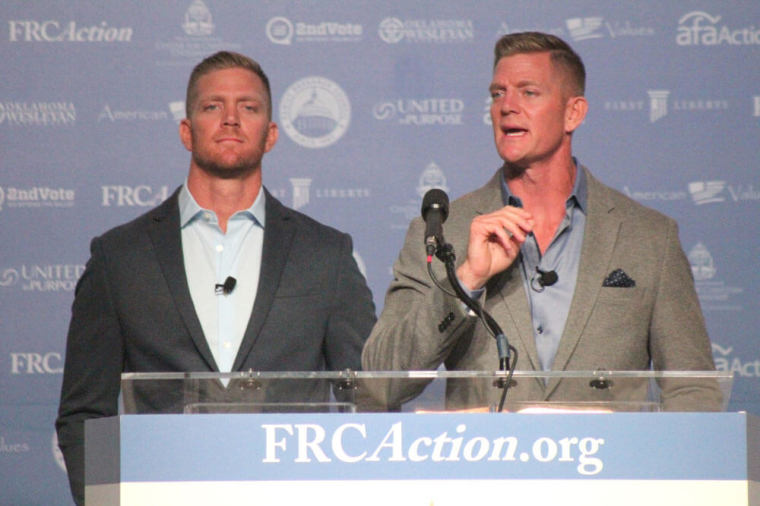 The Benham brothers say that the National Collegiate Athletic Association is being used by LGBT activists and champions of the sexual revolution to facilitate a moral revolution in America.
After the NCAA announced on Monday that it pulled seven championship events scheduled for this year and next from North Carolina over its opposition to the state's bathroom law that requires transgender individuals to use restrooms and changing areas designated for their birth sex, residents Jason and David Benham spoke with The Christian Post over the phone to give their response to that decision.
The Benham brothers, popular Christian conservative real estate entrepreneurs who had their HGTV show cancelled because of their opposition to gay marriage, said the negative reaction the state has received to H.B. 2 from major national organizations and entertainers like the NCAA, NBA and Bruce Springsteen is all part of the far-left's three-step process to overtake America with a "radical revolution."
"The NCAA is doing the sexual revolution's bidding. They are being used by the sexual revolution, by those pushing the radical LGBTQ agenda to redefine and reshape what America looks like," David told CP. "The radical revolution to overtake America follows a three-step plan — frame the issue, facilitate support, fracture dissent."
As the NCAA and other organizations continue to take action against North Carolina to protest the state's law, David explained that it's all part of the "facilitate support" phase of the sexual undertaking of America.
"The issue has already been framed. This is all about discrimination, even though in North Carolina there is not one case of discrimination against the LGBT community or transgenders at all, not one legal case," David said. "This is a problem that never existed and it still doesn't exist. But they created the conflict and now they have framed it as discrimination to say that a man who feels like a woman cannot use the women's restroom."
"So, they are now pushing the facilitated support network. The Human Rights Campaign isn't the one leading this now," he asserted. "They just let the NCAA, PayPal, Bruce Springsteen — they let their facilitated support network utilize their speaking points."
The NCAA's four reasons for why it's refusing to hold national championship events in North Carolina are:
North Carolina's law invalidates local government discrimination protections for gays, lesbians and transgenders.
North Carolina has the only statewide law making it illegal to use restrooms based on gender identity.
North Carolina provides legal protections to government officials who refuse to serve the LGBT community.
Five states now prohibit public officials and representatives of public institutions from traveling to North Carolina.
"I read NCAA's speaking points this morning and I read their four reasons," David said. "I guarantee you that is shaped by the Human Rights Campaign. This is craziness. Now, what they are going to do is fracture all dissent. Now, they are going to take guys like us and call you a bigot when you know that we would take a bullet for a transgender, or anybody for that matter, to protect them."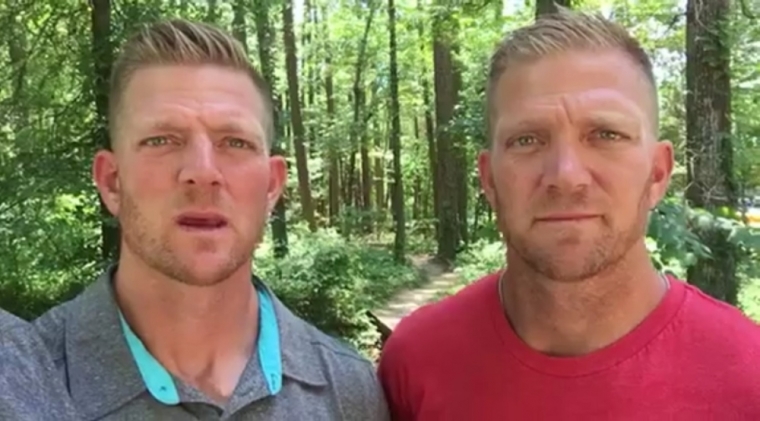 Jason added that part of the problem in North Carolina is the fact that it has a "silent majority" and most big churches and pastors are not standing up from the pulpits and voicing their support for the state's law.
The brothers charged that the most influential churches in North Carolina have refused to defend the law, including pastors with the "biggest platforms" who will not speak about political issues.
"That is what we see, and David and I trying to encourage those pastors by saying, 'Look, if the word transgender has not come past your lips in a Sunday service, you are not [doing your job] because that is the issue of the times,'" Jason said.
"However, there is a fear that you feel. The minute you say that, you are going be labeled something you are not. We know what the fear is like so we don't condemn you but encourage you," Jason continued. "The experience that you will have with God when standing on the side of truth when you are being persecuted, there is a peace that a pastor cannot experience unless he lets go of what it is he is holding onto."
The Benham brothers also posted a 9-minute video on their Facebook page Tuesday morning responding to the NCAA's announcement.
"The issue is never the issue. The issue is a revolution," David said in the video.
"What we are watching in America is a radical revolution, not only against traditional Christian or traditional moral values but a revolution of overthrowing the principles of our government."
Predictably, Democratic presidential nominee Hillary Clinton responded to the news on Tuesday with a tweet praising the NCAA for taking action.