Nearly 3,000 people attend opening worship at new Church of the Highlands campus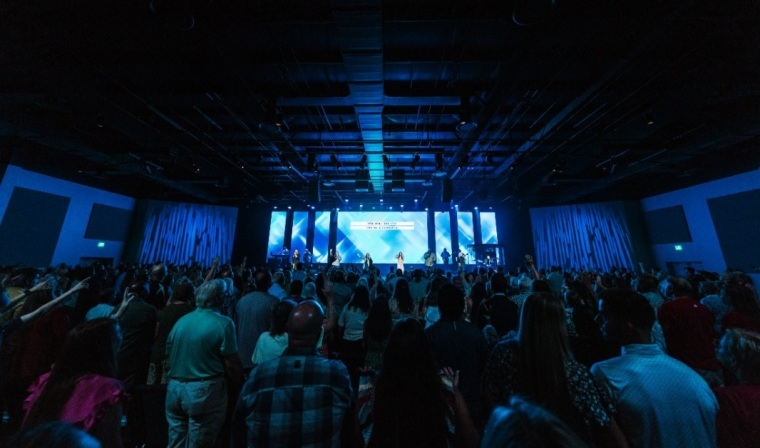 Nearly 3,000 people attended the opening of the new permanent location of a satellite campus for the prominent Alabama-based megachurch Church of the Highlands.
The Alabaster campus, which was founded in 2015 and had been meeting at a local middle school, held the first worship services for its permanent location on Highway 119 last Sunday.
Highlands Senior Pastor Leadership Team member Layne Schranz told The Christian Post that the opening Sunday saw 2,980 attendees spread over three different worship services.
Schranz said the location was chosen because it is "centrally located in the community," believing that "so many people in" Alabaster "are on fire for God and eager to serve their community in the name of Jesus."
"It allows us to expand both our service to the community and what we offer to those who call Highlands home," he said, noting that Highlands was "grateful for the partnership" with Thompson Middle School and was "pleased" that they "were able to invest in it by making improvements beyond our weekly rental."
Regarding other developments with Highlands, Schranz shared that the church was set to open a second satellite campus in Huntsville. The scheduled opening date for the second Huntsville location is Sept. 10, though the congregation will be meeting at a local movie theater until their campus is completed next year.
"We have seen such tremendous growth," Schranz commented. "It's incredible to see how God is on the move."  
Church of the Highlands was founded in 2001 by Pastor Chris Hodges, who also helped to establish the Association of Related Churches, which has reportedly helped plant hundreds of churches.
In 2019, Highlands opened its first campus outside of Alabama when it launched a satellite location in Columbus, Georgia, with Kyle Jackson serving as campus pastor.
According to a welcome video released at the time, Jackson said that the Columbus campus emerged from small groups that were meeting in the area, namely for prayer.
"With the Auburn and the Opelika campuses being a 45-minute drive away, even though it was in a different time zone, we had a lot of people sort of driving and going to church and hosting small groups over here and praying together, and we just started to demand a campus over here," Jackson said in 2019.
"We are a church of prayer, and it matters. The harvest that we are going to see is because of the seeds that have been planted through prayer."
Church of the Highlands has grown to over two dozen campuses.